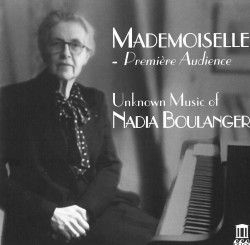 Mademoiselle: Premiere Audience – Unknown Music of Nadia Boulanger
Various Artists
Delos DE 3496 (delosmusic.com)
In her own time, Nadia Boulanger was truly a legend. A pianist, organist and conductor, as well as composer, she was a renowned educator who taught well over a thousand students during her long career. From Canada alone over 70 young musicians sought her out, including Jean Papineau-Couture, John Beckwith (who managed to get to Paris on a hockey scholarship to study with her) and Peter Paul Koprowski.
Today, almost 40 years after her death, her legendary stature remains undiminished. But her compositions are largely overlooked – unjustifiably, as this fascinating 2-disc set shows. Of the 37 pieces here, almost half are being recorded for the first time.
By all accounts – including memoirs from former students like Beckwith, Elliott Carter, Leonard Bernstein, Philip Glass and the producer of this set, Carol Rosenberger (who includes a touching booklet note) – Boulanger insisted her students build a solid technical foundation. She had little interest in experimentation. Simple textures and clear voicings were what she encouraged, though she valued a personal style. And these qualities are what you hear in her own music. It's polished – overly, at times – warm, witty, disarmingly tender and unexpectedly charismatic.
The 26 songs prove worthy of being in every recitalist's repertoire, especially as performed by these fine singers – the thrillingly expressive soprano Nicole Cabell, the robust yet nuanced baritone Edwin Crossley-Mercer and the versatile, characterful tenor Alek Shrader.
The Trois pièces for cello and piano are Boulanger's most frequently performed works. Amit Peled's impassioned cello and Lucy Mauro's elegant, sensitive piano provide the most engaging interpretation I've heard.
But it's organist François-Henri Houbart's dramatic yet delicate performances of the Trois improvisations which I found most thrilling. Fittingly, he recorded on the Cavaillé-Coll organ in the Madeleine Church in Paris, which is the very one Boulanger used to play (a photo of this magnificent instrument is included in the booklet).
After her beloved younger sister and fellow composer, Lili Boulanger, died in 1922, Boulanger stopped composing. This set contains most of the music she wrote. By offering the fine performances these pieces deserve, it provides a convincing argument for making her music heard more often.