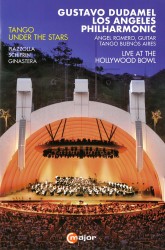 Tango under the Stars
Los Angeles Philharmonic; Gustavo Dudamel
Cmajor 739608
There is so much toe-tapping enthusiastically performed music in this DVD of Gustavo Dudamel conducting the Los Angeles Philharmonic live at the Hollywood Bowl on August 2, 2016. From the opening dramatic distance shot of the stage, orchestra and audience, to the final closing stage close-ups of rhythmic boisterous playing and swirling tango dancing, every visual complements the composers, conductor, musicians, soloists and dancers.
Three great Argentinian composers are performed. Lalo Schifrin is best known for his film scores (especially Mission: Impossible). His Concerto for Guitar and Orchestra No.2 "Concierto de la Amistad" is a salute to his friend, guitar virtuoso Angel Romera, who performs his lyrical lines, faster strumming sections and closing guitar taps masterfully with the orchestra. Alberto Ginastera's Four Dances from Estancia tells the story of life on the farm. The lyrical second movement aurally represents wheat swaying in the wind while the closing fourth movement is a fast alternating 3/4 and 6/8 time work.
And what is tango music without Astor Piazzolla? His Tangazo opens with low strings leading to more rhythmic sections and flute, oboe and strings counterpoint. To close the show, a "Best of Astor Piazzolla," four Tango Nuevo pieces are given rousing orchestral performances with master bandoneonist Seth Asarnow and the energetic spicy dancers from Tango Buenos Aires.
Dudamel conducts with passion and precision. Sound quality is superb. Three bonus interviews are included. Listen, watch, dance and enjoy!