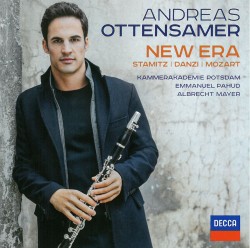 New Era – Stamitz; Danzi; Mozart
Andreas Ottensamer; Kammerakademie Potsdam; Emmanuel Pahud; Albrecht Mayer
Decca 481 4711
Review
Andreas Ottensamer, principal clarinet of the Berlin Philharmonic, has released a delightful assortment of tracks on a disc designed to educate and entertain. New Era refers to the period in Mannheim from the mid- to late-18th century, an epoch in which composers and performers consorted, collaborated and so consolidated what we now call the Classical Style.
Most wind players encounter Johann (père) and Carl (fils) Stamitz, as well as Franz Danzi, en route through undergraduate performance courses. Seldom are these composers heard outside of the academic recital hall, perhaps owing to the tendency in our own era to reduce and highlight, so that we use Mozart as a stand-in for an entire range of musical peaks, as we might with Everest for the Himalayas. These four composers are represented here. For once Mozart's sublime Concerto K622 is left off the menu in favour of two transcribed arias (from Mitridate and Don Giovanni), and a fantasy on the beloved La ci darem la mano, written by Danzi. For substance, there is a concerto from each Stamitz, and a delightful Concertino by Danzi for clarinet and bassoon (transcribed to great effect for cor anglais). Danzi's Fantasy is an early iteration of the virtuosic form where a technical tour de force is derived from the music of a popular opera.
Ottensamer plays with fluid precision and a surprisingly bright tone that suits the material; perhaps long gone are the days when to be a member of the Berlin Philharmonic meant using the darkest possible set-up. His articulation is crisp, his intonation trustworthy, and his improvisational cadenzas in the concerti are like rifts in the time-space continuum, somehow joining that New Era with our own. Collaborators include flutist Emmanuel Pahud (on both of Stephan Koncz' transcriptions of the arias) and Albrecht Mayer on cor anglais, both colleagues of Ottensamer in Berlin, and like him brilliant instrumental musicians. The back-up band, Kammerakademie Potsdam, is equally brilliant under the clarinetist's direction.