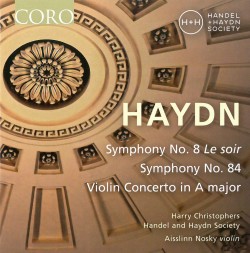 Haydn – Symphonies 8 & 84; Violin Concerto in A Major
Aisslinn Nosky; Handel and Haydn Society; Harry Christophers
Coro COR16148
This is the latest in a series of recordings of the symphonies and concertos of Haydn by the Boston-based Handel and Haydn Society, under the dynamic direction of Harry Christophers. The Toronto connection is the orchestra's concertmaster – and violin soloist on this disc - Aisslinn Nosky, a former member of Tafelmusik and one of the driving forces behind I Furiosi.
Haydn's eighth symphony – nicknamed "Le soir" – is a sinfonia concertante, meaning it features solo passages from several of the orchestra's principals, including Nosky. It's a great pleasure to hear the freedom, humour and tenderness each soloist brings to their playing and the whole performance has a tremendous buoyancy and elegance to it.
The A-Major concerto is difficult to bring off the page because of its rather pedestrian themes and somewhat predictable turns, but Nosky and Christophers give it a convincing and lively reading. It's exciting to hear Nosky let loose in the cadenzas, unencumbered by the regular phrasing and symmetry of the main body of each of the movements.
The disc finishes with a glorious performance of Symphony No.84, one of Haydn's Paris symphonies. Christophers coaxes clean, balanced performances from his charges without sacrificing drama and expressiveness. The second movement goes to some dark places, which are enhanced and deepened by a wonderful attention to dynamics and accents.
It's clear that Christophers and Nosky are a powerful team. We will await the next Haydn disc with great anticipation.