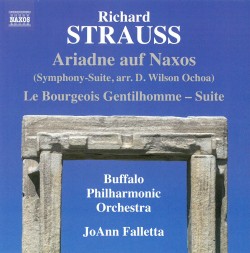 Strauss – Ariadne auf Naxos; Bourgeois Gentilhomme (Suites)
Buffalo Philharmonic Orchestra; JoAnn Falletta
Naxos 8.57346
Now here is a real gem I wouldn't mind listening to over and over again. This brand new release from Naxos comes from Buffalo, NY, by an orchestra, one of the best in North America, whose skills were honed by such names as Josef Krips, Lucas Foss, Semyon Bychkov and now led most ably by JoAnn Falletta. If you've never heard of or cared for her, you certainly will after listening to this rock-bottom, bargain-priced disc, a deal not to be missed.
Strauss' love of the music of Lully inspired this absolute jewel of incidental music for Molière's comedy Le Bourgeois Gentilhomme, first performed at Chateau Chambord for Louis XIV in 1670. Strauss' Suite (1912/1920) is written for a small but virtuoso orchestra, difficult and intricate but played here with flair, charm, delicacy and humour one rarely encounters even from the very best conductors. The violin solo by concertmaster William Preucil is an unforgettable delight.
The Suite from Ariadne auf Naxos is quite new (and a world premiere) by a young American, D. Wilson Ochoa, who put it together from the highlights of the opera of the same name. He certainly knew what he was doing and the suite now enriches the concert repertoire like a new symphonic poem by Strauss and surely will be so welcomed. Strauss said once that "melody strikes him like a bolt of lightning from the clear blue sky" and that's well proven by the exquisite finale when the god Bacchus appears in his radiance curing Ariadne's sorrows by falling in love with her and we hear wave upon wave of radiant music pouring forth from Falletta's magic baton.