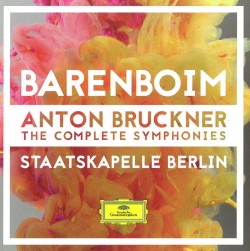 Anton Bruckner – The Complete Symphonies
Staatskapelle Berlin; Daniel Barenboim
Deutsche Grammophon 479 6985
Review
There is a story about Karajan that once when he got sick and had to cancel a few concerts, the Philharmoniker decided on Daniel Barenboim to substitute. As soon as he heard this, Karajan exclaimed "OMG not HIM!!" and sick no longer, he jumped out of bed and ran back to conduct.
Barenboim's approach to Bruckner is different from the holier-than-thou century-old Germanic tradition, trademark of many venerable conductors, mostly dead by now. I remember the great Celibidache stopping the orchestra (the BPO) 15 times before reaching the end of the first bar of the Seventh Symphony to get the opening tremolando just right, his tempo so slow, the symphony ended up a half-hour longer than anybody else's. Now Barenboim, a consummate musician, does not revere anything but the music, making it as enjoyable, interesting, even exciting as possible and his tempi in Bruckner have always been faster, but never rushed. This is true for this new, beautifully recorded set of the nine numbered symphonies, already the third such cycle in his career, but now on his own label Peral Music, under the aegis of Deutsche Grammophon. The orchestra this time is the Berlin Staatskapelle, one of the oldest in the world, once upon a time the Prussian Court orchestra which the maestro, being its director for the last 20 years, had moulded it into perfection. It even gives the famous Berlin Philharmoniker a run for its money.
There is a unified approach, a remarkable consistency, and the orchestral playing is incredibly precise. Most of the players are young, highly skilled, enthusiastic, very devoted to each other and simply revere their conductor. I have watched some of the performances (televised by medici.tv and Mezzo) and his conducting style avoids all histrionics and, being past 70, he budgets his strength and gets maximum effect with very little effort. All performances are solid, high-quality and the symphonies throb with life, infused with rhythmic vitality. One will discover previously unheard details in the tremendously rich orchestral palette and the conductor's stamp is always felt. The fff outburst in the Largo of the Seventh Symphony has never been more impressive on record and made even me jump out of my seat practically hyperventilating. Incidentally this had been the moment of my own conversion to Bruckner some 40 years ago.
If you want to enjoy Bruckner rather than worship it, this is the set for you.