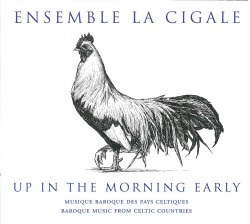 Up in the Morning Early – Baroque Music from Celtic Countries
Ensemble La Cigale
Leaf Music LM 211 (leaf-music.ca)
Review
Quebec-based early music ensemble La Cigale has a hit on its hands with this collection of Baroque instrumental music from Celtic countries. The tight ensemble playing, sensitivity to style and musical moods, and clear production values, showcase a range of performances from the witty to the danceable to thoughtful to florid.
The large number of works featured is mind-boggling and educational for any Celtic music fan. The opening track is the ensemble's arrangement of the Scottish song John Come Kiss Me Now. Complete with the lilt and bounce of the faster sections, and lyrical recorder in the slower sections, it is a successful combination of classical with Celtic folk traditions, and foreshadows the flavourful music to follow. Scottish music is the big feature, with works by James Oswald, William McGibbon and General John Reid. Five short Scottish lute works from the Rowallan and Straloch Lute Books circa early 1600s are given a breathless rendition by artistic director Madeleine Owen, especially in the waltzing songbird tune The Canaries. Irish composer Turlough O'Carolan's Carolan's Concerto is a curious mix of Irish folk and serious Italian art music.
The touching closing track is the group's very loyal, respectful arrangement of the Canadian fiddler Oliver Schroer's (1956-2008) modern day lyrical Celtic work A Thousand Thank-yous.
And more than a thousand thank yous to director Madeline Owen (lute, theorbo, Baroque guitar), Sara Lackie (harp), Vincent Lauzer (recorders), Marie-Laurence Primeau (viola da gamba) and Sari Tsuji (violin) for this joyous music!