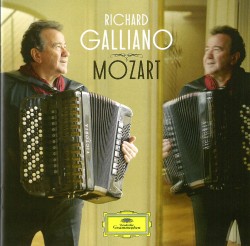 Richard Galliano Mozart
Richard Galliano; Bertrand Cervera; Stephane Henoch; J-P Minale-Bella; Raphael Perraud; Syvain Le Provost
Deutsche Grammophon 4812662
French accordionist Richard Galliano is world renowned for his jazz stylings. He goes back again to his classical music roots with this all-Mozart release, the third in a series of performing select classical masters on accordion. Supported by a superb string quintet, Galliano explores new sounds in some familiar works.
The strongest performance by far is Mozart's Rondo alla Turka (Piano Sonata No. 11 in A Major K.331). The Turkish Rondo lends itself well to an accordion arrangement – a Palmer Hughes Accordion Course version of it is on the RCM Grade 6 accordion exam repertoire list. Galliano's version showcases his effortless florid technique and musical nuances. There is nice dialogue between him and the strings, with a solid, never-rushed, low-end support from the double bass. Another appealing dialogue can be heard on the Adagio from Flute Quartet in D Major K.285 where the long tones created by steady bellows pressure are in stark contrast to the strings' pizzicato parts. More exploration of breaths between phrases would elevate the musicality dramatically. Not too keen on the unison playing of accordion and strings in Eine kleine Nachmusik as the work's inherent colours are lost by too many instruments playing the same thing. Nice decision to use bandoneon in Laudate Dominum as Mozart is thrust into the 20th century with Galliano's nod to Astor Piazzolla.
Galliano's Mozart CD is an interesting and satisfying listen to some of Mozart's compositions from unique instrumentation and arrangement standpoints.