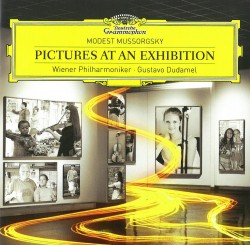 Mussorgsky – Pictures at an Exhibition
Wiener Philharmonic; Gustavo Dudamel
Deutsche Grammophon 479 6297
Review
Of all the composers in the Russian nationalist school "The Mighty Handful," Mussorgsky is arguably the greatest. True, Rimsky-Korsakov's highly colourful style left its mark on Glazunov and Stravinsky, but it was Mussorgsky's works that were ground-breaking. And though Rimski-Korsakov disparaged Mussorgsky's work as having "absurd, disconnected harmony, ugly part-writing, sometimes strikingly illogical modulation…" these characteristics were grist to the mill for Mussorgsky's power, earthiness and sheer musical invention that inform, for instance, the mighty work: Pictures at an Exhibition (1874). This tribute to the architect and painter Victor Hartmann was written as a suite of piano pieces and, like other versions, not performed until after Mussorgsky's death.
This Wiener Philharmoniker version conducted by Gustavo Dudamel comes from Maurice Ravel's 1922 orchestration. Unlike every previous recording of Pictures at an Exhibition – including Berliner Philharmoniker and Claudio Abbado's – in this interpretation (of Ravel's Mussorgsky) Dudamel restores Mussorgsky's Pictures to its architectural grandeur. The ten pictures – each one an atmospheric miniature – are connected by a recurring theme (the Promenade) and suggest Liszt's influence, but with a greater psychological insight. The sinister melancholy of Gnomus, playfulness of Tuileries and grand triumphalism of The Great Gate of Kiev are dazzling. The intense beauty of the performance is completed by Mussorgsky's Night on Bald Mountain and the Waltz from Tchaikovsky's Swan Lake. Now all we need is a documentary of the 900 Superar children aged 5 to 16, from Vienna's tenth district that contributed to this project.
Editor's Note: Superar is a high quality musical program for young people. The program is free for participants and offers courses in choirs and orchestras. Superar is an offer to young people who for various reasons have little or no access to cultural education. Superar was founded in 2009 by Vienna's renowned institutions the Wiener Sängerknaben, the Caritas of the Archdiocese of Vienna and the Wiener Konzerthaus.