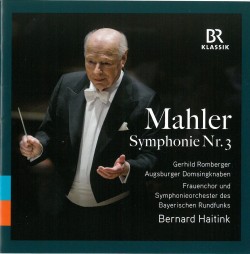 Mahler – Symphony No.3
Gerhild Romberger; Augsburger Domsingknaben; Frauenchor und Symphonieorchester des Bayerischen Rundfunks; Bernard Haitink
BR Klassik 900149
This is Bernard Haitink's most recent recording of Mahler's monumental Third Symphony, preceded by a boatload of discs from his days leading Amsterdam's Concertgebouw (five versions) and subsequent recordings with the orchestras of Berlin, Chicago and London. Despite his apparent affection for Mahler's work in general and this symphony in particular, his name does not often rise to the top of the list in this repertoire as often as those of Bernstein, Kubelik or Abbado. This latest incarnation may settle the score in this regard, thanks to the excellence of the Bavarian Radio Symphony Orchestra in this splendidly recorded disc. Haitink is particularly fine in the central sections of this sprawling six-movement work, the lengthiest symphony in the standard symphonic repertoire. The fleetness of the second movement is utterly charming while the third movement's vivid rusticity includes a very simply played posthorn solo, which is too often over-sentimentalized. The fourth and fifth movements introduce vocal elements to the work and feature mezzo-soprano Gerhild Romberger in a merely adequate reading of Mahler's setting of Nietzsche's Midnight Song; the oboe solo here also skirts around the quite striking minor-third glissando called for by Mahler. The pace picks up again with the excellent Augsburger Domsingknaben boys' choir joining Frau Romberger and the BRSO women's chorus for the following Es sungen drei Engel movement. I was quite pleased with the well-nigh perfect Finale, which builds inexorably to a masterful climax marked by mellifluous contributions from the admirable brass section. My only major reservation concerns the vast first movement, which Mahler subtitled with the motto, "Pan awakes – Summer marches in;" I did not feel Haitink's circumspect approach completely exploited the chaotic play of elemental forces at work here. However, the fluidity of the finale more than makes up for this shortcoming and I have no hesitation in recommending this live recording from June of 2016.