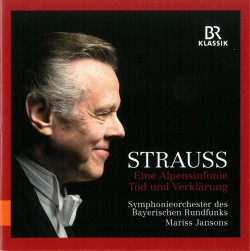 Strauss – Ein Alpensinfonie; Tod und Verklarung
Symphonieorchester des Bayerischen Rundfunks; Mariss Jansons
BR Klassik 900148
Long in gestation with its roots extending down to the composer's teenage years, Richard Strauss' Alpine Symphony is the last and arguably the greatest of his series of orchestral tone poems. After many false starts, he began to work seriously on the score in 1911, prompted in part by circumstances surrounding the death of his esteemed colleague Gustav Mahler. It was completed and premiered in 1915 under the composer's direction. Strauss proudly proclaimed that with this work, which is scored for a gargantuan ensemble of 130 musicians, he finally understood how to orchestrate. You can take his word for that!
Strauss indicated 22 distinct scenarios, some lasting less than half a minute, in the score of this musical depiction of a hike up and down the Bavarian Alps through forests and meadows in weather both fair and foul. The work is on one level naively descriptive (some might say crassly cinematic) yet there remains a greater dimension to the Alpine Symphony in its vivid celebration of the power of Nature, comparable in an oblique way with Mahler's Third Symphony. It hardly comes as a surprise that the exemplary Munich orchestra does their level best to honour the reputation of Bavaria's greatest composer, nor that they are in complete accord with their cherished principal conductor (Jansons' contract was recently extended to the year 2023, a commitment of 20 years since his arrival). The performance is utterly transcendent and the live recording from October of 2016 is richly detailed. A significant bonus is included in the form of an equally fine 2014 live performance of Strauss' popular tone poem of 1888, Death and Transfiguration. Of the numerous renderings currently available of this grandiose Alpine work this one rises triumphantly to the summit with the greats. Not to be missed!