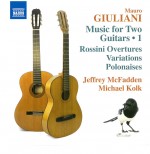 Canadian guitarists
Jeffrey McFadden
and
Michael Kolk
are the performers on
Volume 1
of
Music for Two Guitars
by
Mauro Giuliani
, a new CD featuring
Rossini Overtures, Variations and Polonaises
(Naxos
8.572445).
Michael Kolk has been the subject of several glowing reviews in this column and is usually heard in duo performances with fellow guitarist Drew Henderson, but here he is joined by the outstanding McFadden, with whom Kolk studied at the University of Toronto. It's a terrific pairing, with both performers displaying clean, technically outstanding playing with equally impressive musicality and sensitivity.
Giuliani (1781-1829) was one of the greatest guitar virtuoso performers and composers. When he returned to Italy from Vienna in 1819 he became an associate of Rossini and transcribed four of the opera composer's overtures for two guitars in the early 1820s. All four – La gazza ladra, Il barbiere di Siviglia, La Cenerentola and L'assedio di Corinto – are included here. As the jewel case blurb notes, they abound in lyrical melodic lines, fast arpeggios, subtle colours and technical virtuosity. The equally demanding Gran variazioni concertanti, Op.35 and the Variazioni concertanti, Op.130 are handled with deceptive ease, and the Tre Polonesi concertanti, Op.137 round off an immensely satisfying program.
The recorded ambience is quite lovely, hardly a surprise given that the recording was made at St. John Chrysostom Church in Newmarket with the always reliable Naxos production team of Norbert Kraft – himself a top guitarist – and Bonnie Silver. It's a CD that meets every hope and expectation you might have when you open it – and that's saying something!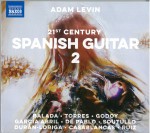 The same Newmarket church is the setting for another outstanding Kraft and Silver guitar recording, Volume 2 of what is turning out to be a ground-breaking four-volume series of 21st Century Spanish Guitar music played by the American guitarist Adam Levin (Naxos 8.573409).
In 2008 Levin was able to use several scholarships, including one from the Program for Cultural Cooperation Fellowship from Spain's Cultural Ministry, to start a three-year residency in Madrid to research and perform contemporary Spanish guitar repertoire. The project resulted in a major collaboration with four generations of Spanish composers who created 30 new works commissioned by and dedicated to Levin. The recording project to document these pieces began in 2012, with Volume 1 of the series released in May 2013 to rave reviews.
Composers included here are Leonardo Balada (b.1933), Jesús Torres (b.1965), Marc López Godoy (b.1967), Antón García Abril (b.1933), Luis De Pablo (b.1930), Eduardo Soutullo (b.1968), Jacobo Durán-Loriga (b.1958), Benet Casablancas (b.1933) and Juan Manuel Ruiz (b.1968); the works cover the period 2010-2014, so clearly the collaboration continues to bear fruit beyond the term of the residency. All but one of the pieces are world premiere recordings.
Despite Levin's warning that this is "not your father's guitar music" and that the musical language of Spain has evolved since the days of the master guitar composers these are all clearly works that are intrinsically Spanish, with a wide range of sonorities, techniques and effects that never forget their roots. It's a fascinating look at a country's musical culture that knows its heritage and looks to the future with supreme confidence.
Needless to say, Levin is superb throughout the CD, and is captured with ideal sound quality. We can certainly look forward to Volumes 3 and 4 with great anticipation.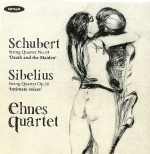 James Ehnes leads his quartet partners Amy Schwartz Moretti, Richard Yongjae O'Neill and Robert deMaine on a beautiful new CD by the Ehnes Quartet of two works that share the theme of death, and the fear of death (Onyx 4163).
Schubert's String Quartet No.14 in D Minor "Death and the Maiden" D810 was written in 1824, four years before the composer's death, but at a time when Schubert was already seriously ill and experiencing failure, poverty and great misery in his life. Jean Sibelius' String Quartet in D Minor "Intimate Voices" Op.56 was completed in 1909 after his life had been threatened by a throat tumour and he had, in the words of his biographer Erik Tawaststjerna, "passed through the shadows of the valley of death."
Both works receive quite exceptional performances here, with fully committed emotional playing, a fine range of dynamics and a terrific ensemble feel, all enhanced by a warm and richly recorded ambience.
The Schubert is by far the better known of the two works, but the Sibelius may well be the surprise here for many listeners. The composer's only quartet, it has a nostalgic, deeply personal feel not unlike Smetana's first quartet From My Life. The booklet essay notes that the work has generally been regarded as uncharacteristic and has never really become a repertoire favourite, and the remark that its neglect "remains unexplained and regrettable" is 100 percent accurate.
Hopefully this beautiful and moving performance will help to rectify that.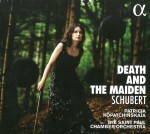 The Schubert work turns up again, this time in an arrangement for string orchestra, on Death and the Maiden, a collaborative exploration of the theme of death by violinist Patricia Kopatchinskaja and The Saint Paul Chamber Orchestra (Alpha Classics 265).
Recorded live in concert in Saint Paul over three dates in March 2015, this multifaceted project intersperses short works that date mostly from the 16th century between the four movements of the Schubert quartet, the latter arranged by Kopatchinskaja. We hear Augustus Nörmiger's Toten Tanz; an anonymous Byzantine Chant on Psalm 140; John Dowland's Pavan from Seaven Teares for String Quintet; Carlo Gesualdo's madrigal about death Moro lasso; and two pieces by the 20th-century Hungarian composer György Kurtág.
The meat of the program, however, is clearly the Schubert, and it proves to be very effective in this string orchestra version. The Romantic nature and the scope and drama of the quartet are certainly enhanced by the greater dynamic forces, especially in the theme and variations movement that gives the work (and this CD) its name. Kopatchinskaja leads the ensemble from the first violin stand, and the orchestral playing is superb, especially in the dazzlingly brilliant final Presto.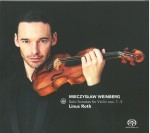 Another CD that intersperses short movements between the major works is the new Super Audio disc from the German violinist Linus Roth of the Mieczysław Weinberg Solo Sonatas for Violin Nos.1-3 (Challenge CC72688).
The Polish/Soviet Weinberg settled in Moscow in the early 1940s with Shostakovich's help, and the two composers shared a close friendship and clearly influenced each other. Weinberg's music has long been unjustly neglected, but that has gradually been changing since his death in 1996, with an ever-increasing number of CDs exploring his extensive and hugely impressive output.
It's music by Shostakovich that is interspersed with the three Weinberg sonatas, the Three Fantastic Dances from 1922 in the Harry Glickman arrangement for violin and piano intended to – in Roth's own words – "lighten the texture of the otherwise awfully dense and dark fare" that the Weinberg sonatas present. José Gallardo is the pianist.
Certainly Sonatas Nos.1 and 3, from 1964 and 1978, are unrelenting, somewhat intimidating works of extreme difficulty – the latter is a single movement work of almost 30 minutes' length. Sonata No.2 from 1967 is shorter, somewhat easier (in relative terms!) and less aggressive – and certainly more immediately accessible.
Roth plays superbly throughout the CD, but particularly in the three works that are a significant part of the solo violin sonata repertoire.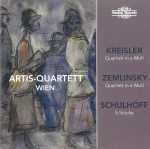 There's more excellent string quartet playing on the latest CD from the Artis-Quartett Wien, with seldom-heard works by Kreisler, Zemlinsky and Schulhoff (Nimbus Records NI 5942).
If the Viennese violinist Fritz Kreisler is known as a composer at all it's usually for his series of "in the style of" pieces that he eventually admitted were original compositions, but his String Quartet in A Minor is a surprisingly strong work. Written in 1919, its tonal language is very much that of the early 20th-century Austro-German composers, and is almost certainly a nostalgic look back at the Vienna of Kreisler's youth and of the Hapsburg Empire, a Vienna lost forever in the First World War. Kreisler had served in the Austrian army at the outbreak of the war, but was wounded and discharged within three months, spending the rest of the war years in the United States.
Although he lived in Prague during the 1914-1918 war, Alexander Zemlinsky was another Viennese composer who ended up in the United States, in his case as a result of the rise of anti-Jewish sentiment in the Germany of the 1930s. His String Quartet in E Minor is a very early work from 1893 that was suppressed by the composer after its initial rejection and did not appear in print until 1997. Clearly – and not surprisingly – influenced by Brahms, it is a strongly Romantic work with a particularly lovely Andante movement.
The Prague-born Erwin Schulhoff completes the trilogy of composers whose careers were impacted by war, although in his case it would cost him his life. He served in the Austrian army throughout the First World War, but after being arrested by the Nazis in Prague in 1941 was deported to the Wülzburg concentration camp in Bavaria, where he died of tuberculosis a year later.
From the opening bars of his Five Pieces for String Quartet from 1923 we are in a different world, one closer to the world of Schoenberg than the late 19th-century tradition of Kreisler and early Zemlinsky. It's essentially a suite of short dance movements strongly influenced by Czech speech inflections and rhythms, with terse, animated writing and muted strings creating a sense of social and cultural unease.
The Artis-Quartett was founded in Vienna in 1980, and is in its element with these three intriguing works.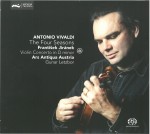 Given the constant stream of new recordings of Vivaldi's The Four Seasons we could be forgiven for wondering if there could possibly be anything different left to say with them, but if the stunning new Super Audio CD from Gunar Letzbor and the Ars Antiqua Austria (Challenge Classics CC72700) is anything to go by then the answer is quite definitely yes.
This is Vivaldi with a quite different sound and clearly an equally different approach, made all the more impressive by the small size of the eight-piece ensemble – Ars Antiqua consists of single players for the solo, violin one and two, viola and cello parts, and a continuo of violone, organ/harpsichord and theorbo. The sheer size of the sound and dynamic range that they produce is astonishing.
So many of the movements here sound refreshingly different, and the attention to the wording of the accompanying sonnets (which are printed in full in the booklet) is clear, whether it's the steady rhythmic stresses, the bird song effects, the heavy stomping of a rustic country dance or the furious outburst of a storm. Major tempo changes throughout the individual movements add to the effect.
The Violin Concerto in D Minor by the Bohemian composer František Jiránek, who studied in Venice (possibly with Vivaldi) between 1724 and 1726, completes the CD. It is much in the style of his contemporary, and is played here in a manner closer to the Vivaldi we usually hear.
Between the recording sessions in April 2016 Ars Antiqua performed this same program in two concerts; the audiences, Letzbor notes, were enthusiastic about the Vivaldi, "but at the same time also surprised. The unanimous opinion: we have never heard it like this before."
Well, neither have I – and the chances are, neither have you. If you have any interest whatsoever in The Four Seasons then this is a CD you simply must hear.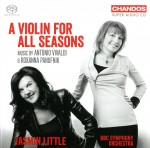 The Four Seasons are also featured on A Violin for All Seasons – Music by Antonio Vivaldi & Roxanna Panufnik, another Super Audio CD with Tasmin Little as both soloist and conductor of the BBC Symphony Orchestra (Chandos CHSA 5175).
Although on first hearing this seems to be a performance more in the mainstream manner, Little was clearly fully aware of the great variety of performances available and of the need to offer something individual to the listener; she has apparently waited many years before deciding to commit a performance to disc. She admits to having been influenced by Baroque violinists although not being one herself, but as a modern player she feels that a larger orchestral accompaniment can add greater drama and nuance than a smaller group.
Playing this CD right after the Ars Antiqua CD cast more than a little doubt on that belief, but there is much here that lifts this performance out of the ordinary. For starters, Little is superb, with some simply dazzling playing and some fresh ideas, in particular her increased dialogue with continuo harpsichordist David Wright, whom she encouraged to be "as bold and different as he wished." Both players improvise links between movements on occasion, and there is certainly an air of freshness about the entire proceedings.
The Vivaldi work continues to inspire new compositions as well as new approaches and interpretations, and such is the case with Four World Seasons, the Panufnik work that receives its premiere recording here. The work resulted from Little's 2008 request for a new set of "Seasons" to be performed alongside the Vivaldi and was completed in 2011; since then Little has programmed both works in numerous concerts.
The composition of each of the movements here is influenced by a country with which the particular season has become culturally associated. Autumn in Albania is in memory of Panufnik's father, the composer Andrzej Panufnik; Tibetan Winter (complete with Tibetan singing bowl), Spring in Japan and Indian Summer are dedicated to Tasmin Little. It's a simply outstanding work, much deeper, more emotional, wide-ranging and passionate than the Vivaldi, with which it shares almost the same orchestration. It draws more terrific playing from Little and the BBC Symphony.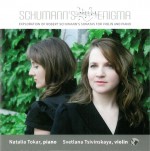 Schumann's Enigma: An Exploration of Robert Schumann's Sonatas for Violin and Piano is the excellent debut CD from violinist Svetlana Tsivinskaya and pianist Natalia Tokar (Blue Griffin BGR 391).
The Sonata in A Minor Op.105 and the Grand Sonata in D Minor Op.121 are both given accomplished readings, with some lovely playing from both partners – fairly restrained at times and not too dramatic, but always warm and with no lack of depth or commitment.
What gives these performances added interest, though, is the research and thought that has gone into them. Tsivinskaya provides an excellent essay on Schumann's contrasting and imaginary alter egos Eusebius and Florestan, and the way he used them to explore his own contrasting ideas and his mental processes – and indeed the way he used cryptography and coded signatures of his wife Clara and his own various names to determine thematic material and choice of key in his works.
There seems to be a growing awareness of the significance of this approach among performers, with the cellist Carmen Miranda's extremely detailed article along the same lines on Schumann's Cello Concerto featured in a CD review in this column just last September.
Tsivinskaya's penetrating essay here is a riveting and convincing analysis, and adds a great deal to our understanding of the two works.