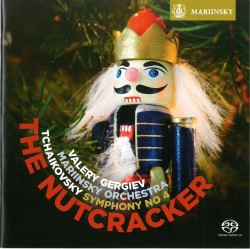 Tchaikovsky – The Nutcracker; Symphony No.4
Mariinsky Orchestra; Valery Gergiev
Mariinsky MAR0593
There are those who think The Nutcracker is a children's ballet. There are others whose only experience of the ballet is the constant and dreadful repetition of its greatest hits in shopping malls at this dark time of year. To both groups: listen to the Mariinsky Orchestra under Valery Gergiev perform the entire score, paying particular attention to the Waltz of the Flowers and the Intrada to the Pas de Deux immediately following. The rating "adult entertainment" could well be applied to these passionate expressions.
Gergiev is known for eccentric technique but also for wringing amazing performances from the players he leads. Mariinsky is his house band, so they have lots of practice following his tiny obscure gestures. They can turn on a dime out of an outrageous Presto, they phrase as a choral unit, the strings are encouraged to emote, and on this recording at least one hears observance of the composer's more subtle dynamic indications. Although arguably chestnuts, they're delicious, and so much fresher than the overcooked versions we are often fed while choosing gifts.
The remainder of disc two is Tchaikovsky's Fourth Symphony. The symphony predates the ballet by a good 14 years, from the period before and immediately following his failed marriage. Pit bands love to perform concert music, an assertion audibly demonstrated here. Delicacy and ferocity alternate, melancholy gives way to joy and returns. The relationship between conductor and players is so solid, lending brilliant assurance to the performance that wildly (romantically) swings through the gamut of expression and tempi. They perform, understandably, as artists who love and treasure their heritage. The Canzonetta is breathtaking in its lyricism, and then one can almost imagine a choreography for the Scherzo movement involving two opposing teams of folk dancers, the strings versus the winds.