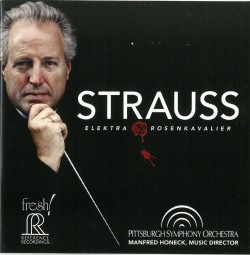 Strauss – Elektra; Der Rosenkavalier (Suites)
Pittsburgh Symphony Orchestra; Manfred Honeck
Reference Recordings FR 722 SACD (referencerecordings.com)
Some of us may remember back in the 50s something called "Opera without Words" (Stokowski was good at these) specially created for folks who couldn't stomach all the singing but were more comfortable with the orchestra. Until now Elektra had escaped such treatment even though Strauss is one of the most symphonic of all opera composers and well suited for orchestral excerpts and suites (e.g. Dance of the Seven Veils etc.). But in Elektra the voices and the action are so closely intermeshed that the total devastating impact has to come from seeing or at least listening to the complete score.
Nevertheless Austrian conductor Manfred Honeck, newly appointed music director of the Pittsburgh Symphony, did decide to extract most of the orchestral score into a 35-minute suite. Certainly done with love and expertise and a thorough empathy with the opera, the particularly gruesome story with its moments of dark forebodings, evil lurking in the shadows, bloody murders, piercing shrieks and animals tortured is well brought out, as well as moments of filial and brotherly love, ecstasy and exuberance. Unfortunately, to fully appreciate program music like this, an audience not familiar with the opera will have to read the printed notes and that can be pretty annoying at a concert.
Der Rosenkavalier however is an entirely different story and the Suite created by Arthur Rodzinski is a wonderfully enjoyable concert piece. We are still blessed with the memory of Karajan and even more Carlos Kleiber's sublime performances, a hard act to follow, but Honeck's main strength is the beautiful, spacious orchestral sound and sumptuous hidden details he brings out with somewhat slower tempi.