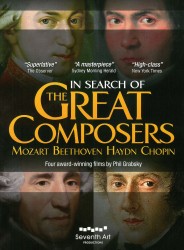 In Search of Great Composers
Four films by Phil Grabsky
Seventh Art Productions SEV194
There is so much brilliant music brilliantly performed, historical and musical commentary, excitement and beautiful visuals in this documentary collection of five DVDs about Mozart, Beethoven, Haydn and Chopin that even the most bored individual with a disdain for music history will find something worth the view!
Each composer receives a respected, informative and surprisingly original recollection of their personal and professional lives. In Search of Mozart (2006) chronologically follows every road the composer travelled throughout his life with his music being centre stage. This 25,000 mile journey (that's over 40,000 km for us Canadians) is followed by foot – such as in the modern day Salzburg sidewalks packed with cell phone-toting pedestrians – and behind the wipers of a rainy-day windshield. These visuals almost become travelogues were it not for the intersecting clips of commentary. Of course the music performed by soloists, singers and orchestras is world class with the noteworthy clip of trumpet soloist Falk Zimmermann performing from Leopold Mozart'sTrumpet Concerto in D setting the stage for more great music. Initially the jump cuts between landscape, commentary and performances created some confusion, but over the course of the film this technique increased viewing interest.
Next in the series is the two-DVD set In Search of Beethoven (2009). Beethoven aficionados may not learn anything new, but Grabsky's approach through letters, historical facts, personal Beethoven issues, star-performer commentaries and especially the footage of their performances is superb. A highlight here is Emanuel Ax performing in clips from the Waldstein and Appassionata piano sonatas. The second Beethoven DVD features complete performances, scenes and an interview with the director.
In Search of Haydn (2012) is especially fulfilling, as the composer may not be as famous as Mozart and Beethoven, though respected by both. Grabsky's film shows us a composer who also wrote substantial, worthy music. In this chronological documentary the focus is on the music with the great illuminating performances that should tweak one's interest to explore more of Haydn's output. Of note are Ronald Brautigam's takes on Keyboard Sonata No.1 and Keyboard Sonata No.9, and Marc-André Hamelin's performance clip from the Keyboard Sonata No.34.
Finally, In Search of Chopin (2014) takes the same approach. The documentary formula is used, but the presentation of personal facts seems pressed for time; for example, the passing mention of Chopin's soap opera-like relationship with George Sand. But the piano performances and commentaries by the pianists should be on every piano student's must-see-and-apply list. Of special note are performances by Daniel Barenboim and Brautigam again.
Filmmaker Phil Grabsky needs to be greatly congratulated for all the time, research, dedication, detail and reaching out to historians, musicians, performers and orchestras to create these four In Search Of documentaries. His love, respect and curiosity of everyone portrayed – composer, historian and performer – is reflected in each film. This is more than music history – these are visual and aural musical stories. All the camera close-ups, from musicians' hands working their beloved instruments, to tree twigs and rain in scenery, are thought-provoking, especially against the clear audio of the music. Grabsky's excitement for his material resonates throughout, subsequently broadening the excitement of the viewer. Watch, learn, enjoy, listen and be inspired!