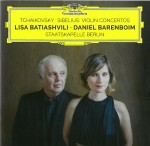 The outstanding Georgian violinist
Lisa Batiashvili
is back with simply ravishing performances of the
Tchaikovsky
and
Sibelius Concertos
with
Daniel Barenboim
leading the
Staatskapelle Berlin (Deutsche Grammophon 479 6038).
The recordings are the direct result of the artists' collaboration in the final open-air free concert of the annual State Opera for All concert series in Berlin, initiated by Barenboim in 2006. For the past four years Batiashvili has been the guest artist, playing the Beethoven, Brahms, Tchaikovsky and Sibelius concertos – indeed, it was her televised performance of the latter with the Finnish Radio Symphony Orchestra that prompted Barenboim to make the initial contact.
The Berlin studio recordings here were made within days of the 2015 and 2016 Tchaikovsky and Sibelius concert performances, and they are simply stunning. Batiashvili has a rich, clear tone with wonderful depth and a brilliant top, and Barenboim supplies a perfectly judged accompaniment with an unerring instinct for when to hold back and linger awhile and when to forge ahead. It all makes for sensitive, thrilling and passionate interpretations that grab you from the opening bars and never let go.
Add a simply outstanding orchestral and recording quality and these are performances that can hold their own with any on record.
The English violinist Tamsin Waley-Cohen is the soloist in the Violin Concertos by American composers Roy Harris and John Adams on a new Signum Classics CD with the BBC Symphony Orchestra under Andrew Litton (SIGCD468).
The Harris concerto was written in 1949 on a commission from the Cleveland Orchestra for its concertmaster Joseph Gingold, but the premiere was cancelled when numerous discrepancies between the score and the orchestral parts couldn't be corrected in time for the concert. It was 35 years before Gregory Fulkerson and the North Carolina Symphony Orchestra gave the first performance in 1984, with Fulkerson's recording the following year making the concerto available to a wider audience.
It's a work that is very much of its time, optimistic with a strong nostalgic feel and an American Western country folk feel throughout. Waley-Cohen consulted the manuscript source in the Library of Congress in Washington and was apparently enchanted by the rhapsodic solo writing. It certainly shows in her terrific performance here.
The Adams concerto was completed in 1993, and while in the traditional three-movement form is described by the composer as having no sense of traditional competition between orchestra and soloist, the violin instead making its way unimpeded through the body of the orchestra, which remains below or behind it. There's a tranquil Chaconne middle movement, and a Toccare finale that is right out of the same drawer as Adams' Short Ride in a Fast Machine.
Outstanding performances make this a significant addition to the 20th-century violin concerto discography.
Review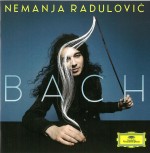 If you like your Bach bright, clean and with an abundance of energy, then you will really enjoy BACH, the new CD from the Serbian violinist Nemanja Radulović (Deutsche Grammophon 479 5933). It's described as being in a way the continuation of his exploration of the Baroque repertory following his Vivaldi project, The Five Seasons, but it's just as clearly a return to his roots and his earliest musical studies.
His former fellow student Tijana Milošević joins him in a performance of the Concerto for Two Violins in D Minor BWV1043 in which the outer Vivace and Allegro movements are just about as fast as you're likely to hear them. There is lovely clean playing throughout, though. The string ensemble Double Sens provides a crystal clear accompaniment.
The Concerto in A Minor BWV1041 receives similar treatment, with a particularly lovely slow movement; Radulović really does have a beautiful tone.
The other J. S. Bach works on the CD are a mixture. The short Gavotte from the Partita No.3 BWV1006, the only solo piece on the disc, is clean and bright. The remaining three works are all presented in arrangements for violin and strings by Aleksander Sedlar: the Toccata & Fugue in D Minor BWV565 (where Les Trilles du Diable provide the accompaniment); the Air in D Major from the Orchestral Suite No.3 BWV1068; and the Chaconne in D Minor from the Partita No.2 BWV1004. There is more than a hint of the old Leopold Stokowski transcriptions here.
Radulović also learned the viola in his native Belgrade and studied the Viola Concerto in C Minor that was long thought to be by Johann Christian Bach but is now described as being "reconstructed" by Henri Casadesus. It is included here as a nod to his student days.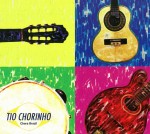 Chora Brazil is the debut CD from the Toronto ensemble Tio Chorinho (tiochorinho.com), the only ensemble in Canada dedicated to performing Brazilian choro music, the primarily instrumental musical form which originated in the suburbs of Rio de Janeiro in the late 19th century and provided the foundation for several modern Brazilian musical styles. The group members are Eric Stein (mandolin), Avital Zemer (seven-string guitar), Maninho Costa (percussion), Carlos Cardozo (cavaquinho) and Andre Valerio (guitar and cavaquinho).
The 12 tracks are mostly compositions by the masters of the genre, including six by the mandolin virtuoso Jacob do Bandolim, two by Waldir Azevedo and two by Pixinguinha. It's just an absolute delight from start to finish, with some outstanding playing by the core members and occasional guest performers. Stein's mandolin work is particularly impressive, often having the same sort of sound as the Portuguese guitar in fado music. Check out the videos of their performances on their website.
It's a terrific debut CD; play it on a grey day and your room will be filled with sunshine!
Review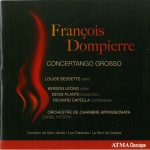 Concertango Grosso is a new CD from the ATMA Classique label featuring the music of the Quebec composer François Dompierre (ACD22739).
The 2015 title track was commissioned by and is dedicated to the pianist Louise Bessette and also features Denis Plante on bandoneon, Kerson Leong on violin, Richard Capolla on bass and the Orchestre de chambre Appassionata under Daniel Myssyk. It's a highly enjoyable four-movement piece, clearly – and inevitably – influenced by Astor Piazzola, but always more than just simple imitation or pastiche. The bandoneon certainly imparts an air of complete authenticity.
Bessette is also the soloist in the Concerto de Saint-Irénée for piano and string orchestra, a classically structured work that takes its inspiration from popular music of North and South America, including jazz in the opening movement and Latin music in the third.
The terrific Kerson Leong was in fine form in the Concertango Grosso, so it's no surprise to hear him join Bessette and do some great fiddling in Les Diableries. The five short movements were originally written (for violin and orchestra) as the required violin work in the 1979 Montreal International Music Competition, and the piece is heard here in a new arrangement for violin, piano and string orchestra.
La Morte de Céleste, the final track on the disc, is a rich, romantic and simply lovely short piece for string orchestra.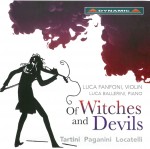 There's more fine fiddling on Of Witches and Devils – works by Paganini, Tartini and Locatelli played by violinist Luca Fanfoni and pianist Luca Ballerini on a new Dynamic CD (CDS 7749).
Some strong playing in Fritz Kreisler's version of Tartini's Sonata in G Minor, known as the "Devil's Trill," opens the program, but things really get interesting with the first of three Paganini works – Introduction and variations in G Major MS44 on Nel cor più non mi sento (by Paisello). This was one of Paganini's dazzling show pieces and features all the usual tricks: left-hand pizzicato; arpeggios and runs; multiple stops; runs in thirds, sixths, octaves and tenths. It no longer has us believing that the composer was in league with the devil, but it still has challenges that Fanfoni certainly does more than just surmount.
The lyrical Adagio from the Concerto No.3 in E Major MS50 is next, followed by the Sonata a preghiera MS23, the work more commonly known as Variations on the G String on Moses' Prayer from Rossini's opera Mosé in Egitto. It's noted here as the traditional version, by which they mean the one we're used to hearing. More on that later.
Locatelli's Capriccio for solo violin ("Il Labirinto Armonico") from L'Arte del violino Op.3 is a short but quite astonishing piece with a constant flurry of bowing interrupted by single notes ticking away. Then it's back to Paganini for Le streghe, Variations on a theme by Franz Süssmayr MS19 followed by the fascinating final track. The Moses' Prayer Variations, it turns out, are only the final part of the complete Sonata a preghiera. Not only is this the first recording of the unabridged original version, it is played on Paganini's own violin and with the string tuned up a minor third, a trick that Paganini himself used to obtain an even higher sound.
Fanfoni tends to favour speed over clarity, and the intonation seems a little less sure than in the traditional version, but it makes for a unique ending to a very interesting CD.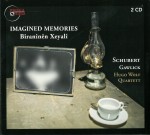 Imagined Memories is a 2-CD issue featuring string quartets by Franz Schubert and Ralf Yusuf Gawlick in performances by Austrian ensemble the Hugo Wolf Quartett (musica omnia mo0704).
Schubert's String Quartet No.13 D804 (Rosamunde) has a lovely brooding and delicate start, and a sensitive performance throughout, recorded with a fair amount of resonance. It's included here because the start of the quartet is quoted at the beginning and the end of the Gawlick quartet, which the composer describes as "an autobiographical work that probes into the realms of a relationship that never was, a bond with my biological mother, whom I never met." The opening also quotes quartets by Smetana, Borodin and Shostakovich.
To say that Gawlick's compositional process was complicated is an understatement: seven pages of booklet notes outlining thoughts, choices, graphic charts, Memory Triangles and spaces, Memory Footprints and numerical integers taken from various combinations of the initial letters of the composer's and his birth mother's names are almost impenetrable at times. Still, all that matters is the music – and there's a great deal of tender, sensitive, beautifully effective writing here. Of the 17 short sections in the main body of the work, played without a break, most fall between one and two minutes in length and none reaches four minutes. It's mostly quiet and soft, not difficult to listen to, although not traditionally tonal, and clearly quite personal and intimate.
The work was commissioned by the performers and was recorded shortly after its Carnegie Hall premiere in April of this year. Their outstanding performance here can be considered definitive.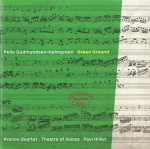 Contemporary string quartets are also featured on Green Ground (Dacapo 8.226153), five works from 2011 by the Danish composer Pelle Gudmundsen-Holmgreen, who died just this past June at the age of 83. The works were written for and dedicated to the composer's longtime collaborators the Kronos Quartet and also the vocal quartet Theatre of Voices under their director Paul Hillier. These world premiere recordings are of live concert performances in Copenhagen on December 4, 2012.
The titles of the CD and the works are, at first sight, quite confusing: No Ground; Green; No Ground Green; New Ground and New Ground Green, but there is a clear logical progression here. Last Ground, the composer's ninth string quartet from 2006, was supposed to be his last, but a tenth quartet, New Ground, and an eleventh, No Ground, were written in 2011 (three more were to follow in 2013).
When PGH felt that the two new quartets needed to be connected, he wrote Green for four voices and wooden percussion, taking lines ("To the greenwood we must go") from Desire, by the Renaissance English composer William Cornysh as his starting point. Green is then superimposed (a technique PGH had used before) on both New Ground and No Ground to produce, in effect, two new works.
It's certainly a fascinating soundscape, and quite difficult to describe. There are some extreme techniques employed and a basic lack of tonality, although there are beautiful moments in Green. Also, the New Ground quartet uses the ground from Pachelbel's famous Canon, albeit with an extra bar and a chromatic twist thrown in for good measure. Don't be fooled by the apparent easier access, though – things soon become more complicated.
Again, a set of what must be definitive performances of some quite fascinating works.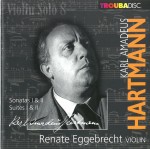 The German composer Karl Amadeus Hartmann wrote his Sonatas 1 and 2 and Suites 1 and 2 for solo violin in 1927 when he was only 22, but despite destroying a great deal of his early works chose to preserve these, going as far as burying them in a metal box in a friend's garden during the years of the Third Reich. Never performed during his lifetime, the two suites were first performed in Spokane, Washington in 1984 and 1986, and the two sonatas were premiered by Thomas Zehetmair in Munich in 1987. At the time, Zehetmair called them "among the best things written for unaccompanied violin during the 20th century."
They are featured on a new CD by the German violinist Renate Eggebrecht on the Troubadisc label that she founded in 1991 (TRO-CD 01447). They are uncompromisingly tough pieces, and the 72-year-old Eggebrecht's somewhat dry tone and slow vibrato tend to make her playing sound a bit unsure at times.
As the booklet essay points out, these works place enormous demands on both the technique and especially the musicality of the performer. At times, it's hard to shake the feeling that the sheer effort to get through them limits the interpretation here, and a check of the audio samples of Ingolf Turban's excellent and smoother recordings on the Claves label would seem to confirm this. If that wasn't enough, the brilliant Russian violinist Alina Ibragimova included these unaccompanied works on her debut recital CD in 2007, and you can hear audio samples of her recordings on the Hyperion Records website.
What's really interesting, though, is that this CD is actually Volume 8 in a Violin Solo series that Eggebrecht has compiled, and the range of composers – Reger, Skalkottas, Honegger, Bacewicz, Milhaud, Bartók, Hindemith, Bloch, Stravinsky, Schnittke, Rodrigo among others – is quite astonishing. It sounds like a highly significant series that should be much more widely known.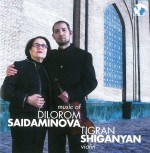 The music of the Uzbekistan composer Dilorom Saidaminova is performed by her son, the violinist Tigran Shiganyan and friends on a new Blue Griffin Recording CD (BGR414). It's the first commercial recording of her works.
The music here is essentially tonal and very pleasant. Saraton for solo violin, soprano and traditional instruments is a lovely, meditative piece; the two Sonatas for violin and piano are strong works; Umid for violin and piano and the two trios Where there is no time…for violin, clarinet and piano and Sabo for violin, cello and piano are all well-written and effective.
The CD comes with a short DVD featuring Saidaminova talking about the works on the CD and a rather strange and pointless outdoor "performance" of Saraton which is poorly filmed and quite obviously mimed to a pre-recorded track.