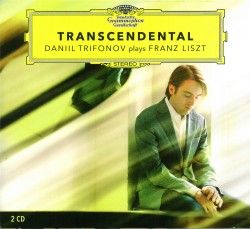 Transcendental – Daniil Trifonov plays Franz Liszt
Daniil Trifonov
Deutsche Grammophon 479 5529
Review
Deutsche Grammophon has struck gold again, this time with the young Russian pianist Daniil Trifonov. This is his fourth recording for the Gesellschaft and what a recording it is! Liszt's 12 Études d'execution transcendante is the Mount Everest of pianism. Very few have recorded them complete, because it is a titanic effort both physically and emotionally, but this fellow recorded them at one sitting, lasting well over an hour and got up at the end not showing any signs of fatigue. Here is Liszt as it should be played and how he must have looked: a handsome trim young man with flowing hair and a grand manner, with a rapt expression and total absorption, cascading octaves, making the piano thunder with superhuman energy. One can easily believe that women fainted hearing him and ran away from their husbands following him anywhere.
Apart from this colossal physical effort Trifonov plays with imagination and intelligence, understanding the structure and capturing the different moods of each étude. Some are wild, like Mazeppa, depicting a man being dragged through the steppes by galloping horses, some are meditative (Paysage, Vision) or heroic (Eroica) or charmingly playful (Feux Follets) or culminate in an insane hunt (Wilde Jagd). At No.9, Ricordanza the mood changes into glorious, soft melodies, sublime moments only Liszt, "the magician of the keyboard." could create.
The 2-CD set actually has all the Concert Études of Liszt and Disc 2 features the well-known favorites Un sospiro, La leggierezza, Gnomenreigen etc. and the complete Paganini Études also superlatively performed. You can see a preview and a glimpse of what went on in making the recording on YouTube.