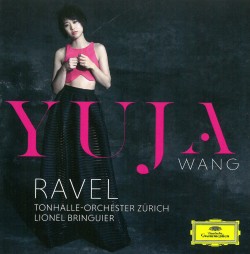 Ravel
Yuja Wang; Tonhalle-Orchester Zurich; Lionel Bringuie
Deutsche Grammophon 479 4954
DG's latest issue of Yuja Wang is the fifth in a row of the pianist's bestselling discs. It has already earned Gramophone magazine's prestigious Editor's Choice Award, probably the best recommendation today. The young Chinese virtuoso has cut through the music world like a hurricane, an elemental force, in a few years her fame skyrocketing her to the very top. I was lucky to see her at Koerner Hall a few years ago when I literally staggered out of the concert totally astounded.
The record definitely lives up to its stellar reputation. Dashing through the Ravel Concerto in G Major with her customary bravura she is totally in her element, youthful and impetuous, having the time of her life with this somewhat jazzy, very entertaining and exciting concerto. The phenomenal technical skill notwithstanding, she is also a mature pianist. This is well-demonstrated in the lyrical second movement where she creates a gorgeous sound painting with her extraordinary touch and colouring. I have heard this piece many times and it is always dazzling, but here the overall compositional structure truly shines, as both the pianist and the conductor (Lionel Bringuier) clearly understand it and have tremendous chemistry working towards a common goal.
The completely different Piano Concerto for the Left Hand is considerably more difficult, with a mysterious opening of a theme slowly emerging from darkness; as the piano enters we witness an almost titanic power in Wang's left hand. As the pace quickens in the march-like mid-section there is dazzling showmanship, exhilarating to listen to in a recording of demonstration quality with full frequency and wide dynamic range. Top recommendation.