Review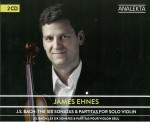 There's a tendency among leading violinists to leave recording the Bach Six Sonatas & Partitas for Solo Violin until they have been living with them and performing them for some considerable time, given the soul-searching nature of the music. If they do revisit them at a much later date, it's usually to offer a fresh interpretation that reflects their ever-evolving relationship with these astonishing works.
James Ehnes, who turned 40 this year, was only in his early 20s when he recorded the Sonatas & Partitas for Analekta just over 16 years ago, but his recent revisit (AN 2 8772-3) is a reissue, and not a re-recording. In his introductory note Ehnes acknowledges that his interpretations have evolved over the years, and will continue to do so throughout his life, so it's perhaps a bit surprising that he didn't take this opportunity to offer an updated version. Still, when you play them like this, who needs to?
This set often turns up in personal choice lists of the best versions available, and it's easy to see – and hear – why: Ehnes plays with grace, ease and eloquence, and with complete technical mastery coupled with emotional warmth and intellectual insight. There's a smooth, effortless and almost religious serenity to these performances (the recordings were made in a church) with towering fugues, achingly beautiful andantes and wonderfully rhythmic dance movements.
If you missed this set the first time around you might want to put that right – it's one to treasure. And, oh, that 1715 "Marsick" Stradivarius violin!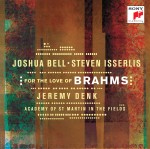 Violinist Joshua Bell and cellist Steven Isserlis get together on the new CD For the Love of Brahms, with Bell directing the Academy of St. Martin in the Fields (Sony Classical 88985 32179 2).
The Double Concerto in A Minor Op.102 for Violin and Cello has often been considered to be inferior to Brahms' Violin Concerto in critical biographies, but it has always been my favourite of the two works. Perhaps it's the added warmth and depth of the cello or the simple beauty of the slow movement.
In any event, the performance here is one for the ages. From the carefully measured orchestral opening statement, through Isserlis' beautiful cello solo, to Bell's tender entry and his dialogue with Isserlis, it's clear that this is going to be a performance of sensitivity, rhapsodic passion and haunting beauty. Under Bell's direction the Academy provides an accompaniment that perfectly complements the soloists. It's a simply wonderful reading.
The two other works on the CD highlight the close relationships between Brahms, Joachim and the Schumanns (in Brahms' case, particularly Clara). Schumann's Violin Concerto in D Minor was written for Joachim, but later supressed by him and Clara, only surfacing in 1937. The hauntingly beautiful Langsam slow movement, with its prominent cello melody, was adapted as an Elegy for violin and strings by Benjamin Britten (who added a codetta) and Yehudi Menuhin at the 1958 Aldeburgh Festival as a memorial to the brilliant young horn player Dennis Brain, who had been killed in a car crash the previous September. Apparently unperformed since then, it is played here with Isserlis assuming the cello melody and joining Bell as soloist.
Pianist Jeremy Denk joins Bell and Isserlis in a sterling performance of Brahms' Piano Trio in B Major Op.8, a work heavily revised and essentially reworked by the composer in 1889 but presented here in its original version from 1854, written less than a year after Brahms had met the Schumanns and replete with apparent references to his growing love for Robert's wife Clara. Significantly – and uncharacteristically – Brahms never withdrew this earlier version, and after years of living in the shadow of the later and admittedly more polished reworking it now seems to be growing in popularity.
Justifiably so, for what it lacks in polish it makes up for in its unbridled youthful passion.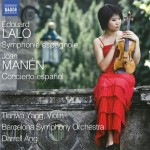 The terrific violinist Tianwa Yang is back with another outstanding disc on the Naxos label, this time featuring Lalo and Manén Violin Concertos (8.573067).
Yang seems to have a natural affinity for Spanish works, having already recorded the complete violin works of Pablo de Sarasate, and her dazzling brilliance seems perfectly suited to the nature of the music. As in the Sarasate set, Yang is paired with a Spanish orchestra for even more authenticity, this time the Barcelona Symphony and Catalonia National Orchestra under Darrell Ang.
Édouard Lalo's Symphonie espagnole has long been a part of the standard repertoire and despite its symphonic title has always been viewed as a violin concerto. Although the composer was French the work is quite clearly greatly influenced by its dedicatee and first performer, Sarasate, a player noted for his purity of tone and quicksilver technique. Much the same can be said of Yang, who gives a splendid performance here.
The real revelation on this CD, though, is the Violin Concerto No.1 "Concierto español" by the Spanish composer Joan Manén, who was born in 1883 and lived until 1971. Manén was a childhood virtuoso pianist and violinist who composed from an early age and had an astonishing early career; in the pre-WWI years he was regarded as one of the best violinists of the time. His appeal and career waned after the war, and although he continued performing until 1959 his death in Barcelona attracted little attention.
The Violin Concerto No.1 Op.18 was written in the late 1890s when Manén was still only in his mid-teens, and was revised in 1935 when it was re-numbered Op.A-7. It's an absolute gem of a work in much the same vein as the Lalo, firmly in the 19th-century virtuosic tradition but always more than a mere showcase for technique. The slow movement in particular is simply ravishing, and Yang's brilliant and sympathetic playing throughout leaves you wondering how on earth you could not have heard this concerto before, and why it has never made its way into the standard repertoire.
Quite simply, it's worth the price of the CD on its own.
Review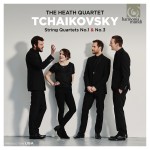 The British string ensemble the Heath Quartet has built an enviable reputation for itself since its foundation at the Royal Northern College of Music in Manchester in 2002, and garnered glowing reviews for its 2013/14 recording of the complete string quartets of Sir Michael Tippett that comprised its debut CD on the Wigmore Hall Live label last year.
Their new CD of Tchaikovsky String Quartets Nos.1 & 3 (HMU 907665) marks the start of a new relationship with the outstanding Harmonia Mundi label, and what a start it is!
The String Quartet No.1 in D Major Op.11 was written for a March 1871 concert intended to promote Tchaikovsky and his music, and includes the famous Andante cantabile slow movement which almost immediately achieved a life of its own. The Heath Quartet is in tremendous form from the outset, with full-bodied and passionate playing, a warm, rich tone, a lovely dynamic range and sensitive phrasing.
The players for the first performance, assembled from Tchaikovsky's colleagues at the Moscow Conservatory, were mostly the same for the String Quartet No.2 in 1874. Ferdinand Laub, the Czech first violinist in both performances, died the following year at 43, and the String Quartet No.3 in E-flat Minor Op.30 was Tchaikovsky's response to the loss. The third movement Andante funebre e doloroso was intended as an elegy to Laub, and not surprisingly made the biggest impression at the premiere. It really is played quite beautifully here.
The Heath Quartet's next CD release will be the complete Bartók quartets in 2017, apparently recorded during its performance of the complete cycle at London's Wigmore Hall this past May. That cycle won rave reviews in The Telegraph, and if this outstanding Tchaikovsky CD is anything to go by the Bartók issue should really be something to look forward to.
Concert note: The Heath Quartet will feature music of Bach, Beethoven, Bartók and Dvořák during its Canadian debut tour which includes performances at the Kitchener-Waterloo Chamber Music Society on January 20 and Mooredale Concerts in Toronto on January 22.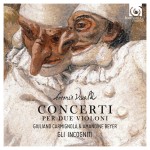 The outstanding French baroque violinist Amandine Beyer joins with another outstanding violinist, Giuliano Carmignola, and Gli incogniti, the Italian historical-instrument ensemble that she founded, in Antonio Vivaldi Concerti per due Violini on another new Harmonia Mundi release (HMC902249). There are six concertos for two violins on the disc, together with the Concerto a 4 in D Minor RV127.
Beyer says that recording this CD made her realize how much her love of Vivaldi and his music deepens with each new experience; she finds Vivaldi to be "a composer endowed with humanity and a profound sense of the harmony of beings with nature." The interplay between the two violins and the orchestra, she says, gives her a pleasure she finds hard to explain in words. But then again, she doesn't have to – she expresses it in her playing.
The concertos are those in C Major RV507, B-flat Major RV529, C Minor RV510, C Major RV505, B-flat Major RV527 and D Major RV513. The performances throughout are simply bursting with life and dazzling virtuosity, with a wonderful lightness in an accompaniment that features just four or five violins and one each of viola, cello, violone, theorbo or guitar and harpsichord or organ.
It's a terrific CD that makes Vivaldi's concertos sound much more varied than some would have you believe.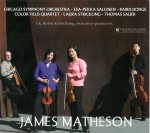 The music of American composer James Matheson is featured on the new self-titled CD from Yarlung Records (25670). His String Quartet was premiered by the St. Lawrence String Quartet in February 2014 and is played here by the Color Field Quartet. It's an accessible three-movement work of decided substance, with some excellent instrumental writing and a lot of energy.
The leader of the quartet, Baird Dodge, has been principal second violin with the Chicago Symphony Orchestra since 2002, and is the soloist in by far the most significant work on the CD, Matheson's Violin Concerto. Matheson and Dodge were roommates at college in the 1990s, and Dodge had harboured the idea of the Chicago Symphony Orchestra commissioning a violin concerto from Matheson ever since joining the orchestra. It finally came to fruition as a co-commission with the Los Angeles Philharmonic when conductor Esa-Pekka Salonen added his support.
The recording here is of the concerto's premiere performance on December 15, 2011, in Chicago with Salonen leading the CSO with Dodge as the soloist. It's a striking work with a virtuoso role for the soloist and some terrific orchestration. Matheson cites Messiaen, Lutosławski and Mahler as influences and acknowledges that the concerto's slow movement was inspired by the slow movement of Mahler's Sixth Symphony, but the high bird-like figures in the violin put me more in mind of the concertos of Szymanowski. It feels like a work that will not want for future performances.
There is a decided concert feel to the recording, as opposed to a studio feel, but there is no hint of an audience being present. Dodge plays quite brilliantly.
The final work on the CD fares poorly in comparison. Soprano Laura Strickling and pianist Thomas Sauer are the performers in the song cycle Times Alone, but unfortunately the high vocal register, Strickling's big voice and constant wide vibrato mixed with an over-close and frequently heavy piano sound make the words really difficult to understand.