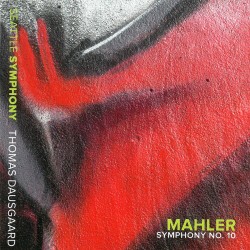 Mahler – Symphony No.10
Seattle Symphony; Thomas Dausgaard
Seattle Symphony SSM1011 (seattlesymphony.org)
Mahler's final work, composed in the summer of 1910, survived in a complete though sometimes skeletal short score form before his death at the age of 50. A facsimile of the sketches was eventually published in 1924. Several efforts have been made to reconstruct the work, the most well-regarded being the three editions issued by Deryck Cooke from 1960 to 1976 (this last in use here). Questions of authenticity aside, the symphony remains a deeply moving, intensely personal and profound last testament.
Thomas Dausgaard, principal guest conductor of the re-invigorated Seattle Symphony, has a special affinity for this work, which he has performed frequently around the world. His interpretation is among the finest I have ever heard and the gorgeous sound he draws from the Seattle forces is outstanding. Their expanded string section in particular has never sounded better. The engineering of the live performance from November 2015 is peerless, surpassing that of the acclaimed 1999 Rattle/Berlin DG pressing. Wildly recommended.