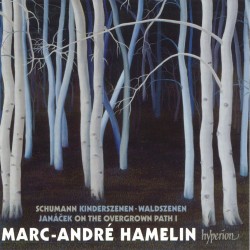 Schumann – Waldszenen, Kinderszenen; Janáček – On an Overgrown Path
Marc-André Hamelin, piano
Hyperion CDA68030
The term "pianistic supernova" is not one that music reviewers should ever use lightly, but it can surely be applied to Marc-André Hamelin. Since making his debut in 1985, this Montreal-born pianist now based in Boston continues to prove that his musical talents really are extra-ordinary, earning well-deserved accolades from critics and audiences alike. Although Hamelin has long championed composers slightly left of the mainstream, his newest recording features two that are decidedly more familiar – Janáček and Schumann – in an engaging program of music from the early and late Romantic periods.
"Into the woods" might be a suitable sub-title for this disc, as much of the music is inspired by pastoral woodlands. Janáček's On an Overgrown Path suite originally began as a set of six pieces, three of which were published on their own in 1901. By 1908, the cycle had grown to nine pieces, then to ten, published in its final form in 1911. But beware – under Janáček's pen, these woods aren't pastoral and pleasant, but slightly forbidding, with an underlying sense of unease. Hamelin achieves a wonderful sense of intimacy with these sparse miniatures, deftly capturing the ever-contrasting moods of this introspective music.
Waldszenen (Forest Scenes) was Schumann's last major cycle for piano, completed in 1849. No matter that this musical depiction of a landscape was one that existed only in Schumann's mind, the score is cheerful and buoyant with only occasional hints at darkness, and the mercurial nature of the music is handled with confidence.
With the Kinderszenen (Scenes from Childhood), we're on considerably more familiar ground. What amateur pianist hasn't tried at least a few movements from this charming suite dating from 1838? While youth is clearly the inspiration here, the music is nevertheless intended for those of a certain technical level. From the rambunctious Blind Man's Bluff and the familiar and tranquil Dreaming to the extroverted Knight of the Hobbyhorse, Hamelin's performance is beautifully nuanced, making this well-loved repertoire sound fresh and new again. The final movement of the suite – and of the entire disc – is The Poet Speaks, a most fitting conclusion as indeed this CD is pure poetry.
Richard Haskell
Concert note: Marc-André Hamelin is featured in two performances at The Royal Conservatory's 21C Festival. On May 24 at 8PM in Koerner Hall Hamelin plays The Perilous Night by Jennifer Higdon, a solo work for prepared piano by John Cage, and is joined by the Pacifica Quartet for Leo Orenstein's Piano Quintet. Hamelin and the Pacifica Quartet are joined by a Canadian baritone Joshua Hopkins for the Canadian premiere of a work by Higdon titled Dooryard Bloom (commissioned by The Royal Conservatory). Dooryard Bloom is based on Walt Whitman's poem When Lilacs Last in the Dooryard Bloom'd, which he wrote in response to the assassination of Abraham Lincoln. Marc-André Hamelin appears for the second time during the 21C Music Festival in a concert titled Hush! at Mazzoleni Hall on May 25 at 3PM, which features a rare performance of For Bunita Marcus, a 70-minute work for solo piano marked entirely triple piano by the late American composer Morton Feldman.