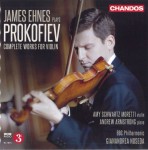 The latest offering from James Ehnes is an outstanding 2-CD set of the Complete Works for Violin by Sergei Prokofiev (Chandos CHAN 10787(2)). Gianandrea Noseda conducts the BBC Philharmonic in the Violin Concerto No.1 in D Major and the Violin Concerto No.2 in G Minor on disc one, and Andrew Armstrong is the accompanist for the violin and piano works on disc two. Ehnes gives thoughtful and sensitive performances of the two concertos, and is given perfect support by Noseda, a conductor who has few equals when it comes to drawing nuanced, sensitive playing from a large orchestra.
Violinist Amy Schwartz Moretti joins Ehnes in the Sonata for Two Violins, Op.56, and Ehnes gives a spirited performance of the lovely Sonata for Violin Solo, Op.115. The difficult and engrossing Sonata No.1 in F Minor, Op.80, is the major work on disc 2, and Ehnes and Armstrong are outstanding. Although completed in 1946, three years after the sonata we know as No.2, Prokofiev had started work on it in 1938.
The Five Melodies Op.35bis were transcribed by Prokofiev in 1925 from his original 1920 version for voice and piano. The final work on disc two is the Sonata No.2 in D Major, Op.94bis, the composer's transcription of his Flute Sonata from 1943.
Balance and sound quality throughout are up to the quality you would expect from a thoroughly satisfying CD set.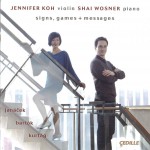 My eyes light up whenever I see a new Jennifer Koh CD from the Cedille label, and the latest release from this most intelligent of performers, signs, games + messages (CDR 90000 143) certainly doesn't disappoint. Koh is joined by pianist Shai Wosner in a recital that features works by Leoš Janáček, Béla Bartók and the 87-year-old Hungarian composer György Kurtág. Koh and Wosner, in a joint statement in the excellent booklet notes, cite their desire to explore the tension between the visionary modernism of the works and the pull of the folk and cultural memory that is so essential to the personal language of these composers, as the spark for this recital.
There really does seem to be a logical progression through the program, from Janáček's Violin Sonata, through a selection of short aphorisms by Kurtág, to Bartók's First Violin Sonata. There are four solo piano pieces from the Játékok series and four solo violin pieces from Signs, Games and Messages in the Kurtág works in addition to three duo works, and the piano pieces in particular have echoes of Janáček's piano series On An Overgrown Path. The Bartók sonata seems to follow naturally from the final Kurtág work, the In Nomine – all'ongherese for solo violin.
Needless to say, the performing and recording standard throughout is of the highest quality. Once again, Koh provides us with a fascinating journey through a carefully chosen and perfectly balanced program.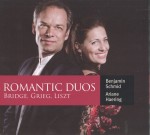 The husband and wife team of violinist Benjamin Schmid and pianist Ariane Haering are in superb form on the CD Romantic Duos, featuring works by Franz Liszt, Frank Bridge and Edvard Grieg (TwoPianists Records TP1039299). Schmid's tone throughout is rich, warm and full-blooded; Haering is a true partner with a beautiful piano tone, and the balance and sound quality are perfect.
Although usually attributed solely to Liszt, his Grand Duo Concertant was actually a collaborative effort between Liszt and the violinist Charles-Philippe Lafont, whose Romance, Le Marin is the basis for a set of short variations. It's a lovely work. Liszt's brief Consolation No.3 was originally one of six solo piano works, and is presented here in a transcription for violin and piano by Nathan Milstein.
The English composer Frank Bridge only published one acknowledged violin sonata, in 1922, but there is an incomplete sonata that pre-dates the Great War, comprising an opening movement and an unfinished second movement. It is this work that is recorded here, with the second movement completed by the Bridge authority Paul Hindmarsh. It's a beautifully rhapsodic work that draws terrific playing from the performers. Two short pieces by Bridge are also included: Romanze, from 1904 (the same year as the unfinished sonata); and Heart's Ease, written in the early 1920s. A passionate performance of Grieg's Violin Sonata No.3 in C Minor, Op.45, completes an outstanding disc.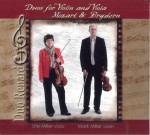 Another husband and wife team, Mark and Ute Miller, perform as the Duo Renard on a CD of Duos for Violin and Viola in works by Mozart and Brydern (Fleur de Son Classics FDS 58011).
It's clear from the outset that this will be a "sit back and enjoy" CD: the intonation is spot on; the ensemble playing, phrasing and articulation are all excellent; the tone, balance and recorded sound are beautiful.
The two Mozart works – the Duos in G Major, K423 and B-Flat Major, K424 – were written to complete a set of six duos that Salzburg's Archbishop Colloredo had commissioned from the ailing Michael Haydn, Mozart's friend and the brother of Joseph Haydn. Mozart was a superb viola player as well as a first-class violinist, and his understanding of both instruments is clear for all to hear.
The two works by the German-born and U.S.-based Benedikt Brydern (b.1966) are an interesting contrast. The seven-movement suite Bebop for Beagles was commissioned by Duo Renard, and is a tribute to the couple's two pet dogs. From My Notebook Vol.2 is a collection of four short pieces from 2000, following an earlier series with the same title for solo violin. Movement titles like "Cookies in Space" and "Flea Control: Mission Impossible" give you a good impression of what to expect here: both works are great fun – and very, very good.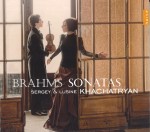 The brother and sister violin and piano duo of Sergey and Lusine Khachatryan are back with a beautiful CD of the three Brahms Sonatas (naïve V 5314). These glorious works are the perfect length for a CD and always a great listen; indeed, it would take a pretty bad performance to spoil them.
The Khachatryans make you sit up and take notice right from the start, but for all the right reasons. There is a quiet, introspective start to the G major sonata, and some beautifully expansive phrasing, especially in the piano. The violin vibrato tends to be fairly fast and narrow and is rarely missing, but the sweet tone and thoughtful phrasing mean that there is never any sense of harshness or tightness. The CD was recorded at London's Wigmore Hall, and the balance and sound quality are ideal.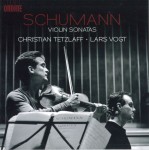 Violinist Christian Tetzlaff and pianist Lars Vogt are in great form on their CD of the Schumann Violin Sonatas (Ondine ODE 105-2). All three sonatas were written towards the end of Schumann's life, the Sonata No.1 in A Minor and the Sonata No.2 in D Minor within a few months of each other in late 1851. The Sonata No.3 in A Minor has an odd history. Immediately after contributing two movements to the "F.A.E" Sonata on which he, Brahms and Albert Dietrich collaborated in October 1853 as a birthday gift for Joseph Joachim, Schumann added a further two movements to complete the new work; Clara Schumann and Brahms apparently prevented its being included in the complete edition of Schumann's works though, and it wasn't published until 1956.
Tetzlaff and Vogt apparently immersed themselves in Schumann's late works in preparation for this recording, and it shows; their playing is warm and fluent, and they clearly have a great affinity for the material on a terrific CD. Their performance of the third sonata in particular makes you wonder why it was suppressed for so long.
Two ongoing string quartet series came to an end with recent releases; by coincidence, in-depth reviews of earlier volumes in both series were included in the same Strings Attached column in March 2012:
Volume IV of The Soviet Experience, the outstanding Cedille series of String Quartets by Dmitri Shostakovich and his Contemporaries, features quartets numbers 13 to15 by Shostakovich in stunning performances by the Pacifica Quartet (CDR 90000 145). What has added immeasurably to this series, though, is the addition of contemporary Russian string quartets to each volume. This time it's the String Quartet No.3 by Alfred Schnittke that completes the 2-CD set. Everything about this wonderful series has been of the highest order: the performances; the recording quality; the cover artwork; the booklet notes; the choice of contemporary works. The word "definitive" keeps cropping up in the various reviews of previous sets in this series, and even in the face of some extremely strong competition it's very difficult to imagine a more compelling or satisfying collection of these wonderful works. Add the fact that all four volumes are currently on sale on the Cedille website for around US$13 each, and the words "must buy" come to mind!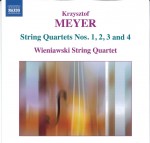 The Naxos release of the String Quartets Nos.1, 2, 3 and 4 by Polish composer Krzysztof Meyer is also a fourth and final volume, this time in the series of the complete quartets performed by the Wieniawski String Quartet (8.573165). These early works run from the Op.8 of 1963 to the Op.33 of 1974, and show a developing but confident composer willing to experiment with sounds and forms. The members of this Polish ensemble are completely at home with these important works by their compatriot, and the four volumes constitute an impressive set.
Two other CDs continue ongoing series: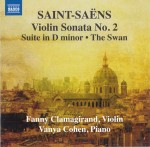 French violinist Fanny Clamagirand is joined by her regular duo partner, pianist Vanya Cohen in the second volume of Saint-Saëns Music for Violin and Piano (Naxos 8.572751). The main works here are the Suite in D Minor, Op.16 and the Violin Sonata No.2 in E-Flat Major, Op.102; there is also a very early – and very brief – unfinished sonata, although "hardly started" might be a better description. A short Méditation and two works originally for cello – the Romance in C Major, Op.48, and The Swan – round out the CD.
Saint-Saëns' music may not have impacted the course of musical history, but it's of a very high quality. Clamagirand and Cohen have exactly the right mix of technical bravura and musical insight to make these works sound terrific. Volume 1, featuring the Violin Sonata No.1, is available on Naxos 8.572750.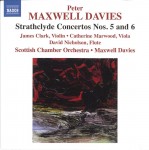 The Naxos series of the 10 Strathclyde Concertos by Peter Maxwell-Davies continues with the Concerto No.5 for Violin, Viola and String Orchestra, coupled with the Concerto No.6 for Flute and Orchestra (8.572354). Both works were written in 1991, and were recorded two years later for the Collins Classics label by the artists to whom the works were dedicated and who gave the premieres: violinist James Clark; violist Catherine Marwood; flutist David Nicholson; and the Scottish Chamber Orchestra conducted by the composer. This Naxos CD is a reissue of those recordings. The performances of these high-quality works are clearly definitive, although there is little to stir the blood in either concerto.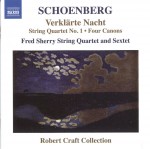 Schoenberg's Verklärte Nacht is available in a new version, this time coupled with the String Quartet No.1 in performances by the Fred Sherry String Quartet and Sextet (Naxos 8.557534). Leila Josefowicz is the first violin here, and the disc is part of an ongoing series of Schoenberg recordings under the direction of the legendary Robert Craft. Despite this noteworthy pedigree, however, I don't think this performance of Verklärte Nacht quite matches the version by Janine Jansen and friends reviewed in this column in June 2013.
The String Quartet No.1 is worth the price of the CD on its own, though. It's a large, deeply chromatic work from 1904/05, a pivotal point in the composer's career, and it's made even more interesting by the knowledge of where it would lead in just a few years. Four short canons from the series of Thirty Canons that Schoenberg wrote between 1905 and 1949 close out the disc.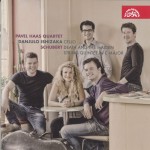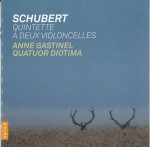 Several other works also seem to be cropping up quite regularly these days. There are two new recordings of the Schubert String Quintet in C Major, for instance, although it's difficult to imagine having too many versions of this outstanding work. Cellist Anne Gastinel joins the Quatuor Diotima in a beautiful performance on naïve (V 5331), while Danjulo Ishizaka joins the Pavel Haas Quartet on a 2-CD Supraphon set that also features Schubert's String Quartet No.14 in D Minor, Death and the Maiden (SU4110-2). A wide range of dynamics in the latter release makes for some terrific moments in passionate but sensitive performances of both works.