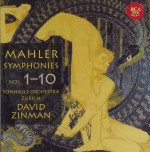 Mahler - Symphonies 1-10
Tonhalle Orchestra Zurich; David Zinman
RCA Red Seal 88697 72723 2
Until recently Switzerland's Tonhalle Orchestra Zurich had little international prominence and, by comparison with Ernest Ansermet's renowned Suisse Romande orchestra, a sadly meagre discography. That all changed with the arrival in 1995 of American conductor David Zinman. He brought an injection of fresh blood to this venerable ensemble and soon hit a home run with of a swiftly-paced, revisionist box set of Beethoven symphonies which sold over a million copies. The rejuvenating effect of his stewardship is confirmed by the genuine optimism and esprit-de-corps expressed in interviews with the members of the orchestra in an accompanying documentary covering the recording of the Sixth Symphony and the story behind its composition. (Incidentally, this DVD includes a visit to the control room where the producers claim with a straight face that they aren't adjusting the balance through the mixing board. Not when the cameras are running, anyway.)
Few boxed sets of Mahler symphonies have ever proven themselves outstanding in all respects, though the Bernstein and Kubelik collections from the 1960s remain worthy contenders despite their age. Though Zinman's excursion to the nine planets of Mahler's known universe contains more hits than misses, there are a few disappointments along the way. The bulk of the ebullient First Symphony (Zinman includes the excised Blumine movement as an appendix) falls flat, the genial Fourth fails to smile, and the infinite longing of the first movement of the Ninth Symphony fails to register emotionally due to clumsy or non-existent tempo adjustments and less than subtle dynamic gradations.
The more objective middle symphonies fare best, with an excellent Third and Fifth and highly effective Sixth and Seventh symphonies, the latter two distinguished by the sweetest, most contented cowbells I've ever heard. The choral symphonies, Two and Eight, feature world-class vocal soloists including Juliane Banse, Anna Larsson, Birgit Remmert and Anthony Dean Griffey backed by the magisterial WDR Rundfunkchor Köln.
The set concludes with the incomplete Tenth Symphony in the rarely-heard Clinton Carpenter version, an interventionist realization that attempts to flesh out the harmonies of Mahler's extant sketches and incorporates quotations from his previous symphonies. I'm not entirely convinced by the results but it's fascinating to hear this alternate to the prim and proper Deryck Cooke version. My reservations aside, the mid-range price, ample documentation and exemplary sonics (including an offbeat 4.1 (sic) SACD layer for ye boys what have such toys) make this an attractive proposition and a leading contender among the avalanche of recent releases in the ongoing Mahler celebrations.