The Honens International Piano Competition, based in Calgary, commenced in the early 1990s and occurs every three years. Its next edition will take place in 2012, with a prize advertised as the largest anywhere: $100,000 cash, plus three years of management and concerts, for the first-place winner.
Another angle to the Honens Competition is the occasional issuing of CDs of past winners. Four releases have just appeared, each recorded in 2010 at the Banff Centre. They are an homage to the recently deceased Andrew Raeburn, who directed the Honens for a decade, and earlier in his career ran classical record labels in England and the US. Raeburn is listed as producer on one of these discs, the Bach release by Minsoo Sohn, a follow up to Sohn's Liszt recording as First Laureate of the 2006 competition. The other three, featuring the 2009 laureates, were produced by Banff recording engineer Theresa Leonard.
The piano sound captured is uniformly fine, closely miked yet resonant. Music choices are diverse, and avoid much of the customary core piano repertoire - no Beethoven, Schumann, Chopin, Liszt, Scriabin, or Rachmaninoff.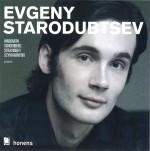 Russian Evgeny Starodubtsev presents the most interesting recital, clustered around the 1920s: Karol Szymanowski's three bracing Masques, Paul Hindemith's jazzy Suite (1922), Schoenberg's Five Pieces, Op. 23 and Stravinsky's Sonata (1924). His playing is objectivist in spirit, which may suit a neoclassical milieu.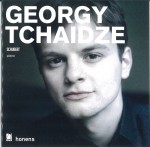 Russian Georgy Tchaidze offers a lovely Schubert program with warmth and care. He plays the songful A Major Sonata, Op. 120, the Wanderer Fantasy, and four short character pieces like he loves them.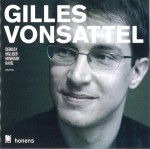 American Gilles Vonsattel delivers a compelling, mostly French recital: Ravel's Sonatine and Gaspard de la Nuit, five selections from Debussy's Images, and short pieces by Arthur Honegger and Heinz Holliger (b. 1939). His playing is notably colorful and expressive.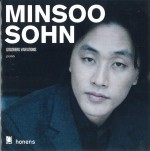 Korean-American Minsoo Sohn's rendering of the lofty Goldberg Variations is gentle and pianistic, with fleet tempos, lyrical counterpoint, and occasional zest. Sohn observes the repeat signs in each variation, yet almost decoration-free: his Bach journey stretches to a sobering 75 minutes, when it could have been more pleasant at under 40.
While not issued as a set, all four black-and-white CD jackets and booklets look exactly alike: sternly modern in design, with frustratingly small type. Eric Friesen, the CBC classical radio broadcaster, has supplied brief conversational liner notes, taken from his interviews with the performers. For more information visit www.honens.com.