This month I'm catching up on a backlog of solo recital CDs.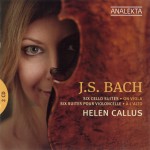 Analekta has issued a beautiful 2CD set of the Bach Six Cello Suites on Viola by the outstanding English violist Helen Callus (AN 2 9968-9). Five of the Suites are in the original keys, while No. 6 is transposed up a 4th from D major to G major, apparently to enable Callus to retain more of Bach's open-string effects. The move away from the cello tessitura – the viola is tuned one octave higher – gives the works an added brightness and a quite different feel. Callus maintains a beautiful sense of line, and handles the multiple-stopping and contrapuntal elements quite effortlessly. Recorded at Domaine Forget's Salle Françoys-Bernier in Saint-Irénée, Quebec last year, the sound is warm and resonant.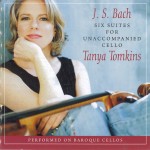 A direct comparison is provided by the Avie Records 2CD set of the Six Suites performed on Baroque cellos (although one is from 1798) by Tanya Tomkins (AV2212). The playing here seems a bit slower and more contemplative, with a tone quality closer to a viola da gamba than a cello, but I found that it didn't hold my interest over extended listening: I had no problem listening to the Callus set from start to finish, but couldn't do it here. Perhaps the lack of a strong sense of pulse, particularly in the dance movements, contributed to that. Don't get me wrong though – this is thought-provoking, intelligent and carefully measured playing, albeit somewhat cool and with not the same life or spirit as the viola set – or perhaps more accurately, with a different spirit. Tomkins' Benvenue Trio co-member Eric Zivian composed a double for the Sarabande in the Suite No.6.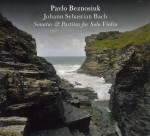 You don't have to read the booklet notes for the Linn 2CD set of the Bach Sonatas & Partitas for Solo Violin by Pavlo Beznosiuk (CKD 366) to realize that this is another performance by a Baroque specialist – the thin high register, the sparse vibrato, and the overall lack of a big sound make it obvious from the opening bars. Again, though, this is clearly a very personal and thoughtful interpretation. Tempos are not fast, but the dance movements in the Partitas are never allowed to drag. Beznosiuk makes some interesting choices with variations in some of the repeats, as well as with the inner workings of the chordal sections; he also changes or omits the occasional note from the standard editions, but he's not exactly alone in that respect. Overall, though, this is an interpretation that didn't engage me emotionally, a response that probably wasn't helped by the distant nature of the recording.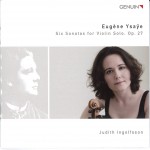 There's another terrific CD of the Six Sonatas for Violin Solo by Eugène Ysaÿe, this time by the Icelandic-born violinist Judith Ingolfsson (GENUIN GEN 1102). I reviewed the Rachel Colly D'Alba set on Warner last February, and referred then to the startling originality and individuality of these remarkable works. They're arguably the most significant solo sonatas since Bach's, yet despite being well represented on CD – one single web search today turned up 16 different issues – they haven't been recorded by many of the really "big" names in the field. It's almost impossible to offer an objective comparison with so many choices available, but this is another impressive set that never makes the pieces sound forced or awkward. And that's saying something.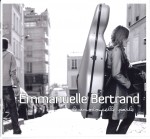 On her latest solo CD+DVD set, le violoncelle parle (the cello speaks) (harmonia mundi HMC 902078) the French cellist Emmanuelle Bertrand presents an excellent programme: Britten's Suite No. 3 in C minor, written for Rostropovich; Gaspar Cassado's Suite from 1926; a relatively new (2003) and quite moving work from Bertrand's partner and regular accompanist Pascal Amoyel called Itinérance; and a knock-out performance of the Kodaly Suite Op. 8, which really doesn't sound like it was written in 1915. Bertrand's breathing noises are a bit intrusive at times, but nothing can detract from the wonderful playing here. The DVD is an engrossing 47-minute film by Christian Leblé that features Bertrand talking about the music (in clear, understandable French with sub-titles) along with sections of the actual CD studio recording of each work and a fascinating look at Bertrand one-on-one with one of her students in a section of the Kodaly Suite.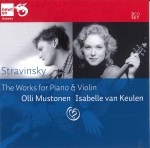 Newton Classics has reissued the 2CD Complete Works for Violin and Piano by Stravinsky, originally issued by Philips in 1989, and played by Dutch violinist Isabelle van Keulen and Finnish pianist Olli Mustonen (8802062 2CD). The recordings were made in 1987 and 1988 in Switzerland, but sound as fresh as if they were made last week. Most of the works here are transcriptions of Stravinsky's own orchestral works, with virtually all of them crediting Stravinsky and Samuel Dushkin as the arrangers. Stravinsky met the Polish-American violinist in 1930, when Schott, the composer's German publisher, suggested that Stravinsky write a concerto for Dushkin. The two got on well, and as Stravinsky needed to increase his income they formed a performing duo which toured extensively throughout the 1930s. All of the music on these CDs resulted from that partnership. Van Keulen's playing is exemplary – clean, warm, stylish and with no trace of excessive show; it's fitting, given that what attracted Stravinsky to Dushkin's playing was the latter's sensitivity and a complete lack of showy virtuosity. Mustonen provides the perfect support. Beautifully packaged, and with really excellent booklet notes, this is one of the best "complete works" sets I've seen in a long time. Distributed by Naxos here, the budget price makes it an even more attractive buy.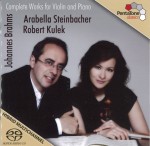 An equally attractive Super Audio CD comes from PentaTone Classics, with Arabella Steinbacher and Robert Kulek performing the Complete Works for Violin and Piano by Johannes Brahms (PTC 5186 367). I always feel you can judge how performances of the Brahms sonatas are going to turn out just by listening to the first 4 bars of the G major sonata: the two piano chords and the almost hesitant off-beat entry of the violin have to be perfectly judged in all respects – tempo, dynamics, pulse, touch, style, warmth, you name it – as they set the mood for the whole work. Well, no problems here. This is classic Brahms playing, bringing to mind all the usual adjectives: warm; glowing; expansive; autumnal. Simply beautiful. I'll be playing this one again and again.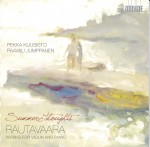 Summer Thoughts is the title of a new Ondine CD of the Works for Violin and Piano by Finnish composer Einojuhani Rautavaara, played by violinist Pekka Kuusisto and pianist Paavali Jumppanen (ODE1177-2). Rautavaara, who turns 83 on October 9, has had a highly successful career, despite apparently not understanding why: he says that he writes his music "for myself and no one else," and is "very flattered and surprised" if someone else finds something rewarding in it. His style is very eclectic. The works here, four of which are world premiere recordings, cover most of Rautavaara's career: Summer Thoughts and April Lines are both recent re-workings of material from the early 1970s; Lost Landscapes was a 2005 commission from Midori; Dithyrambos and Varietude for solo violin were written as the compulsory pieces for the International Jean Sibelius Violin Competition in 1970 and 1974 respectively; Notturna e danza was also an obligatory piece, written in 1993 for a youth chamber music competition. The most successful piece for me was, ironically, the only one in which the performers don't actually play together. Pelimannit, or The Fiddlers, is a 6-movement piano suite from 1952 inspired by Finnish violin polska tunes notated some 150 years earlier. For this recording, Kuusisto hit on the idea of playing the actual fiddle tunes before the relevant piano sections. It works wonderfully – and there's some tremendous fiddle playing!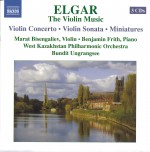 Naxos has issued a 3CD box set of Elgar - The Violin Music (8.572643-45), although the performers aren't quite what you might expect for this most quintessentially English of composers: the orchestra for the Violin Concerto and the Serenade for Strings is the West Kazakhstan Philharmonic Orchestra under Bundit Ungrangsee. The Kazakhstan-born violinist Marat Bisengaliev, who founded the orchestra in 2003, clearly has strong ties to Elgar's home base, however: the acknowledgements in the booklet notes include reference to his work as musician in residence in Malvern, and thanks for the loan of Elgar's violin and bow. CD 1, recorded in 2009, contains the orchestral works; CDs 2 and 3, recorded in 1998 and 2000 and previously released by Black Box Music, consist almost entirely of works for violin and piano, with Benjamin Frith at the keyboard. The concerto receives a very presentable reading, with a nicely-balanced orchestral opening and a clean, transparent sound – no "stuffy" Edwardian approach here. Bisengaliev enters sounding more like a viola, with a big tone, quite nasal in the middle and lower registers, and with a tendency to scoop a bit between notes. Although he is much better in the faster sections of the concerto – especially the opening to the third movement – he sounds a bit strained in the quieter, slower moments, which I felt didn't have the pensive, contemplative feel that is so essential in this music. Overall, this is a performance that occasionally scales the heights, but doesn't really plumb the depths of this very personal and emotional work. CDs 2 and 3 contain almost 30 short works for violin and piano, both original and transcriptions, as well as the E minor Violin Sonata. Bisengaliev's full tone and constant vibrato become a bit tiresome after a while. CD2, incidentally, ends with five remarkable Etudes caractéristiques for solo violin, which I never even knew existed!