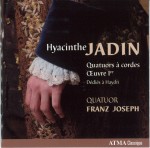 Jadin - Quatuors a cordes, Oeuvre 1
Quatuor Franz Joseph
ATMA ACD2 2610
Child prodigy Hyacinthe Jadin premiered his own piano concerto at the age of 13 during the French Revolution, an event which both inspired and overshadowed him. He composed in almost every contemporary genre, including harpsichord and piano pieces, revolutionary hymns, conventional sonatas and trios and chamber music when it was exclusive to the aristocracy.
Quatuor Franz Joseph is certainly conventional: two violins, viola and cello. However, it introduces us to Jadin's first quartet with a largo which very soon becomes an allegro that is tackled with relish by the quartet. The allegro and following adagio, minuet and second allegro combine to create chamber music at its most exhilarating.
Much less serious in tone are the two other quartets, in A major and F minor. Both exemplify the conventional chamber music of the pump room, albeit enlightened with the demands of the presto last movement of the A major and the folkloric quality of the F minor's polonaise.
Jadin is said to have been influenced by Haydn, highly likely as Haydn's influence was by then ubiquitous. Jadin was unique first in that he wrote chamber music when it was almost never publicly performed and second in that he was influenced by Haydn's slow introductions to his symphonic works. All from a 19-year-old!
We are lucky that Quatuor Franz Joseph is bringing Jadin to the ATMA label; his spirited music makes his death at 24 all the more tragic.