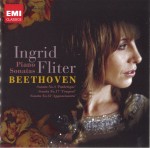 Beethoven - Piano Sonatas 8; 17; 23
Ingrid Fliter
EMI 0 94573 2
Beethoven's 32 piano sonatas, with his symphonies and string quartets are among the supreme achievements of civilization in the same sphere as the work of Shakespeare, Dante and Michelangelo. The best pianists have recorded them, like Schnabel, Backhaus, Gieseking, Kempff, Rubinstein, Horowitz and Richter to name only a few. Now a new challenger by the name of Ingrid Fliter has arrived to add to the roster.
Born in Buenos Aires and studied in Europe, she has already won prizes at numerous international competitions and received the prestigious Gilmore Award. This is her 3rd issue with EMI after two very successful Chopin recordings. Here she selected works that probably best suit her temperament, three of the Master's most turbulent and passionate sonatas, all with a nickname: Pathétique, Tempest and Appassionata.
She plays with great fervour, almost reckless passion, abandon, phenomenal technique, precision and imagination rarely found in other pianists. Nowhere does this come out better than in the performance of Op. 57, the "Appassionata", where the nearly deaf Beethoven with violent outbursts is virtually shaking his fist to the heavens. Interestingly, it is somewhat related to the 5th Symphony. Notice the four note motive in the bass - D flat, D flat, D flat, C - very similar to the Fate motive that permeates the 1st movement of the 5th. The whirlwind, turbulent last movement where the speed and excitement just builds and builds to the breaking point, ending with an even faster frantic gypsy dance coda is guaranteed to lift you out of your seat, that is if you are not already standing.