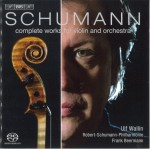 Throughout his life, Robert Schumann tended to concentrate on one particular form of composition at a time, and in 1853 he produced his only three works for violin and orchestra, although only one – the Fantasy in C minor – was premiered before his death 3 years later. BIS has released an outstanding SACD of the Complete Works for Violin and Orchestra (BIS-SACD-1775) featuring Ulf Wallin with the Robert-Schumann-Philharmonie under Frank Beermann. The Concerto in A minor is Schumann's own transcription of his 1850 Cello Concerto, and it works remarkably well, given the two instruments' differences in pitch and tone. It was premiered as recently as 1987 after a copy was found in the papers of the violinist Joseph Joachim, to whom both the Fantasy and the Violin Concerto in D minor were dedicated. The Fantasy, an attractive work with a striking cadenza, fell out of favour after Schumann's death, and the D minor concerto fared no better, with several projected premieres being cancelled before Clara Schumann and Joachim lost faith in it and decided against publishing it. Joachim's resistance was probably due to the concerto's technical and musical challenges: it's a large work with a beautiful slow movement, but has never really established itself in the repertoire since finally being published and premiered in 1937. If anything can change that, it's this recording. Ulf Wallin (who also wrote the outstanding booklet notes) uses Schumann's original solo part, wisely choosing to ignore the later unauthorized "corrections and alterations" apparently made by Joachim. The result is a definitive performance, full of strength and beauty, and perfectly displaying the mix of Classical and Romantic styles that typify the music of this still often misunderstood composer.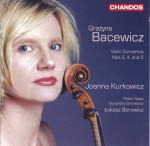 CHANDOS has issued Volume 2 of the Violin Concertos of the Polish violinist and composer Grazyna Bacewicz (CHAN 10673), and it's quite stunning. Bacewicz (1909-69) was that 20th century rarity – a world-class violin virtuoso with compositional skills to match. Volume 1 featured Concertos 1, 3 and 7, and this new CD completes the set with Nos. 2 (1945), 4 (1951) and 5 (1954) (No.6 exists only in manuscript, and has never been performed). The three works here range from the somewhat Prokofiev-like No.2, with its mix of melodic and strongly rhythmic material, to the much tougher, terser world of No.5, as Polish music began moving away from the "formalist" Communist days. All three demonstrate Bacewicz's innate understanding of the instrument, and her assured grasp of form and orchestration. The Polish-born violinist Joanna Kurkowicz, now resident in the United States, is wonderful throughout, and given terrific support by the Polish Radio Symphony Orchestra under Lukasz Borowicz. An absolutely essential addition to the 20th century violin concerto record catalogue.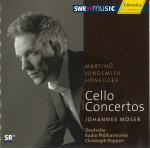 Bohuslav Martinu, Arthur Honegger and Paul Hindemith lived almost exactly contemporaneous lives, being born within 5 years of each other in the early 1890s and all dying in their 60s between 1955 and 1963. As cellist Johannes Moser perceptively notes in the booklet for his latest CD, Cello Concertos (Hänssler CLASSIC CD 93.276) they had one other thing in common: they all consciously avoided the path of serialism and consistently developed their own very individual styles. Moser's idea of bringing their cello concertos together in one programme is a real winner, and results in a terrific CD. All three works are in the traditional three-movement form and are immediately accessible, while clearly imbued with each composer's individual voice. The Martinu, from 1930, has its roots firmly in the Czech tradition, with a soulfulness very reminiscent of Janáček at times. The Honegger is a short (15 minutes) but very effective work from the same year. The Hindemith, from 1940, is classic Hindemith: a strong, rhythmic opening; an immediate melodic entry for the soloist; an instantly identifiable and highly personal use of tonality; stunning orchestration. It's a wonderful partner for the Violin Concerto from the previous year. I'm completely at a loss to understand why Hindemith is still regarded in some circles as a dry, theoretical musician – it's a view completely at odds with his mature orchestral works, and one completely destroyed by performances like this. Moser is outstanding throughout the disc. The recorded sound is warm and resonant, and the Deutsche Radio Philharmonie and conductor Christoph Poppen are ideal partners.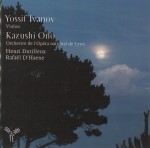 Two late 20th century violin concertos are featured on a Harmonia Mundi CD (AP007) of works by Henri Dutilleux and Rafael D'Haene, with the Belgian violinist Yossif Ivanov and the Orchestre de l'Opera national de Lyon under Kazushi Ono. Dutilleux was born in 1916, and is still with us at 95! His violin concerto L'arbre des songes (Tree of Dreams), finished in 1985, took a while to write: it was commissioned by Radio France in 1979 for Isaac Stern's 60th birthday the following year. It's an intriguing work, consisting of four main sections joined by three orchestral interludes, and shows a tremendous range of orchestral colour and timbre. The Belgian composer Rafael D'Haene was born in 1943, and was a pupil and consequently a close friend of Dutilleux. His violin concerto (1990) is a two-movement work which has as its theme the myth of Orpheus, with which the composer has always been fascinated. It's maybe less immediately accessible than the Dutilleux, but is no less striking a work for that. Dutilleux's Nocturne for Violin and Orchestra, sur le meme accord, completes the CD; it's a short but brilliant piece built on a 6-note chord, composed in 2002 and dedicated to Anne-Sophie Mutter. Ivanov and the orchestra are in top form throughout a disc that has to be listened to – no simple background music here – but that amply rewards the effort.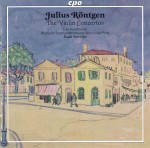 Three more 20th century violin concertos – although you would never guess to listen to them – comprise the programme on a CD of music by the Leipzig-born composer Julius Rontgen (1855-1932), who spent most of his life in the Netherlands, but remained firmly rooted in the German tradition of Mendelssohn, Schumann and Brahms. The German label CPO has issued an interesting and thought-provoking CD of his Violin Concertos (777 437-2) featuring the Concertos in A minor from 1902 and F sharp minor from 1931, together with the Ballad from 1918. Although I know the name, I can't recall ever hearing any of Rontgen's music, and listening to this CD it's perhaps easy to understand why: despite all three works dating from the 1900s you're constantly reminded of 19th century composers – Sarasate, Dvořák, and particularly Bruch and Brahms – and while it's all very competent and makes for pleasant listening there doesn't seem to be a great deal of substance or individuality. It always seems to fall just short of memorable. Brahms, himself a friend of Rontgen's, was among those - both critics and colleagues - who commented that Rontgen's musical voice was simply not original enough. That's not to say that his voice was without talent, however. Rontgen may have been stylistically stuck in 19th century Germany, but he clearly knew his craft. These works display skill and taste, together with a real melodic gift and a fine grasp of orchestration; what he apparently lacked was that true spark of genius that would have infused his music with a strong personal identity. Dutch violinist Liza Ferschtman makes the most of the material here, with fully committed playing that presents the music in the best possible light. The Deutsche Staatsphilharmonie Rheinland-Pfalz under David Porcelijn provides excellent support. It might be easy to see why this music has remained in a backwater instead of drifting into the mainstream, but don't be misled: there are many really lovely moments throughout this CD.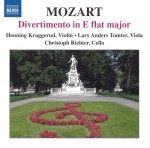 There's another recording of the wonderful Mozart Divertimento K563 - the String Trio in E flat – one of Mozart's most glorious keys. I raved about the Trio Zimmermann's recording of this work earlier this year, and now Naxos has issued an excellent performance by violinist Henning Kraggerud, violist Lars Anders Tomter and cellist Christoph Richter (8.572258). Again, don't be fooled by the designation Divertimento: although this normally signified light entertainment music where the composer was free to choose a mixture of movements and forms, this six-movement work is, as Ingrid Anderson's booklet notes so rightly point out, "far from pure entertainment." She echoes the Alfred Einstein quote from my previous review when she calls the first two movements "…among the most sonorous and masterful examples of chamber music ever written." And they are. This performance may be slightly less intense than the Zimmermann at times, but it's a warm, rich reading that is beautifully recorded. At the bargain Naxos price it's a great way to obtain a superb work that is quite simply Mozart at his best.