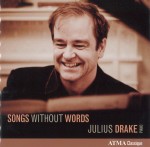 Songs Without Words
Julius Drake
ATMA ACD2 2616
Julius Drake is a sought-after English pianist who devotes most of his career to accompanying singers, typically intelligent art song recitalists of the calibre of tenor Ian Bostridge and Canadian baritone Gerald Finley. Here he has returned to his solo piano roots while still saluting the song idea, by crafting a tender program of short lyrical character pieces, many of them familiar to the piano student or the adult amateur player.
The title of the CD pays homage to Felix Mendelssohn, two of whose Songs Without Words are included, a Venetian gondola song and the Duetto. Schumann is represented by two Album for the Young selections, and one from Scenes from Childhood. There is a Brahms Intermezzo, a Schubert Moment Musical, a Grieg Lyric Piece, and Debussy's Clair de Lune. You get the concept: Romantic-era brevity and intimacy.
More recent selections are a lullaby by Poulenc, four of Bartók's Mikrokosmos pieces, and the haunting, spare "Night" from Benjamin Britten's Holiday Diary (1934), a suite I've never encountered on any piano recital.
Recorded in London, England by Canadian sound engineer and ATMA label founder Johanne Goyette, Drake's songful renderings are restrained and polished. The Steinway employed sounds both present and resonant.
A lovely, "small" release. This would make a nice gift to any music lover who shuns thunder.