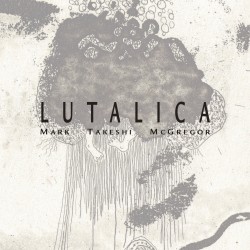 Lutalica
Mark Takeshi McGregor
Redshift Records (redshiftrecords.org)
Vancouver flutist Mark Takeshi McGregor is an internationally recognized interpreter of classical flute music, particularly of the experimental kind. As he writes in the liner notes, the motivation for his new album came from an exploration of his identities. "Lutalica [the word invented by John Koenig] meaning 'the part of one's identity that doesn't fit into categories' is a solo flute project that grew out of an identity crisis."
McGregor has been performing music of predominantly European composers on the metal concert flute, even though he was "anything but Western European. I am half-Japanese, half-Australian, born and raised on the West Coast of Canada: a true product of the Pacific Rim." His geographically informed search culminated in Lutalica, an album of nine recent widely varied solo flute works by composers hailing from Australia, Canada, Chile, Japan, New Zealand, Taiwan and the USA.
Bookending the album are works by two composers with strong Canadian connections. Hope Lee's moving requiem for her father, forever after (2000), alternates moments of lyrical grief with percussive anger. Emilie LeBel's 2017 Hiraeth (Welsh for homesickness, nostalgia, grief for lost places of the past) explores at length the "traveller's desire to be free… all the while longing for a home to which they cannot return… which maybe never was." The final alternating long low tones make a beautiful and satisfying ending to this album's musical journey around the Pacific rim.
Should you consider listening to an entire album of contemporary solo flute music? When it's so well composed, thoughtfully curated, and impressively performed as Lutalica is, my answer is a resounding yes.