In 2009 Blue Griffin Recording was brought to our attention by Canadian mezzo-soprano Patricia Green who had released two discs on this small, independent Lansing, Michigan-based label. In April of that year Pamela Margles reviewed both in these pages, The Ice Age and Beyond: Songs by Canadian Composers, and Unsleeping: Songs by Living Composers, on which Green was accompanied by Midori Koga and John Hess respectively. In the decade following we reviewed more than two dozen subsequent Blue Griffin titles, including Green's La Voix Nue: Songs for Unaccompanied Voice by Living Composers (R. Murray Schafer, Judith Weir, Hilary Tann, Jonathan Dove, José Evangelista and György Kurtág) in 2013, and fellow Canadians Jerome Summers and Robert Kortgaard's The Transfigured Nightingale: Music for Clarinet and Piano, in 2014. After a brief hiatus, earlier this year we received a shipment of new releases dating from 2018 to the present, which provided the impetus for the following article.
David Olds, recordings editor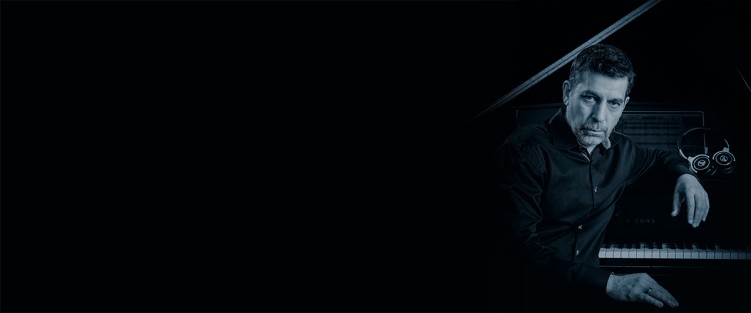 Boasting over 200 titles to date, Blue Griffin Recording celebrated its 20th anniversary on June 1, 2020. Fresh off the heels of a Latin Grammy Award nomination and the unveiling of a new website, label founder Sergei Kvitko recalls the early days when he found his way into a recording studio, before the label's birth in 2000.
He began to offer his recording engineering services to friends and colleagues at Michigan State University, where he was completing a doctoral program in piano performance. Based on an early enthusiastic response, he decided to pursue his talents in audio engineering more thoroughly, setting up a for-profit recording company. His very first client made a complete set of Schumann's piano music and the fire was lit: Kvitko thought "Let's print a few copies and see what happens" and after a modest distribution scheme and favourable reception, it all "snowballed," as a second project was conceived and then a third; another artist came on board and Blue Griffin (bluegriffin.com) was born. Now, 20 years later, this latest crop of releases is indicative of how far the label has come.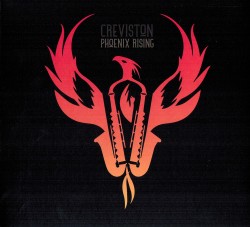 One of the newest releases from the label in 2020, Phoenix Rising (BGR519), features dazzling saxophonist Christopher Creviston. This disc is a consummate example of the vision and breadth conceived in a Blue Griffin production. Comprised entirely of premiere recordings, Creviston coyly guides the listener through seven different works, five with pianist Hannah Creviston and one with the Arizona State University Wind Orchestra, conducted by Gary Hill. The musicianship and expertise here is compelling, with the title track – written by composer Stacy Garrop – a solo highlight of the disc. Names of movements pique our listening curiosity further, with evocative phrasing such as The Pulsar Wind in Taurus, The Phantom Dancer and Dying in Embers – Reborn in Flames. Imaginative and rewarding, the album must surely have been a joy to curate, record and produce. No wonder that Kvitko is rather proud of this release – the kind of sexy and slick musical program that is hard for any to resist. The album's cover art (by Hosea Gruber) should also be mentioned: a red emblem set upon black, with flames of a Phoenix. Look closely and two alto saxophones entwine as they spiral up into the bird's wings.
Kvitko considers the cover art and graphic design of his releases carefully. He shies away from developing album art that has a universal look, citing labels such as Deutsche Grammophon that retain a monothematic design throughout their catalogue. Kvitko aspires, he says, to something more akin to "tapestry" for his records. He appreciates that his releases employ different colours, varying characteristics and visual profiles. For those of his artists who are unsure of what to feature on their record cover, Kvitko offers his seasoned advice and curates this aspect of the product as well. He functions ostensibly as pre-recording curator, producer, audio engineer, post-production and PR manager and photographer. He even has an eye for well-written liner notes, impishly affirming, "Proofread liner notes? I do that too, because well, I catch things!"
By dint of heart and hard work, Kvitko has built a record company renowned for many fine things. He provides a unique experience for the artists with whom he works: refined musical ears, a rich and vibrant quality of recording production and an integrity of engineering that is increasingly hard to come by these days. The label has long had a proclivity for vocal, reed and solo piano projects, not to mention exceptional fondness for uncommon configurations of ensemble. In only 20 years, Blue Griffin has released an admirable catalogue of music from all corners of the repertoire.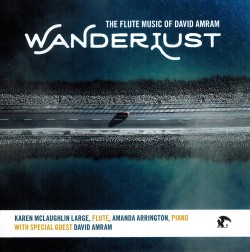 And he still loves what he does. Always upholding a keen professionalism and high standard of music-making, he nevertheless also knows how to have fun along the way. A jovial romp of a disc that might exemplify this is Wanderlust (BGR537), a recent release showcasing flute works by David Amram. "A threading of music of many cultures and peoples," this record is unique in its synthesis of styles, focusing on Amram's compositional voice. Flutist Karen McLaughlin Large and pianist Amanda Arrington trace a path through Amram's attractive scores, many of which are inspired by jazz. Amram's illustrious career has included film composing (The Manchurian Candidate) and time spent as composer-in-residence with the New York Philharmonic. One immediately hears a joy for this music directed from the performers. (They worked closely with Amram on this recording and he plays the Irish Double-D Whistle on one of the tracks!) An idiomatic brand of writing for flute is on full display here. The Allegro con Gioia (For Dizzy Gillespie) and Zohar for solo flute are among the disc's tuneful highlights, not to mention the charming (and keyboard-centric) Theme and Variations on "Red River Valley."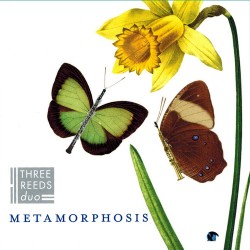 While on the subject of rivers, another newish release of note opens with Peter Lieuwen's Little Rivers (2018), a work commissioned by the Three Reeds Duo, co-founded by Leah and Paul Forsyth. The record, Metamorphosis (BGR523), spotlights the unique instrumental combination of oboe and saxophone. It lends a delicate, almost serene profile to an entire album devoted to works by contemporary composers (notwithstanding the title track by Benjamin Britten.). There is skilful execution, bright-eared and flawless in ample measure. Few recording labels would put their faith in a disc such as this one, and the trust has been handsomely repaid.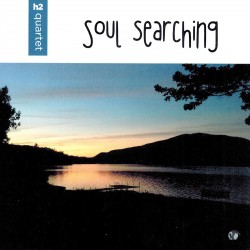 Hard-hitting, avant-garde music also finds voice in the catalogue at Blue Griffin. A sensational new release from the h2 quartet came out last year. Titled Soul Searching (BGR499), it headlines this maverick sax quartet in two works by Jeffrey Loeffert, one by Georg Friedrich Haas and a title track by Kerrith Livengood. The mastering here is sublimely balanced and conceived. Layers of expressivity and kaleidoscopic textures shine through what is certainly demanding repertoire. Despite the technical demands, effortlessness shines through. With the h2 quartet, we immediately feel at home, in safe hands, even amidst irresistible invention. The centrepiece of the record, Ten Years of Silence (2012), was composed for the h2 quartet in commemoration of their tenth anniversary as an ensemble. Loeffert clearly knows his tools, commanding utter mastery as he wrangles incredible tonal palettes from the four saxophones, suggesting multiple takes on familiar sonorities and challenging the listener: one imagines hearing instruments other than saxophones. Loeffert acutely understands the idiosyncratic qualities of each saxophone and writes to those strengths. Is it really a saxophone? Or flute or clarinet, even bassoon or trombone? (This is, of course, due in no small part to the virtuosity of the players!) The ten movements have a choose-your-own-adventure aspect to them. Titles such as Bleak; Gruff, Barreling, Nimble, and Cold Sober offer further glimpses into extra-musical content that hangs in the air. At times intimate, quirky and brazenly emotional, this music speaks verily, born of a serious bout of soul searching. The dedication of the performers is rewarded by the production quality from Blue Griffin and a deft sense of programming. This release is, undoubtedly, a creation to be proud of.
Kvitko relishes such projects – giving platform to lesser-known works and to the performers by whom they are championed. Frequently, artists will cold-call Blue Griffin and propose a recording. If Kvitko likes their ideas, he "goes with the flow" and engages them. He claims to "simply enjoy the process of making things that would [otherwise] not have happened without [him]. Especially with new music – and working with living composers." He is still irrepressibly appreciative, two decades on, of the whole experience. "I enjoy the process. People find me from all over the place and [we] make recordings. It's really been fun because I do love music and I do love computers, technology, gadgets and gear. It's kind of a perfect world for me."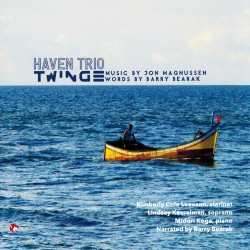 Kvitko's "perfect world" extends to his myriad talents as a bone fide photographer and concert pianist in his own right. He has outfitted his historical home in Lansing, Michigan with a top-of-the-line recording studio, providing an inspired, spacious atmosphere for artists when they come to work with him. And he is never fearful of going out on a limb, as witness the curious convergence on a recent disc featuring the music of Jon Magnussen with words by Barry Bearak. Twinge (BGR527) was recorded by the Haven Trio, comprised of soprano, clarinet and piano. The album's fare is a 15-movement work, "dedicated to the memory of the hundreds of thousands of victims of the December 26, 2004 Tsunami." The text is adapted from Bearak's New York Times Magazine cover story, The Day the Sea Came. (November 27, 2005). The album unfolds in a commingling of spoken text, (narrated by Bearak himself), and instrumental/vocal episodes that elevate the drama of the cover story and develop the narrative arc with striking aplomb. The combination of soprano, clarinet and piano is a most attractive one. The vaulting soundscapes give an urgent depiction of the human drama as it unfolds: an archetypal battle of man vs nature; the coalescence of spoken word (in a kind of reportage style); singing and instrumental interjection bringing home the significance of human loss, set against a backdrop of geological insignificance: "for the earth, it was just a twinge." The results are poignant as they are rare, particularly in a world awash with conservative recordings of traditional works.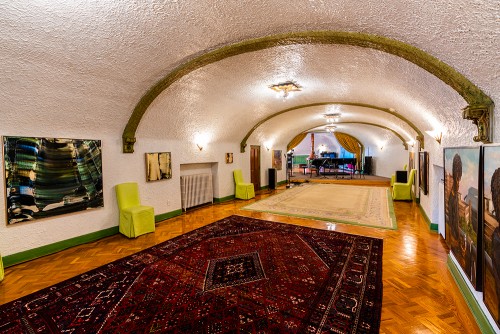 Blue Griffin steps up to the plate in such projects, proving that Kvitko is unafraid of the brave and the new. Moreover, he prides himself on knowing when, in turn, to be supportive and opiniated toward his artists: "All of my friends and clients – my artists – know that I'm very opinionated. But I can be nice and kind enough to know when to keep my opinions to myself as necessary. Everybody approaches it differently: some require more guidance and some ask more questions or require more help. And there are others who know exactly what they want. They have a vision in their head."
Kvitko continues to be widely respected by artists throughout North America and abroad. He acutely understands, to splendid effect, just where his expertise lies and how his plentiful gifts can benefit his collaborators. And there are times when he also returns to his own piano: "I still play concerts and I still make recordings [at the piano] when I can. I do it for myself; I feel like it's good for my soul."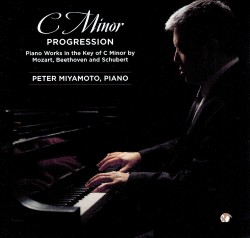 Despite Kvitko's commitment to new music and its proponents, he also keeps up with productions that celebrate music from the traditional canon. A current release from pianist Peter Miyamoto includes the anomalous theme of progression in C Minor Progression (BGR503). Solo keyboard works by Mozart, Beethoven and Schubert fill this album, each of them in C Minor (a seemingly artist-imposed mechanism). The profile of this key, heard through the pianistic lens of three masters, offers an unusual slant on what would otherwise be a very usual program. Miyamoto plays exceedingly well, bringing a discerning sense of style to each of the composers' works. There is most certainly a gentle sort of revelation here, regarding the nature of C Minor. At the risk of becoming entrapped within monochromatic sound planes, Miyamoto turns such rules – such necessity – to his invention, spurring us to hear well-trodden music anew. Again, here is an example of the perennial craftsmanship that Blue Griffin brings to the game, where care of execution so often intersects with pride of product. Few labels alive and well today can boast such attributes.
During a prideful moment, an otherwise self-effacing Kvitko recalls a conversation he had back in the early days of his label's founding. A business manager friend asked him what his goals and dreams consisted of: "So what do you want five years from now? Ten years – even 20?" The first words to leave his lips were, "I want to win a Grammy Award."
"And you know," he beams through the phone 20 years hence: "One of our latest discs is nominated for a Latin Grammy and we'll find out next week!" And so it would seem that a full Grammy Award is very much within the label's sights. Here's to another 20 marvellous musical years at Blue Griffin Recording.
(Interview by phone conducted with Sergei Kvitko with permission.)
Composer-pianist Adam Sherkin is a regular contributor to The WholeNote DISCOVERIES section.
Listen to these titles in the Listening Room: