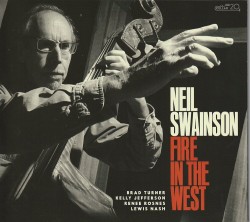 Fire in the West
Neil Swainson
Cellar Music CM111821 (cellarlive.com)
Canadian bassist extraordinaire and composer Neil Swainson's newest release is a jazz aficionado's dream. Blazing trumpet and saxophone melodies, catchy rhythms and energetic yet mellow bass riffs come together to form a stellar, oh-so-pleasing-to-the-ear record. It may be a surprise to some, but this is the first time in his 35-year-long career that Swainson is leading a quintet… but what a fantastic job he does yet again as a bandleader. Featuring famed musicians on the roster, such as Renee Rosnes on piano, Lewis Nash on drums, Brad Turner on trumpet and Kelly Jefferson on tenor sax, this record sees a set of fiery tunes lifted to new heights via a scintillating backing band. The album is chock-full of Swainson's original works, serving as a great example of not only his musical talents but also his compositional prowess.
The talented bassist says of the formation of the record: "In the process of preparing for that re-release [49th Parallel], I thought that it was time to do something in a similar vein, using the same… format on some current tunes I'd written." "Current" being the keyword there, in the way that Swainson does a truly great job of bringing the traditional jazz sound into the contemporary musical world, modernizing melodies and rhythms while maintaining a perfect balance with a hark back to the past. A great addition to any jazz-lover's collection.