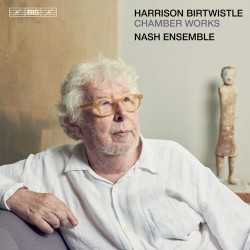 Harrison Birtwistle – Chamber Works
Adrian Brendel; Melinda Maxwell; Nash Ensemble; Lawrence Power; Richard Benjafield
BIS BIS-2561 (bis.se)
This album of Sir Harrison Birtwistle's recent chamber works is released by the virtuosic Nash Ensemble. The exceptional performances by the world-class musicians are delivered with impressive bravura – a necessary quality when attempting to successfully interpret the highly challenging music of the British composer.
The Trio for Violin, Cello and Piano is richly complex and contains a great deal of cerebral expressionism throughout the single movement. The unrelenting prickly gestures in this trio are answered with sombre lyricism in the strings, only to be interrupted with towering pianistic dissonances. The 20-minute Duet for Eight Strings (scored for viola and cello – each instrument having four strings combining to eight) is decidedly more romantic in expression as compared to the powerhouse trio heard before it. The rich and sonorous colours in this piece are wonderfully at odds with the unexpected suspended atmosphere heard throughout. Written in 1981 and later revised in 2018, Pulse Sampler, for oboe and percussion, is a raucous display of oboe fireworks above bombastic hits and jabs on various drums and wood blocks. This thrilling music is remarkably challenging for the oboe and Richard Benjafield delivers a stunning performance of unbelievable virtuosity and clarity of tone. Lastly, the Oboe Quartet, for oboe, violin, viola and cello, is a scintillating ride in four movements where each player engages in clever interplay. For those familiar with Birtwistle's music, this release won't disappoint as the inventive neo-modernist approach is ever-present and performed expertly by the ensemble.