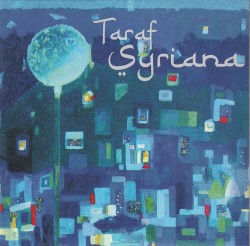 Taraf Syriana
Omar Abou Afach; Naeem Shanwar; Noémy Bruan; Sergiu Popa
Lula World Records LWR029 (lulaworldrecords.ca/taraf-syriana)
Montreal-based quartet Taraf Syriana was founded in 2020. Its international virtuoso musicians who had moved earlier to Montreal are Romani/Moldavian Sergiu Popa (accordion), Syrian-based Omar Abou Afach (viola) and Naeem Shanwar (qanun), and Swiss Noémy Braun (cello). In this self-titled debut ten track release, the quartet interprets, arranges and performs Syrian and Romani folk music, with other folk traditions from the region like Balkan and Kurdish, showcasing their dedication to this music.
Opening track Me Dukhap Tuke features Popa and Braun with guest instrumentalists Nazih Borish (oud) and Mohammed Raky (darbouka) accompanying famed Romani guest vocalist/guitarist Dan Armeanca in his happy, exuberant song featuring soaring vocals above florid accordion lines and attention-grabbing vocal shots during instrumental solos. Armeanca also sings his Romani lyrics Come dance to my song above these supportive tight instrumentalists in the upbeat Sare Roma. Raky joins the quartet in the traditional Kurdish folk song Kevoke (The Dove), an accessible rendition with melodic musical accordion alternating with other instrumental solos. A surprise is Abdul-Karim's Tango by Mohammed Abdul-Karlm, a "tango" in which its composition and Taraf Syriana's instrumentation change the traditional tango sound colour while maintaining some familiar stylistic qualities. Guest vocalist Ayham Abou Amar and all instrumentalists perform the Syrian folk song Al Maya in an almost pop-sounding rendition. Taraf Syriana play their meditative, reflective composition Dialogue intimes. Each slow carefully placed musical note to closing fade shows a different side of the ensemble.
This Taraf Syriana release is perfect, uplifting music.