EXTENDED PLAY – Recent Opera DVDs from Britain


Something unusual happened even before the curtain came up on this performance of Rossini's Il Barbiere di Seviglia at Covent Garden last July - the conductor himself, Antonio Pappano, came out on stage. He told the audience that the evening's Rosina, Joyce DiDonato, had broken her leg during the previous performance. She would sing – but in a wheelchair. The directors, Moshe Leiser and Patrice Caurier, had already left town, their work apparently done. So it was up to the cast to figure out how to accommodate a wheelchair-bound heroine restricted to a ramp across the front of the stage. The results on this DVD (Virgin Classics 9 694581 9) are so fresh, invigorating and thoroughly enjoyable that it's easy to overlook the unflattering costumes and drab, claustrophobic sets. The splendid DiDonato, in a role she has made her own, is such a feisty and alluring heroine that the wheelchair proves to be just another aspect of who this Rosina is. The mellifluous Pietro Spagnoli creates an unconventionally soulful Barber. But, inevitably, it's Juan Diego Flórez as the Count who stops the show with his ravishing Cessa di più resistere.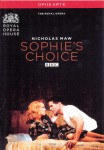 Sophie's Choice, composed by British composer Nicholas Maw to his own massive libretto, made a lengthy drawn-out evening when it was premiered at Covent Garden in 2002. But now that it has finally been released on DVD (OpusArte OA 1024 D) it's possible to see what conductor Simon Rattle meant when he called it "an instant classic" in a bonus interview here. There's much to appreciate in Maw's moving work, with its tender melodies, atmospheric harmonies and searing orchestrations. I can't imagine a more impassioned, convincing cast, especially with Canadian tenor Gordon Gietz as the impressionable young writer, Dale Duesing as his older self, who narrates this tragic tale, Rod Gilfry as the charming and dangerous Nathan, and above all, Angelika Kirschschlager in a fearless, unforgettable performance as the doomed Holocaust survivor Sophie. Director Trevor Nunn shapes the too-frequent scene-changes and flashbacks into a compelling narrative, which gains resonance with each viewing. By the time narrator sings the final lines, "At Auchwitz, tell me, where was God? The response: where was Man?", the incalculable cost of the Holocaust for all of humanity is inescapable.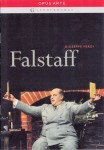 Boito based his libretto for Verdi's final opera, Falstaff, on Shakespeare's comedy, The Merry Wives of Windsor. Director Richard Jones' delightfully boisterous and witty production, recorded last summer at Glyndebourne (OpusArte OA 1021 D), is set in a post-World War II middle-class suburb where the houses are mock-Tudor, the furniture covered in chintz, and the gardens are planted in obsessively neat rows of cabbages. The terrific cast and orchestra attack Verdi's final work with alacrity, especially in the ensembles. Christopher Purves gleefully exploits the foibles of Verdi's puffed-up safari-suited knight, but still gives him some dignity. The vocally nuanced Canadian contralto Marie-Nicole Lemieux, in a brilliant piece of acting, plays Mistress Quickly as a cunning martinet. Conductor Vladimir Jurowski, leading the London Philharmonic, supports the remarkable teamwork on stage even to the extent of downing a pint with the cast while they do full justice to the magnificent closing fugue, Tutto nel mondo è burla – life is a joke.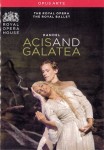 Although Acis and Galatea was Handel's most popular stage work during his lifetime, this production with Christopher Hogwood conducting the Orchestra of the Age of Enlightenment from last year marks the first at Covent Garden in almost a century. Especially noteworthy is how the director-choreographer, Wayne McGregor, has teamed up both of Covent Garden's resident companies, the Royal Opera and the Royal Ballet. By pairing each singer with a dancer, McGregor works choreography into every element of the score. Just how moving this can be is apparent in the enchanting final scene when soprano Danielle de Niese - a trained dancer – as Galatea performs a captivating pas de deux with Acis's ethereal double, Edward Watson. But the semi-divine enchantments of this work, based on classical mythology, are undermined by Hildegard Bechtler's bizarre costumes, which dampen both the comedy and the pathos. Bass Matthew Rose as the giant Polyphemus sings with plenty of bravado, but he looks like a thug with his bare chest covered in scars. Di Niese's voice is expressive, but her shapeless coat, ratty scarf, and bleached-blond braided wig turn this lovely-looking singer – surely a director's dream – into a frump. At least tenor Paul Agnew's costume as the shepherd Damon works, since his ardent, stylish Consider fair shepherd provides the vocal highlight of the DVD (OpusArte OA 1025 D).

Concert Notes: Gordon Gietz sings with the Toronto Summer Music Festival Ensemble in a program including Mahler's Das Lied von der Erde and the world premiere of Song of the Earth by Glenn Buhr on Saturday, August 7 in the MacMillan Theatre. Opera Atelier is mounting a new production of Acis and Galatea, directed by Marshal Pynkoski and choreographed by Jeanette Lajeunesse Zingg, at the Elgin Theatre from Oct. 30 – Nov. 7. David Fallis conducts the Tafelmusik Baroque Orchestra.