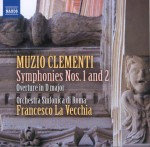 Clementi - Symphonies 1 & 2
Orchestra Sinfonica di Roma; Francesco La Vecchia
Naxos 8.573071
Although we tend to think of Muzio Clementi primarily as the composer of utilitarian exercises for the piano, this disc reminds us of his considerable gifts as a symphonist and the liner notes succinctly lay out the impressive details of his remarkable and influential career. His playing, conducting and teaching brought him into contact with leading composers of his generation and in 1813 he founded – together with Viotti – the Philharmonic Society of London. He was also active in music publishing and the manufacturing of pianos.
Written somewhere between 1805 and 1820 (the exact dates of composition are a matter of speculation), these orchestral pieces invite comparison to the masterpieces of the form by Haydn, Mozart and Beethoven and the results are favourable. It's clear that Clementi's studies and travels – which took him from Rome to Paris, Vienna, Lyon and, eventually, London – equipped him with a formidable musical knowledge and technique. Thematic interest, clever orchestration and powerful drama make the case that these works should be more widely known.
This excellent recording will help in that regard. La Vecchia coaxes energetic and spirited performances from his orchestra, featuring particularly fine wind playing.