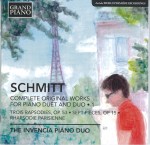 Florent Schmitt – Complete Original Works for Piano Duet and Duo 1
Invencia Piano Duo
Grand Piano GP621
The lengthy career of the Alsatian-born French composer Florent Schmitt (1870-1958) began quite auspiciously at the beginning of the 20th century. Awarded the prestigious Prix de Rome in 1900, his early orchestral work La Tragédie de Salomé (1907) and his setting for chorus and orchestra of Psalm 47 (1904) met with great praise and are still performed today. By the 1930s however he had completely fallen out of favour; it did not help matters that he had since developed a reputation as a notoriously vituperative music critic and shameless German sympathizer. Be that as it may, for a nominally late Romantic composer Schmitt's progressive tendencies remain compelling and at his best he reveals the voice of a true original.
Schmitt contributed some 88 pieces to the duo piano repertoire written between 1893 and 1912. The Virginia-based pianists Andrei Kasparov and Oksana Lutsyshyn, known collectively as the Invencia Piano Duo, have made it their mission to record all of these works in a series of four CDs to be released sequentially on the Grand Piano label distributed by Naxos. Volume One offers a familiar work followed by two world premiere recordings. The first item, the Trois Rapsodies for two pianos Op.53 (1903-1904), receives its fifth recording on disc. It is vintage Schmitt, rhythmically supple, harmonically inventive, and beautifully scored with telling thematic interchanges between the two pianos. The earlier Sept Pièces, Op.15 (1889) dates from Schmitt's student days. Scored for two pianists at a single piano, the sonorities are more intimate and homophonic. Though it seems to me that Schmitt has either not quite found or is intentionally suppressing his distinctive creative voice here for academic reasons, this low-key, Schumann-esque multi-movement work is winningly genial and technically assured in every respect. The final item, the Rhapsodie Parisienne, also for four-hand piano, makes a stronger visceral impact. A spirited, asymmetric and impulsive waltz, the manuscript of this unpublished work from 1900 may have been intended to become a larger orchestral work presaging Ravel's later La Valse. I look forward to future unknown gems from this very interesting composer.