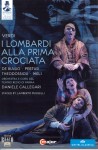 Verdi – I Lombardi alla Prima Crociata
De Biasio; Pertusi; Theodossiou; Meli; Orchestra e Coro del Teatro Regio di Parma; Daniele Callegari
Cmajor 720608DVD
In glorious sunshine over the city of Jerusalem and in the background a row of devout Orthodox Jews praying at a Wailing Wall that extends full width across the stage, a rapt chorus in the foreground sings one of Verdi's most inspired choral creations – Gerusalemme! Gerusalemme! Thus begins the third act of I Lombardi, young Verdi's fourth opera for La Scala, from 1843.
The core of the story is the tragic love between a Moslem man and a Christian girl elevated by some of the most beautiful singing the not yet 30-year-old Verdi had written so far. The youth, the tenor, unfortunately only sings in two acts of the four, but the role is so rewarding that both Pavarottiand Domingoshone in it. Here, a young Italian, Francesco Meli provides some enchanting moments while the girl (daughter of the leader of the Crusade), Giselda, the dramatic-soprano lead, sung by the formidable Dimitra Theodossiou,soldiers magnificently through all four acts from breathtaking pianissimo solos to fortissimo outbreaks with shattering high notes as in the finale of the second act. To top it all she displays such vocal acrobatics in her fourth act cabaletta that even the brilliant conductor, Daniele Callegariseems visibly delighted.
Choruses feature heavily in this opera, more so than in Nabucco. To my mind Verdi impresses most by these early efforts at ensemble writing he later perfected in Macbeth, Rigoletto and La Traviata, etc. Most notable here is the supremely beautiful trio at the end of Act Three that gives me shivers of pleasure every time I hear it. The underpinning voice in the trio is the lead baritone, Michele Pertusi,the evil brother turned hermit (sung at the Met by Samuel Ramey) whose voice of stentorian power and great sensitivity is so magnificent that all I can say is: "Oh, brother, can he ever sing!!" Overall a memorable production, worthy of Verdi.