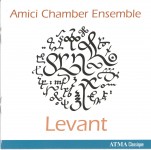 Levant
Amici Chamber Ensemble
ATMA Classique ACD2 2655
Clarinettist Joaquin Valdepeñas, cellist David Hetherington and pianist Serouj Kradjian are joined by first-rate guests (Benjamin Bowman and Stephen Sitarski, violins, Steven Dann, viola) to perform a wide range of pieces which make up the passionately played program of this superb recording. The music of familiar composers such as Glazunov and Prokofiev sits alongside that of little-known Gayané Chebotaryan, Solhi Al-Wadi, Marko Tajčević and other artists inspired by the "sounds and colours of the Middle East," as explained in Kradjian's informative liner notes.
Highlights include Prokofiev's Overture on Hebrew Themes, involving all the musicians and featuring Valdepeñas' gorgeous clarinet sound, and the Seven Balkan Dances by Tajčević, a 20th century Yugoslav composer. The performance of these dances is highly spirited and showcases the artistry and virtuosity of the core ensemble.
The program is punctuated by chants by the spiritual teacher George Gurdjieff, arranged for solo piano by Thomas de Hartmann. These contemplative pieces, sensitively played by Kradjian, act as a welcome foil to the larger, longer and more intense ensemble pieces.
The disc ends with a sensational solo piano work — Levante, by Osvaldo Golijov — brilliantly rendered by Kradjian.
The string playing by Hetherington and guests is rhapsodic and committed and the whole disc exudes polish and thoughtful musicianship. Special mention should be made of Carlos Prieto's engineering.
Concert notes: Amici provides live music to accompany classic silent (and neo-silent) films by Buster Keaton, Man Ray and Guy Maddin at the Bell Lightbox on February 3 at 3:00. They will be joined by soprano Isabel Bayrakdarian and other guests in music of Beethoven, Chausson, Poulenc and Montsalvatge at Koerner Hall on March 1 at 8:00.