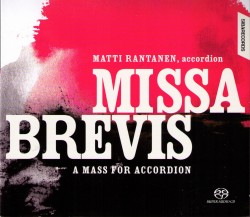 Missa Brevis – A Mass for Accordion
Matti Rantanen; Marko Ylonen
Siba Records SACD-1009
Finnish accordionist Matti Rantanen is one of the bedrocks of European "classical" accordion as a teacher at the Sibelius Academy and an international performer. Here he performs mainly solo music with numerous liturgical references.
The transcriptions of Haydn and Mozart are well conceived. Rantanen's expertise makes each work sound legitimate on the accordion, however a wider dynamic range in the Haydn and more playfulness in the Mozart would have added to the listening experience. Though originally written for cello and piano/organ, Ahti Sonninen's Hymns of Zion for cello and accordion is a lyrical tone poem duet with cellist Marko Ylonen.
The title track Missa Brevis – A Mass for Accordion is a modern take on the old form. The accordion emulates the qualities of the church organ with its held long tones, florid arpeggios and chunky chords, while the range of dynamics, multi-note glissandos and subtle differentiations on articulation are so very accordion exclusive. Similar sentiments surface in Tapio Nevanlinna's Hug. Petri Makkonen's Chorale Prelude is exquisite. A former accordion student of Rantanen, Makkonen's personal relationship with the instrument must have aided in his balanced writing of a florid right hand against held low tones in the left. Unfortunately, the huge glissando connecting the opening section to the middle lyric melody comes across as a "trick" instead of a bridge. The last two chords are delightful.
Rantanen's musical personality makes this recording a thoughtful and intriguing expose of fine accordion musicianship and composition.