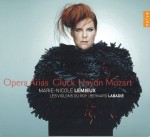 Opera Arias: Gluck; Haydn; Mozart
Marie-Nicole Lemieux; Les Violons du Roy; Bernard Labadie
Naïve V5264
Review is not the right word. This piece of writing should be more like an extended and exalted praise for a childcare worker from Quebec turned star mezzo-soprano of the highest calibre. Lemieux has distinguished herself time and time again ever since her big win at the "Queen Elizabeth" in Belgium in 2000 and offers began pouring in. And today she is still young, only 37.
Her most recent recording on the prestigious French label, naïve, is an adventure into the 18th century, the world of Mozart, Gluck and Haydn. For the average listener her selections of this repertoire, apart from a few exceptions, will be mostly unknown, but let me assure you that same listener will become a devotee by listening to them all.
Lemieux immediately plunges into a spirited attack of early Mozart ("Mitridate di Ponto"), a fiendishly difficult aria where she shows off some miraculous deep notes in full forte reminding me of the great Marilyn Horne. This is followed by beautiful, lyrical, restrained piano singing from a rather unknown Haydn opera (L'isola disabitata). Already a considerable feat, but more surprises are coming. With Iphigenie en Aulide by Gluck she is in familiar, i.e. French, territory where she creates shockwaves singing Clytemnestra's fire-eating aria with fierce passion. There will be many more great moments by the time she finishes with Haydn's "Sudo il guerriero," another bravura showstopper. To make things even better, and even more Canadian, she is accompanied by the world class Les Violons du Roi under Bernard Labadie, a group I've had the privilege of reviewing before in these pages. An unconditionally excellent recommendation.