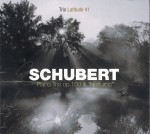 Apart from the single-movement Sonatensatz written when he was just 15, Schubert's works for piano, violin and cello all date from 1827, the year before he died. Two of the three works from that year — the E-Flat Major Piano Trio Op.100 and the single-movement Adagio or Notturno, also in e-flat — are featured on a new CD from Trio Latitude 41 (ELOQUENTIA EL 1129).
The Op.100 is a large, four-movement work that makes an immediate impression and clearly has a great deal of depth. The booklet notes quote Robert Schumann's 1836 description of the trio as a work that "blazed forth like some enraged meteor," with an opening movement "inspired by deep indignation as well as boundless longing." The artists here — Canadian pianist Bernadene Blaha, violinist Livia Sohn and cellist Luigi Piovano — find all this and more in a memorable performance. A finely-nuanced and highly effective performance of the Notturno completes an excellent recital disc. Recorded at the Rolston Recital Hall in the Banff Centre, the balance and ambience are perfect.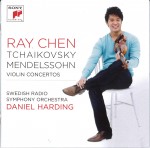 The first thing that comes to mind whenever I receive a CD of the Tchaikovsky and Mendelssohn Violin Concertos is: do we really need yet another recording of these classic works? Well, yes, of course we do: established artists often find something new to say, and all new artists have to measure themselves against these cornerstones of the repertoire. For the young violinist Ray Chen, the choice of these works for his second Sony CD (SONY 88697984102) — his first with orchestra — was easy: he won the Menuhin Competition in 2008 playing the Mendelssohn concerto, and the prestigious Queen Elisabeth Competition in Brussels in 2009 with the Tchaikovsky.
The first words I wrote down while listening to the Tchaikovsky were "relaxed tempo/approach in first movement," so it was interesting to read "relaxed and peaceful … that is also what Ray Chen demands of his interpretations of the two concertos" in the booklet notes. That's very much how the works come across, although that certainly shouldn't be taken to imply any absence of line or a lack of intensity when needed. Chen's playing is expansive, warm and sympathetic, and he communicates a clear empathy for these works.
The conductor of the Swedish Radio Symphony Orchestra is the outstanding Daniel Harding, whose name on a CD virtually guarantees a top-notch accompaniment, and that's certainly the case here. Great balance and a lovely recorded ambience make for an impressive CD that promises a great future for Chen.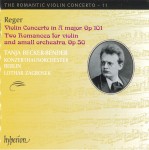 The latest CD in the outstanding Hyperion series The Romantic Violin Concerto is Volume 11. It features the works for violin and orchestra by Max Reger in terrific performances by Tanja Becker-Bender and the Konzerthausorchester Berlin under Lothar Zagrosek (Hyperion CDA67892).
Reger, who was only 43 when he died in 1916, trod a highly individualistic road as a composer. As was the case with Mahler, who had died exactly five years earlier, his main exponents and interpreters left Germany in the 1930s, but, unlike Mahler, his music and reputation failed to gain a foothold on foreign soil after the Second World War.
The Violin Concerto in A Major, Op.101, from 1907, is a simply huge, melodic and immediately accessible work, almost an hour long, and clearly in the post-Brahms tradition. The Two Romances in G Major and D Major, Op.50, written in 1900 and scored for a smaller orchestra than the concerto, were a deliberate attempt to secure more concert performances in the major German cities. Wolfgang Rathert's excellent booklet notes refer to their "fusion of contrapuntal texture and flowing melody," which is a pretty good description of Reger's music in general. They are simply gorgeous works, reminiscent of Brahms and Bruch, and they receive sympathetically beautiful performances by Becker-Bender and Zagrosek.
Reger still tends to be criticized for the complexity and turgidity of his compositions, but it's really more a case of an overabundance of creative ideas making it difficult for the listener to discern the overall shape and form. It's quite beautiful writing, however, and if you don't know any of his music then the three lovely works on this terrific CD offer the perfect opportunity to put that right.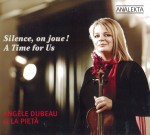 It's really difficult to know what to say about Silence, on joue! A Time for Us, the new CD from Angèle Dubeau & La Pietà (ANALEKTA AN 2 8733). It's a collection of movie themes quite clearly aimed at a mass market — and, sure enough, it's already being enthusiastically played on a certain Toronto FM radio station.
Film music is an extremely important area of contemporary composition, of course, and the big names are here in force: John Williams, James Horner, Howard Shore, Erich Korngold, Ennio Morricone, Nino Rota, John Barry. The problem is that there seems to be little of any real substance: of the 20 tracks, 12 are under four minutes in length, and only one exceeds five minutes — just. It's unrelenting easy listening, with no real "bite" anywhere, although this may well be due to the fact that virtually all of the 15 basic tracks (there are five "bonus" tracks from previous Dubeau CDs) are – hardly surprisingly — transcriptions, adaptations or arrangements.
Tracks include My Heart Will Go On, Over the Rainbow, Smile, the Love Themes from Romeo and Juliet and Cinema Paradiso, and music from The English Patient, Lord of the Rings and Dances with Wolves. The bonus tracks include the "Cavatina" from Stanley Myers' The Deer Hunter and the main themes from Schindler's List and The Mission.
Dubeau, clearly a top-notch player, is apparently the only Canadian "classical" musician to have earned two gold records for album sales exceeding 50,000 in one year. This CD will probably do equally well, although one may hopefully be excused for pondering the relationship between quantity and quality, and wondering whether or not Dubeau's undoubted talents could be put to better use.
Strings Attached continues at www.thewholenote.com with the latest from the New York orchestra The Knights with works by Schubert, Satie and Philip Glass among others.