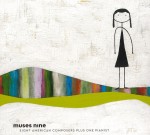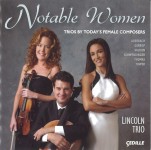 Muses Nine - Eight American Composers Plus One Pianist
Becky Billock
Independent n/a www.beckybillock.org
Notable Women - Trios by Today's Female Composers
Lincoln Trio
Cedille CDR 90000126
Are you in need of a musical boost? There is a multitude of musical inspiration to be found in these two new releases featuring the music of American women composers performed by American artists.
Becky Billock is quite simply a great pianist. She specializes in women's music and it shows. Her choice of repertoire on "Muses Nine" was written across the entire 20th and 21st centuries. Amy Beach's 1903 work Scottish Legend is an original melody that draws heavily from lilts and tunes of folk music. Emma Lou Diemers' 1979 Toccata for Piano is a modern masterpiece of rhythmic nuance. Lots of diverse styles are juxtaposed in Libby Larsen's Mephisto Rag where the composer has the virtuosic pianist jump through technical hoops as Liszt's Mephisto Waltz is musically turned upside down while a later ragtime style is introduced. Billock knows her material and her grasp of style and rhythm makes this an unforgettable listening experience.
There are more diverse works by women composers for piano, violin and cello trio in "Notable Women." The Lincoln Trio is a world class chamber group. Desiree Ruhstrat (violin), David Cunliffe (cello) and Marta Aznavoorian (piano) are all accomplished ensemble musicians. Their musicality is put to the test in Lera Auerbach's Trio where the melancholy ideas are performed with haunting expertise. Stacy Garrop's Seven is a unique work which the composer explains drew its inspiration from Anne Sexton's poem Seven Times, and the Borg from television's Star Trek Voyager. Extended piano techniques create futuristic effects while fast-paced passages maintain one's interest long after the work has ended. Excellent works by Jennifer Higdon, Laura Elise Schwendinger, Augusta Read Thomas and Joan Tower are also performed with spirit.
"Notable Women" and "Muses Nine" belong in your CD collection as positive examples of the talent of American women composers and the performers who choose to play them.