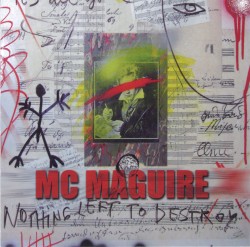 MC Maguire - Nothing Left to Destroy
Benjamin Bowman; Douglas Stewart; MC Maguire
Innova 813 www.innova.mu
Once upon a time on the musical planet inhabited by wall-of-sound composer MC Maguire there must have been a catastrophic explosion, scattering the treasures of civilization together with all the cast-off junk of consumerism and the fallout of post-modern warfare. Through the blasted landscape come the remaining voices of humanity, represented on this latest Maguire release by violinist Ben Bowman and flutist Doug Stewart. The CD is called "Nothing Left to Destroy," and for those interested in references, consider his choice of artist for the jacket: uber bad-boy Istvan Kantor.
Maguire's works are massively layered and require repeated listenings for one to begin to sort the material out. His is a creative imagination that never seems to lack for material inspiration. Consider the sonic blast-scape of the first track, The Discofication of the Mongols. He references a contemporary icon (nay, cliché), the lonely herdsman with the iPod, to explain his thematic material. If I can decipher nothing else in his liner note explaining the piece's structure, I can at least appreciate what he means about the loss of indigenous culture, and when you hear Bowman's gorgeous violin playing drowned by the eventually overpowering disco beat, you understand the intent of the piece. Along the way you'll want to listen for anything you recognize. "Paul is dead" in retrograde inversion might even be there.
Track two is somewhat shorter and much sweeter. S'Wonderful (that the man I love watches over me) is more homage than lament, remixing three Gershwin songs and quotes lifted from depression-era cinema. Stewart's flute wanders lonely as a drunken Ginger Rogers, one busted high heel, still dancing with her imaginary Fred. Again, I want to hear the instrumentalist but lose him too often as he ducks behind the scenery. In fact, the critique that feels almost to miss the point is that Maguire's sonic default setting is too often on "stun." Regardless, the results are without a doubt stunning and worth the listen.