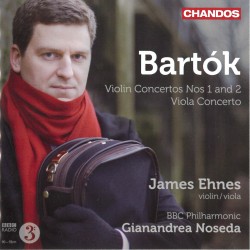 When I saw the artistic pairing on the latest CD by James Ehnes, the Violin Concertos Nos. 1 and 2 and the Viola Concerto by Béla Bartók (Chandos CHAN 10690), my expectations sky-rocketed: not only was Ehnes playing, but the conductor was the terrific Gianandrea Noseda with the BBC Philharmonic. A dream team! For years, the Violin Concerto No.2 was assumed to be the only one that Bartók wrote, until the discovery of an earlier two-movement concerto, written in 1907-08 for the young violinist Stefi Geyer, to whom Bartók was romantically attached. The score remained unpublished and in her possession until her death in 1956. Ehnes is terrific in the lush, romantic first movement, as well as in a second half that more approaches the style of the mature composer. Despite Ehnes' comment that this is music that has been very close to his heart since childhood, I found the Concerto No.2, one of my favourites, to be a bit less than I hoped for. It's a passionate and lyrical reading, true, but I felt it lacked the contrasts and the sense of mystery that Menuhin – who knew Bartók – used to bring to this work. The Viola Concerto was left unfinished at Bartók's death; unfortunately, the supposedly complete draft turned out to be just a pile of unnumbered manuscript pages with only a couple of indications of instrumentation. Bartók's friend Tibor Serly, himself a violist, managed to solve the puzzle and complete the work, and Ehnes plays it with a commitment that never leaves its authenticity in any doubt. Noseda does his usual terrific job of bringing the very best out of the orchestra. One personal comment: the booklet bio again uses that quote from a Toronto newspaper hailing Ehnes as "the Jascha Heifetz of our day." Does anyone else find this ridiculous? What's wrong with Ehnes being hailed simply as one of the truly great players of his generation? If you want to appreciate how silly this is, then just imagine someone releasing a historical reissue of Heifetz recordings, and hailing him as "The James Ehnes of Yesterday." Exactly!
I know it's a bit of a cop-out to be quoting a large chunk of the booklet notes in a CD review, but the opening remarks by the Quatuor Ebène for their Mozart Dissonances CD (Virgin Classics 50999 070922 2 0) tell you all you need to know about their approach to the music: "Mozart – despite the surface simplicity of his music – is one of the most difficult composers to interpret well, if not the most difficult of all. For his works demand two things of performers: absolute technical assurance, as anything less than perfect intonation and articulation would be all too clearly apparent in music that is so pure and transparent, …but above all the ability to let go and bare all." And that's exactly what you get on this wonderful recording of two of Mozart's greatest quartets – the D minor K421 and the C major "Dissonance" – and the early Divertimento in F, K138. This is Mozart playing at its glorious best: warm, expansive, both passionate and sensitive, intelligent and thoughtful, and full of contrast and nuance. Add the simply beautiful recorded sound and you have a Mozart disc that will be hard to equal, let alone surpass.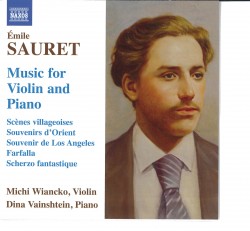 You would be hard-pressed these days to find someone who would mention the French violinist Émile Sauret (1852-1920) in the same breath as Paganini, but such were his performing skills – he was giving concerts in London, Paris and Vienna at age 8! – that contemporary critics detected the same hint of the supernatural about his playing. Sauret was another of that breed that essentially died out during the 20th century: the virtuoso performer with compositional skills to match. Naxos has issued a charming CD of his Music for Violin and Piano (8.572366) played by the American violinist Michi Wiancko and the Russian pianist Dina Vainshtein. Their playing of these attractive, well-crafted pieces, that are closer to Sarasate in style than to Paganini, is an absolute delight. Recorded at the CBC's Glenn Gould Studio by the always-reliable Norbert Kraft and Bonnie Silver, the sound quality displays perfect balance and a spacious ambience.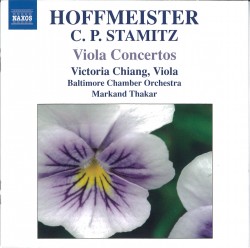 Viola players are not exactly overwhelmed with choice when it comes to concertos for their instrument, so the recent Naxos release of a CD of Viola Concertos by Stamitz and Hoffmeister (8.572162) is a welcome one. It's an intriguing one as well, for viola concertos were not that common in the 18th century. Carl Stamitz, whose father Johann was the leader of the famous Mannheim orchestra, was a viola virtuoso as well as a violinist and composer, and his Concerto No.1 in D major, published around 1774, combines a technically challenging solo part with a skilful and sensitive orchestration. Although the composer Franz Anton Hoffmeister is now mostly remembered as a successful music publisher, his viola concertos in D major and B flat major were never published: each work has survived only in a single contemporary set of manuscript parts. This recording uses the new Artaria edition prepared from those parts by Allan Badley, who also wrote the booklet notes. Violist Victoria Chang is perfectly at home in this charming, if somewhat insubstantial, music and receives excellent support from the Baltimore Chamber Orchestra under Markand Thakar. The booklet notes remark that all three works remind us of the musical riches that can be found in the most unexpected corners of the 18th century. That's quite true, but they also remind us of just how far Mozart was ahead of his contemporaries.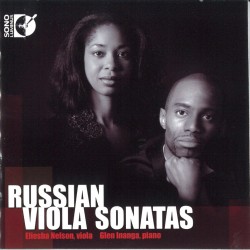 I didn't know the names of any of the three composers on Russian Viola Sonatas (Sono Luminus DSL-92136), the new CD from the American violist Eliesha Nelson and the U.K.-based Nigerian pianist Glen Inanga. Varvara Gaigerova (b.1903), Alexander Winkler (b.1865) and Paul Juon (b.1872) all died between 1935 and 1944, but not – as you might suspect – as a result of the political situation in Russia at that time. Only Gaigerova died in Russia, in 1944 at the early age of 40, but her folk-inspired compositions and politically correct works in the 1930s apparently never put her at odds with the Soviet regime. Winkler emigrated to France 11 years before his death there in 1935; Juon retired to Switzerland in 1934, and died there in 1940. All the works on the CD are from the 20th century, but there is little of the sound and style that we associate with composers such as Shostakovich and Prokofiev. All three composers were influenced by Russian folk elements, making for very attractive and highly accessible works, but there's hardly a moment when you have no doubt that you are listening to 20th century Russian music: there's more of a German Romantic feel here a lot of the time. Winkler and Juon, of course, received their training in the 19th century, but even the Gaigerova work has turn-of-the-century echoes of Scriabin, Brahms, Ravel and Rachmaninov. Juon, whose Sonata in D major, Op.15 is the only work on the CD that is not a world premiere recording, was raised in a German-speaking household and spent virtually all of his working life in Berlin. His three-movement sonata, written in 1901, makes it clear why he was often referred to as the "Russian Brahms." There is more than a trace of the same composer in the Winkler Sonata in C minor, Op.10, from 1920, by far the biggest work on the CD – in fact, there is an almost direct quote from the Brahms A major violin sonata in the first movement. Winkler's Two Pieces Op.31, the slow Méditation élégiaque and the scherzino La toupie, are well-crafted and effective light music pieces. Gaigerova is perhaps the most interesting composer here – very little information is available about her – and she was the composer most strongly influenced by the folk music of the numerous Soviet Republics. Her four-movement Suite Op.8, published posthumously in 1969, is a beautiful work, and makes you wonder what we might be missing in her neglected string quartets and symphonies. Nelson's viola tone is mostly warm, although it's a bit thin at times in the upper register, but the tonal quality and the steady, constant vibrato hardly vary at all throughout the disc. There's not much dynamic contrast either, and the end result is that the works tend to sound rather the same. How much this is due to the compositions themselves rather than the performance would make an interesting discussion, but I really can't hear the power and passion or the sensitive phrasing that some reviewers of this CD have found in Nelson's playing. Inanga is a fine partner at the keyboard, although the recorded balance makes the piano sound a bit distant at times.