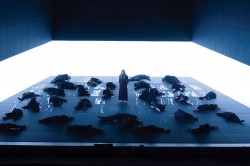 When Robert Carsen came to Toronto last spring to direct Gluck's Orfeo ed Euridice for the Canadian Opera Company, it was the first time he had worked in his home town in almost 20 years. In 1992 he had directed the world premiere of Harry Somers' Mario and the Magician for the COC. At that point, he was already being recognized as one of the most imaginative and exciting directors around. Today he is one of the busiest — last year alone he worked on 21 new productions and revivals.
I spoke with Carsen backstage at the Four Seasons Centre for the Performing Arts a few days before the opening of Orfeo ed Euridice. Though his work is controversial, he does not reveal any desire to confound or outrage anyone, least of all his audiences. Instead he seems intensely concerned about being understood.
Orfeo ed Euridice was a huge hit in Toronto. At the two performances I attended, the audience stood up and cheered at the end. Performances sold out, and it went on to win two Dora awards. But Carsen was already well aware of what a powerful production he was bringing to Toronto, since it had been first presented at Chicago Lyric Opera in 2006, and had been revived elsewhere a number of times.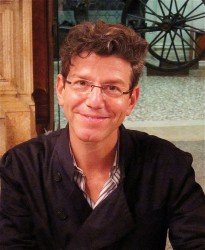 Carsen was born in Toronto in 1954 and lived here until he was 20, when he moved to England. He stayed in Europe, living in London and Paris. But his ties to Toronto remain strong, since he still has close family here. Though his mother died a few years ago, his father, arts patron Walter Carsen, is, at 98, remarkably active.
When I ask whether Toronto was a good place for him to grow up, he says without hesitation, "Yes, it was. It all started here for me — all my first experiences in opera, classical music, dance, theatre, everything, were in Toronto. So it was formative. I was lucky because my parents loved different art forms, so my brother and I were exposed to everything. I was taken to the opera when I was seven. At first I used to go so that I could stay up late — I figured out that it was a good way to not have to go to bed early. But I remember almost everything I saw when I was little, all the operas at the COC, all the theatre."
It was clear to him from an early age that he wanted to be an actor. "I became obsessed with the theatre." Carsen went to Upper Canada College, then finished high school at a Canadian school in Switzerland. "At UCC I was in all the plays and musicals I could get into. In those days, because it was a boys' school, the boys played both male and female roles. So I played Katisha in The Mikado, and Archibald Grosvenor when we did Patience." It turned out there was a lot to learn from playing both.
Carsen then went to York University to study theatre. "But one day I suddenly had an epiphany — I realized that I had to not be doing this. It was my one brave action, to get up in the middle of an exam at York University, put my papers in the bin, go home and tell my mother I was going to London. I had never even been to England, and I knew absolutely nobody. But I wanted to immerse myself completely in the world of theatre, and I wanted conservatory training as an actor. So I left the next day."
Six years ago, both Carsen and his father, who is beloved in the Toronto arts community for his wide-ranging philanthropic support, were awarded honorary doctorates by York University. "I had to point out in my thank-you speech that in fact what York University had taught me was that I didn't want to stay in Canada getting a liberal arts education, which was educating me to be able to do something else when being an actor doesn't work out."
After two years of training to be an actor at the Bristol Old Vic, one of his teachers said he thought Carsen had the makings of a director. "At first I thought he was trying to tell me I was a terrible actor, but in fact he was saying, 'I think you're actually a director — how your mind works, and the way you contribute to what everyone else is doing.' That got me thinking."
So he started looking for work as an assistant director. "Maybe because it was a little disappointing not to be acting, I thought I would start in a parallel domain. I worked as an unpaid assistant at the Spoleto Festival and then at Covent Garden."
Lotfi Mansouri brought him back to Canada when he was 25 to work at the COC as assistant director on Tristan und Isolde. "But the person who gave me my first real job here was Niki Goldschmidt. I directed two shows for him at the Guelph Spring Festival, The Lighthouse by Peter Maxwell Davies, with the young and very brilliant Ben Heppner, and Benjamin Britten's The Prodigal Son."
When Brian Dickie took over the COC, Carsen directed two productions, Katya Kabanová and Mario and the Magician. "Brian had known me when I was an assistant director at Glyndebourne." But after Richard Bradshaw replaced Dickie as head of the COC, Carsen was never invited back. Why, he doesn't know, especially since Bradshaw had been the conductor for Carsen's two COC productions.
"I had at times made suggestions to Richard, particularly about productions I had done with designer Michael Levine." (Levine had designed the Ring for Bradshaw and directed the first opera in the cycle, Das Reingold.) "Since Michael and I are both from Toronto, and we've done well over 20 productions together, we both thought how nice it would be to bring various productions of ours here. But it never happened."
Alexander Neef invited Carsen here soon after he took over the COC following Bradshaw's untimely death. Neef had seen Carsen's work frequently at the Paris Opera, where Neef had been casting director. "When Alexander started talking to me about projects, he told me he wanted to bring my two Gluck productions here. I thought that was great, so I didn't inquire why he chose those. Then later I discovered that the COC had never done anything by Gluck. I was amazed — and delighted, because Orfeo ed Euridice is one of the most important works in all of the opera canon as the first of Gluck's reform operas, and Iphigenia in Tauris is Gluck's masterpiece. It's a fabulous, fantastic opera, one of my favourites." So the pairing of the two operas makes a kind of mini-cycle, he points out. "I call it a bi-cycle."
Just as these two works are radically different, so are his productions of them, though he uses the same design team for both. "I think when you see them both it would be quite difficult to think that the same people had done them."
When I ask Carsen what distinguishes his stagings as his work, he says, "If I had to answer, it would be that not one resembles the next one. To me they are all different, depending on what the works themselves are like."
Carson's work is often categorized as regietheater (director's theatre) because, like most other European-based directors working today, he tends to stage operas in time periods and locales that are different from what the score indicates or from how they are traditionally done.
The production of Orfeo ed Euridice that was staged at the Four Seasons Centre was set on a barren hill with a pit in front. Orfeo wore a business suit, Euridice a simple unadorned dress. But any description of the setting hardly does justice to the beauty and emotional impact of the production. Carsen used meaningful details of staging to illuminate his overall concept, and created a show that was both intellectually coherent and incredibly moving.
Carsen's staging of Il Trovatore, one of his most controversial, is set in a flame-spewing factory which blows up at the end. Katya Kabanová, one of his most exquisite, takes place on a series of movable docks set in a stage flooded with water to represent the Volga river. His Manon Lescaut is set in a shopping mall, providing a fair comment on the title character, while Tosca and Capriccio take place in theatres. His most notorious flourish, so far, has been to send out on the stage of Candide a chorus of dancing politicos, wearing masks to represent then-current world leaders like Bush, Putin and Berlusconi and dressed in boxer shorts made from the flags of their respective countries. For Candide he rewrote the libretto — though not, he emphasizes, the lyrics. Since the libretto had always been problematic, and had already been rewritten, he was able to obtain the approval of the estate of the composer, Leonard Bernstein.
It's evident that Carsen pays careful attention to the music, something one can't always assume with directors. "I'm passionate about music, and I care deeply about the score in doing an opera — otherwise there's no point for me in directing opera. The music completely shapes how the piece is told. The way you feel the work emotionally is conveyed by the music." Having studied piano for many years, he reads the scores, and never lets his stagings obstruct the music … well, almost never. Yet even when it appears that he is sacrificing the music for a dramatic effect, it inevitably turns out that he is actually illuminating the music. As an example he mentions how, when Renée Fleming starts singing the extended aria Ah, mio cor in his production of Alcina with William Christie and Les Arts Florissants, she is at the back of the stage in a dark corner with her back to the audience. You can barely see her, but you can certainly hear her. As the lights gradually come up, she moves forward. It's very effective — and moving.
Carsen handles a broad range of repertoire. Earlier in his career he directed two shows by Andrew Lloyd Webber, Sunset Boulevard and The Beautiful Game. A show that he wrote and directed 20 years ago, Buffalo Bill's Wild West Show, is still playing at Disneyland Paris. He has done a Ring cycle, a Janáček cycle, a Puccini cycle, a Verdi-Shakespeare trilogy, plenty of Strauss, bel canto (except for Rossini, the only composer who doesn't interest him), some Britten, including a stylish Midsummer Night's Dream, and a strong showing in baroque opera, especially in his 10 productions with the masterful William Christie. His production of The Sound of Music in Paris this year is heading to the Marinsky in St. Petersburg. He has also done a number of contemporary operas. Next year for the Geneva Opera, he directs a new opera by French composer Philippe Fenelon for the celebration of the 300th anniversary of the birth of Jean-Jacques Rousseau. He is already booked to return to the COC — a revival of his exquisite production of Dialogues des Carmélites, designed by Levine, is planned for an upcoming season.
As versatile as Carsen's repertoire is, so too is his ability to handle various aspects of a project, such as lighting, which he co-designs with lighting designer Peter Van Praet. For his upcoming production of Britten's Turn of the Screw at the Theater an der Wien in Vienna, he'll be not only directing and co-designing the lighting, but, for the first time, designing the sets and costumes with Luis Carvalho as well.
Carsen's interest in the visual arts has recently led him to design art exhibitions, so far just in Paris, about Marie Antoinette and Charles Garnier, architect of the old Paris opera house, the splendid Palais Garnier. His next exhibition, "Bohèmes," will explore how artists during the past 500 years have treated the theme of gypsies. At one point he had been in discussion with the Art Gallery of Ontario to design their recent show on artists and the theatre, though unfortunately that fell through.
What makes him decide to accept a project? "If it is interesting and I think I can contribute to it, and if I'm able to make it work, then it's something that is nice to do."
What would make him not accept? "You can't really say it like that — that isn't how it works. Sometimes I think, 'Well, I don't think I'm going to be able to make an interesting piece of theatre in collaboration with that conductor, because he's only going to come for the last week,' or whatever, and so I might not want to do that job. Or sometimes singers might already be cast and you think they are not going to work out — but that's not so often, I have to say. If the casting is still underway, it's normal for a director to say what he sees — and of course not just sees, but hears. But if a singer has already been cast, and I don't think it's going to work, I would never dream of saying, 'Well, you'd better fire them.' I'd say, 'It's not for me.'"
"There are so many other factors. But whether the theatre is large or small is not one of them. Of course it's great to work at big companies like the Met, Covent Garden, La Scala and the Vienna State Opera. But I also love to work with smaller theatres like the Flemish Opera in Antwerp and Ghent, where I've done more productions than anywhere, and Opera du Rhin in Strasbourg. With smaller theatres you don't have the same pressures. The large theatres tend to do so much repertoire that you don't have as much time with the artists, especially if they are very big stars, or on the stage because you have to share it with the ballet and everything else that's going on in these houses."
He pauses, then says, "But for me there's only one theatre in the world anyways, and that's the theatre I'm working in. Each artistic creation seems unbelievably important when you are working on it — 
a matter of life and death."
Of course it takes a whole team of artists with an array of talents to put on an opera. "I would not recommend working in opera to anybody who has a problem with collaboration. Opera is the most collaborative of all art forms. You have to be able to embrace the concept that what you want is not necessarily what's always going to happen." He emphasizes the need to be able to adapt, because singers may not be able to do what you want, and conductors may not want to. "Their viewpoints are as valid as yours."
Then who is responsible for what? "The conductor is responsible for the musical performance, that is to say, the orchestra and the singers. If at a certain point someone has to say that something is not going to work musically, that is the conductor's job. My job is scenic, and that covers a lot. I'm responsible for how the artists are interpreting their roles on stage. From a director's point of view, you've been hired to channel everything together, so that is your responsibility."
But who is ultimately in charge? "In charge of what?" Carson asks, pointing out that the stage and the pit are different domains. "Of course there's an important crossover, because the musical performance is going to be affected to some degree by the staging."
And is the staging affected by the musical performance? "Sometimes I'll put singers in particular positions on the stage, when the conductor would prefer to have them right at the front, or at least much closer to him, or not moving, or whatever … But conductors who love the theatre, like Harry Bicket, who conducts Orfeo ed Euridice here, are really marvellous about collaborating. He understands why I do something. If he has a problem, he'll say, 'We can't hear the singers here, and I can't get the orchestra to play any quieter. You've got them in a dead spot on the stage, so if you could move them over a metre, or do this or that …' Of course one is open to that kind of suggestion."
"But then you get other conductors who will just look on stage and say, 'Well, I can't do it — that singer is too far away.' That approach is not interesting for me. People are coming to the opera house for live theatre. They're not coming for a concert performance, which they can get at Roy Thomson Hall. My worst experiences on projects," he says, careful not to mention any names, "have been when people try to get what they want by throwing their weight about regarding who's in charge. That's horrible, really."
Bicket, an early music specialist who previously conducted Rodelinda and Idomeneo with the COC, lead the premiere performances of Carsen's staging of Orfeo ed Euridice in Chicago. "What's wonderful about working with someone like Harry, is that he comes to all the rehearsals, so that he is part of the process from the very beginning. Other conductors will just turn up when the orchestra starts playing. So you can't have that collaborative experience with them of making the piece work dramatically together."
In Orfeo ed Euridice, which was done without an intermission, every aspect of Carsen's production worked seamlessly with every other, from the stark sets and costumes, the expressive movements of the soloists and chorus, to the propulsive orchestral playing. "You have to have quite a clear narrative line to bring everyone — set and costume designers, technicians, stage management, props people, the chorus, supers, dancers — into the service of the story you are trying to tell."
"The way I direct, I feel like I'm the camera. Sometimes I need the audience to look at a wide shot, and sometimes I need them to look at a closeup. That is, of course, in a way impossible to do on the stage because the relationship of the audience to the stage always stays the same. So I try to do it through the use of lighting and movement. I want the audience to follow the story in a certain way."
How, I wondered, does he manage to convince singers to do some of the more extreme things he asks of them? There's Alice Coote as Nero and Andrew Tortoise as Lucano  climbing into a bathtub filled with water in a brilliantly perverse scene in L'Incoronazione di Poppea, Renée Fleming, Franz Hawlata and the water nymphs playing around in a shallow pool of water in Rusalka, Karita Mattila lying in the water that  covers the stage in Katya Kabanovà as her character ends her tormented life. In Eugene Onegin he blankets the stage – and the singers -  with leaves, and in Les Boreades, everyone on stage is pelted at various times with snow, rain and, again, leaves. "I'm hugely influenced by the work of Pina Bausch," he says. "She brought the use of all the elements so marvellously to her dance theatre pieces."
"If I ask them to do some pretty crazy stuff, it's to do with making the piece work. Directing is giving direction. It isn't telling – it's guiding. Singers know there are very good reasons for doing these things, so  they don't mind. Most singers get excited to try stuff out."
"I love singers! I admire a lot what they do because they  have to process so many things - and then let it all go. What interests me more than anything about singers  is what freedom they have to give. That of course comes from not having to worry about your technique. There are so many demands put on them, for the musical expression, the language, which often isn't their native language, and being in sync with the maestro – I don't mean just following the beat but interpreting the music as a whole. Then there are all the details of the staging to perform while being blinded by lights and needing to watch out for the hazards of the set. It really requires a lot."
Carsen  works with the finest singers of our day. For Iphigenie in Tauris the COC will have the wonderful American mezzo Susan Graham as Iphigenie. "She has always been our Iphigenie, in Chicago, San Francisco, London, Madrid and now Toronto. It's something that was made for her." With her will be two outstanding Canadian singers, Russell Braun and Joseph Kaiser. Inevitably,  he has worked with many Canadian singers, like Ben Heppner,  Richard Margison, Adrienne Pieczonka, Gerald Finley, Sondra Radvanovsky, Gordon Gietz, Isabel Bayrakdarian, Jane Archibald, and even, when Carsen was assistant director in Tristan with the COC, Maureen Forrester.
But then there's the audience to consider. "The audience is the most important aspect of an opera production. So it's very important for the director to make sure that a performance is as good as it can be so that  it communicates with the audience. You are doing it for them, and  they are paying for it, directly and indirectly. There's no theatre without the audience." Carsen's staging of L'Incoronazione di Poppea opens not on stage, but in front of a seat in the first row of the opera house, with the dispute between Virtue and Fortune becoming a fight between a nun and a fashionably-dressed young woman over which one the seat rightfully belongs to.  It's not just a brilliant gag –  it reinforces the libretto, and allows the director to draw the audience in to what is going to happen on stage.
Yet it's the director that audiences are most likely to boo if they are displeased  – although Carsen is quick to point out that singers get booed too.  But Carsen's updated settings and provocative social commentary aren't always received appreciatively. Even with his acclaimed production of Iphigenia in Tauris, when he took a curtain call at Covent Garden he was greeted with some booing.
"People have every right not to like a production - that's part of the game, though to me it's not a badge of honour to be booed. What's important is if I think we did a good job. You desperately want to make something that's going to be meaningful to people. But you can't change your feelings about  the value of something that's so deep inside you, based on whether they  like it.  If they don't, it's not because one's heart wasn't in it, or one didn't do one's best."
When I suggest that changing the settings and time periods of operas tends to polarize audiences, he looks upset, saying, "It's rubbish, all this, absolute rubbish. The best example I  can think of to show why  is that when Verdi chose La Traviata as a subject, he was thrilled to find something that was contemporary. He wanted  to confront the hypocritical society of his day, especially its double standard for women like  his mistress (and future wife)  Giuseppina Strepponi, a famous opera singer who was shabbily treated by society. But the censors said it had to be performed in the sets and costumes of the period of Louis XIV, which was hundreds of years back.  So he never saw the opera performed in his lifetime the way he wanted it - with the people on stage dressed in the same style as the audience. Yet La Traviata only makes sense if you do what Verdi actually wanted."
"To me it's absurd to put an opera like Marriage of Figaro on stage today with people in eighteenth century clothes. Mozart wanted the audience to see themselves on the stage. They are wearing clothes, not costumes. I would not know how to do it in eighteenth century costumes because when I study what the composer wanted, what I pick up on is the relationship between the audience and the stage."
Then why use period instruments in the orchestra? "That's a different thing, though it's  contemporaneous because you're using the instruments the composer wrote the work for. But musical values are quite different than stage values. With period instruments, you're doing the work how the composer heard it. It's the nearest you can get to hearing what the composer heard."
When I ask Carsen whether he has a preference, he says, "Something like L'Incoronazione di Poppea would be difficult to do any other way. But I'm not dogmatic. So if someone asked me to do Poppea with a full modern orchestra, that could be exciting - I could get into that."
"In all our musical discussions with William Christie and Les Arts Florissant, especially when we do Lully and Rameau, we never have the feeling that you can't touch a note. There's such freedom with these works because we know that all these composers, including Gluck, regularly rewrote, depending on the singer they had in front of them. With Handel, I don't even know where to start!"
"We're here to bring these works alive,  re-find the life in them. That means not embalming them. We're not undertakers. This is living, contemporary theatre. It doesn't need that form of worthiness or respect – that kills it. These works are not museum pieces," he emphasizes, "they're meant to be interpreted. I have no sense of tradition. That doesn't mean that  I would scribble graffiti all over a work. But when I hear something, I only hear it new - I don't hear it old."
UPCOMING PERFORMANCES IN TORONTO
Carsen's Iphigenia in Tauris for the Canadian Opera Company runs September 22, 25, 28 and October 1, 4, 7, 12, 15.
Harry Bicket leads the period instrument group, The English Concert, at Koerner Hall Friday October 21.
Susan Graham returns in recital with pianist Malcolm Martineau, Koerner Hall, Saturday January 28.
… AND COUNTING!
Carsen Opera DVDs:
Britten: A Midsummer Night's Dream – Daniels, Gietz, Sala; Gran Teatre de Liceu, Bicket (Virgin)
Dvorˇák: Rusalka – Fleming, Urbanova, Diadkova, Larin; Opéra de Paris, Conlon (TDK)
Handel: Semele – Bartoli, Remmert, Workman; Zürich Opera, Christie (Decca)
Janácˇek: Katya Kabanová – Mattila, Dvorský, Gietz; Teatro Real, Beˇlohleˇvek (FRA MUSICA)
Lully: Armide – d'Oustrac, Agnew, Naouri, Les Arts Florissants; Théâtre des Champs-Elysées, Les Arts Florissants, William Christie, (FRA MUSICA)
Monteverdi: L'Incoronazione di Poppea – de Niese, Coote, Davies; Glyndebourne, Haïm (Decca)
Offenbach: Les Contes d'Hoffmann – Shicoff, Mentzer, Terfel; Opéra National De Paris, López-Cobos (Arthaus)
Poulenc: Dialogues des Carmélites – Schellenberger, Aiken, Silja; Teatro alla Scala, Muti (TDK)
Puccini: Manon Lescaut – Gauci, Ordonez; Flemish Opera, Varviso (Arthaus)
Puccini: Tosca – Kaufman, Magee, Hampson; Zürich Opera, Paolo Carignani (Decca)
Rameau: Les Boréades – Bonney, Agnew, Naouri; Opéra National De Paris, Les Arts Florissants, Christie (Opus Arte)
Strauss: Capriccio – Fleming, von Otter, Finley; Opéra National De Paris, Schirmer (TDK)
Strauss: Der Rosenkavalier – Pieczonka, Kirchschlager, Hawlata; Salzburger Festspiele, Wiener Philharmoniker, Bychkov (TDK)
Tchaikovsky: Eugene Onegin – Fleming, Vargas, Hvorostovsky; Metropolitan Opera, Gergiev (Decca)
Verdi: Il Trovatore – Tanner, Tamar, Lucic, Cornetti; Bregenzer Festspiele, Rösner (Opus Arte)
Verdi: La Traviata – Ciofi, Sacca, Hvorostovsky; La Fenice Opera, Maazel, (TDK)
Boito: Mefistofile – Ramey, Benackova, O'Neill; San Francisco Opera, Maurizio Arena on VHS (Kultur) only
(Though a recording of Handel: Alcina has not been released, Ah, mio cor is posted on YouTube.)
BOOK
Charles Garnier: Un architecte pour un empire (Beaux-arts de Paris) – fully illustrated catalogue of the exhibition at the École nationale supériere des beaux-arts in Paris last year designed by Robert Carsen
– text in French.
∗ For a chance to win one of the four Carsen opera discs in the highlighted Decca opera mini-pack, complete the following mini-quiz.
Please leave your answers along with your name and email address in the as a comment below.
The WholeNote Opera Mini-Quiz September 2011
PRIZES: The Robert Carsen-directed Decca DVDs  listed below.
Handel: Semele - Bartoli, Remmert, Workman; Zürich Opera, Christie (Decca)
Monteverdi: L'Incoronazione di Poppea - de Niese, Coote, Davies; Glyndebourne, Haïm (Decca)
Puccini: Tosca – Kaufman, Magee, Hampson; Zürich Opera, Paolo Carignani (Decca)
Tchaikovsky: Eugene Onegin - Fleming, Vargas, Hvorostovsky; Metropolitan Opera, Gergiev (Decca)
Answer all four questions correctly to win ONE of the four discs. Four prizes will be awarded. Contest closes September 8 2011. Answers will be posted September 9.
SEMELE                Semele reappears in a German opera. Which one?
POPPEA               Which of the characters  reappears in the title role of another Italian opera?
TOSCA                  Who is the Queen for whom Tosca sings her victory cantata?
ONEGIN               How old is Onegin when he returns to St Petersburg?
Questions devised by Iain Scott of Opera-IS