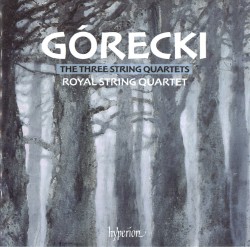 The Polish composer Henryk Gorecki, who died last November, wrote three string quartets fairly late in his career - a fourth was apparently unfinished at the time of his death - and these are presented on the specially-priced 2-CD set Gorecki: The Three String Quartets (Hyperion CDA67812) performed by the Warsaw-based Royal String Quartet. It's certainly not easy listening, with predominantly slow, quiet, and often dissonant meditative passages with low harmonies and little vibrato, interspersed with rich tonal outbursts. Already it is dusk, from 1988, Quasi una fantasia, from 1991, and ...songs are sung, completed in 1995 but not released until 2005, all offer ample support for Adrian Thomas' comment in the booklet notes that "contemplation was always central to Gorecki" - certainly there is a sacred as well as a secular feel to these complex and very individualistic works. All three quartets were commissioned and first performed by the Kronos Quartet, who have also recorded them. I haven't heard their versions, but however different they may be it's hard to believe that they could be any more authoritative than these exemplary performances by the Polish ensemble.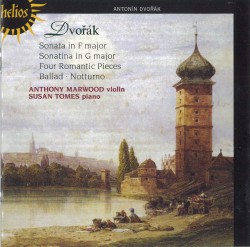 Hyperion continues to add outstanding discs to its catalogue, and has just re-issued the Anthony Marwood and Susan Tomes recital of Music for Violin and Piano by Dvořák in their Helios budget-label series (CDH55365). It's an absolute delight from start to finish, with really fine works, outstanding playing, and a beautiful recorded sound. The Sonata in F minor and the Sonatina in G are the major works, but there isn't a single track that is less than top-drawer. The Four Romantic Pieces were originally written for 2 violins and viola, Dvořák arranging them almost simultaneously for violin and piano; two shorter works, the Ballad in D minor and the Notturno in B major, complete the disc. Marwood's playing is simply faultless, with perfect intonation, a lovely tone, and sensitive and intelligent phrasing. He is matched in all respects by Tomes. Marwood has a half-dozen other fascinating and highly-acclaimed CDs on the Hyperion label, ranging from Weill and Stravinsky to little-known British Romantic concertos. He's clearly a player with a range to match his ability – and that's saying something.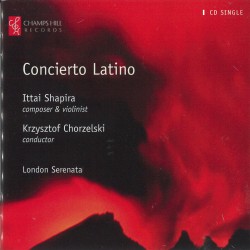 I'm constantly reminded of how difficult it is to keep up with contemporary performers and compositions – or at least reminded of the fact that I'm probably not doing as well as I should be in that respect. A case in point is the new CD from the Israeli violinist Ittai Shapira, who is active as a soloist and as a composer. He performs his own Concierto Latino on an abbreviated (26 minutes) CD from Champs Hill (CHRCD020) with the London Serenata conducted by Krzysztof Chorzelski. Shapira is a new name to me, but in addition to his own works he has already had 14 concertos written for him by other composers! This concerto was written in response to a personal assault Shapira experienced when he was mugged by a New York gang in January 2005: the three movements, titled Assault, Lament and Party, clearly indicate the therapeutic nature of the work, and Shapira's celebration of his recovery. It's an interesting and accessible piece, with a mix of various technical and musical influences - Latin, Iberian, Sephardic, Cuban, among others – and is extremely well played by all the performers. Recorded at St. Paul New Southgate, London the sound quality is excellent.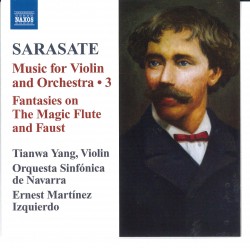 Naxos has released Volume 3 of the projected 8-volume series of the complete Music for Violin and Orchestra by Sarasate (8.572275). I wrote a glowing review of the earlier volumes a few years ago, and this latest CD is clearly their equal. The young Chinese violinist Tianwa Yang is again simply brilliant throughout, playing Sarasate's own violin on two of the tracks. The Orquesta Sinfonica de Navarra (founded by Sarasate himself in 1879) under Ernest Martinez Izquierdo provides the most idiomatic support imaginable. And don't think for a moment that the standard of the works themselves is lagging as the series proceeds: the Concert Fantasy on Mozart's Die Zauberflõte is dazzling; Navarra (with the soloist double-tracked) is an exuberant duet; the bagpipe-influenced Muineiras is a delight. The Nouvelle fantasie sur Faust de Gounod, the Barcarolle venitienne and the Introduction et Caprice-Jota complete an immensely satisfying, entertaining and probably definitive disc.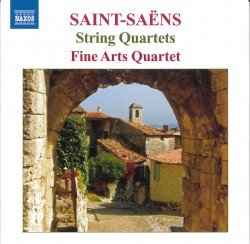 Naxos has issued a fascinating CD of Saint-Saëns String Quartets (8.572454) played by the Fine Arts Quartet. Saint-Saëns was born ten years before the premiere of the Mendelssohn Violin Concerto and died eight years after the premiere of Stravinsky's Rite of Spring, but such radical change was never reflected in his music. The quartets are both late works – the E minor Op.112 from 1899 and the G major Op.153 from 1918 – but it's hard to tell from their decidedly 19th century musical style. It's quite astonishing, for instance, to think that the Op.153 was written by a French composer during the last year of the Great War, and ten years after Schoenberg had first abandoned tonality; in places it's almost Beethovenian. Fine Arts violinist Ralph Evans correctly describes the quartets as "serious, intellectual, brilliantly crafted yet delightful works," but it's difficult to identify a personal voice in them; they tend to remind you more of other composers than of Saint-Saëns himself. It's also easy to see why his reputation in France had faded by the time of his death - he simply belonged to a different era.
The Fine Arts Quartet has been around since 1946; three of the current members have been there for at least 28 years. Their playing here is of the highest level, although the big vibrato and the occasional "scoop" give it a somewhat dated feel. The sound quality is very resonant, in places almost too much so.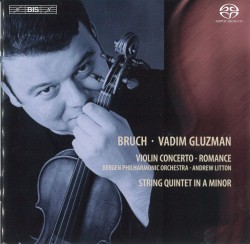 Vadim Gluzman turns his attention to the music of Max Bruch on his latest Super Audio CD (BIS-SACD-1852), with the Bergen Philharmonic Orchestra under Andrew Litton. Given that Bruch wrote three violin concertos plus the Scottish Fantasy it's a bit disappointing, albeit not particularly surprising, to see that once again it's the Concerto No.1 in G minor – "the" concerto – that is the main work here. Bruch himself was constantly exasperated by the popularity of this concerto over the others: apparently little has changed! Still, it's an impassioned and extremely satisfying performance from Gluzman, perfectly showcasing his rich, warm tone, and with Litton providing a sympathetic and glowing accompaniment. The Romance in F major was written for viola and orchestra, but rather than switching instruments (as did Janine Jansen on her 2008 CD) Gluzman uses the violin part from the violin & piano version prepared by the composer. It works very well, but if you know the viola version this one loses something in the translation. The third work on the CD, the String Quintet in A minor, has much in common with the Saint-Saëns String Quartet No.2 reviewed above. Bruch and Saint-Saëns had almost identical life-spans – 1838-1920 and 1835-1921 respectively – and the works were both written in 1918, when the world that both composers still belonged to had vanished completely. Like the Saint-Saëns quartet, Bruch's quintet gives absolutely no hint of the new world order. It's a well-crafted, lovely work, but it comes as no surprise to hear 19th century voices – particularly Mendelssohn and Brahms – in the melodies and harmonies.
Gluzman is joined by Sandis Steinbergs on violin, Maxim Rysanov and Ilze Klava on violas, and Reinis Birznieks on cello in a finely-balanced and well-recorded performance.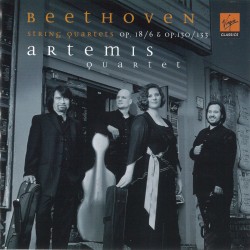 This May, Virgin Classics released the final CD in the complete cycle of Beethoven quartets by the German Artemis Quartet. Their 2010 release of the String Quartets Op.18/6 and Op.130/133 (50999 694584 0 8) has just reached me, and presents the perfect opportunity to mention the project. The series started on the Ars Musici label, and Virgin reissued two single Ars Musici CDs as a Virgin Classics 2-CD set last year. Unfortunately, I wasn't able to write a full review at the time, but the CDs were top of my list of highlights of the year. The playing on each CD I've heard so far is as good as any you will encounter, and the recorded sound is full and warm, although the cello tends to "boom" a bit on this latest disc. According to the Quartet's website, the entire project will be issued as a box set in the near future - definitely something to look out for, especially if it's attractively priced.