THE WHOLENOTE IS HAVING A PARTY!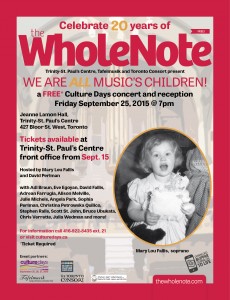 It's our birthday—our 20th birthday, in fact—and you are all invited! After 20 years of covering music in Toronto and the area, we think that a party is called for.
On Friday, September 25—that's a week and a half from now—we will be hosting a special FREE concert and reception in collaboration with Trinity-St. Paul's Centre, Tafelmusik, the Toronto Consort and Culture Days, to celebrate 20 years of The WholeNote. Hosted by Mary Lou Fallis and David Perlman, there will be performances by many favourite artists featured over the years in the magazine, including:
...Adi Braun, Adrianne Pieczonka, Eve Egoyan, David Fallis, Adrean Farrugia, Alison Melville, Julie Michels, Angela Park, Sophia Perlman, Christina Petrowska Quilico, Stephen Ralls, Scott St. John, Bruce Ubukata, Chris Verrette and Julia Wedman ...
So, here's the practical info: the show starts at 7pm at Trinity-St. Paul's, in Jeanne Lamon Hall. The event is free, but you do need to reserve a ticket—for more details on how to do that, phone 416-922-8435 x21, or visit culturedays.ca or the Facebook event: https://www.facebook.com/events/1054458367921705/.
We don't mean to toot our own horn (actually yes we do!), but we think we have quite the lineup for this concert, and we think you should join us.
Save the date and reserve your tickets, and hopefully, we'll see you there!
-The WholeNote
24-HOUR FLASH CONTEST: FREE TICKETS TO TAFELMUSIK
We are all closely following Tafelmusik's concert season this year, as they begin to narrow in (we think) on who will replace Jeanne Lamon as their new music director. To kick off 2015/16, Tafelmusik brings in two guest directors for the first two concerts who made appearances with the orchestra last year: Rodolfo Richter, who begins the season with The Human Passions Sept 16-20; and Cecilia Bernardini, who was an audience favourite last year and returns to lead the orchestra in Musik Mania at the beginning of October. These are two violinists to watch, and two concerts to make sure you attend—and of course, regardless of the intrigue, Tafelmusik always brings excellent early music programming and top-notch musicianship to the table.
The WholeNote has a special ticket package up for grabs-- two tickets to The Human Passions this Friday, September 18, and two tickets to Musik Mania on Friday, October 2. Hear both of these amazing guest artists play with the orchestra in the first two concerts of their season ($364 value). You have only 24 hours before this contest closes! The clock is ticking.
OPERA INFO
Where to get the primer on Pyramus and Thisbe before it goes onstage at the COC this fall. If you don't know about Pyramus and Thisbe yet, now's the time to find out.
The 2010 opera by Barbara Monk Feldman will receive its world premiere at the COC in one month, where it will run in a programme with Monteverdi's Il Combattimento di Tancredi e Clorinda and Lamento d'Arianna from October 20 to November 7. Between Monk Feldman and Monteverdi, the production will traverse 400 years from opera's beginnings to the music of today. Kudos to the Canadian Opera Company for championing daring music from a living, Canadian composer—we can't wait to hear it.
And if you don't know what to expect from this premiere, September is full of events that might give you a preview of what will happen when the curtain rises on October 20. Take a look and see if any interest you.
Friday, September 18/Tuesday, September 29: Kristina Szabó at Soundstreams
Toronto audiences will have a chance to hear mezzo-soprano Kristina Szabó, who will sing the role of Thisbe (as well as those of Arianna and Clorinda for the Monteverdi) at the COC, this month in a September 29 concert presented by Soundstreams. Szabó joins Canadian soprano Adrianne Pieczonka for "Adrianne Pieczonka: Beyond the Aria," a programme of works by Crumb and Llugdar plus Beatles songs arranged by Berio.
You can also hear Szabó this Friday in Soundstreams' more intimate show "Music and Poetry," a part of their Salon 21 series, where Canadian poet Beatriz Hausner and three Canadian composers will present their interpretations of the poetry of Federico García Lorca. Szabó will sing a Lorca text set three different ways by composers Anna Atkinson, Juliet Palmer and Chris Thornborrow. Details on both these shows at soundstreams.ca.
Thursday, September 24: "Opera Exchange," Thursdays at Noon at U of T
The University of Toronto's free Thursdays at Noon series presents a panel discussion on the mythic, literary and visual art sources of the Pyramus and Thisbe legend on Thursday, September 24 in Walter Hall. Panelists will include professors from the Department of English, Department of Fine Art and Faculty of Music, as well as composer Norbert Palej and of course, Barbara Monk Feldman herself. More info available at https://music.utoronto.ca/concerts-events.php?eid=596.
Tuesday, September 29: Love Shards of Sappho at the COC Vocal Series
In a free noontime concert produced in collaboration with Arrraymusic, the COC Vocal Series presents a program of vocal and chamber music featuring women composers and the female voice. This concert's program features Linda Caitlin Smith's Hieroglyphs and Barbara Monk Feldman's The Love Shards of Sappho, a chamber work dating from 2001. If you want to hear some of Monk Feldman's other music live before the COC's big reveal, here's when to do it. Details at http://www.coc.ca/PerformancesAndTickets/FreeConcertSeries.aspx.
Note: Arraymusic will repeat its performance of Linda Caitlin Smith's Hieroglyphs as part of the CMC/Toronto New Music Alliance's New Music 101 Series on October 3-- see our HalfTones listings in this newsletter for details.
JUST IN: CORRECTED AND NEW LISTINGS
FEATURED LISTING: Hieroglyphs and An Extended Look at the Piano, Part 1
Check out our HalfTones listings for info on this and other new/corrected September concert listings added online since our last print issue.
Saturday, October 3 at 2pm, catch Arraymusic's performance of Linda Caitlin Smith's Hieroglyphs and Dr. Réa Beaumont's exploration of extended techniques on the piano through the music of Barbara Pentland. Arraymusic and Beaumont will present their work as part of the CMC/Toronto New Music Alliance's free New Music 101 series with the Toronto Public Library. This event, the first in the NM101 series' 2015/16 season, will be at Northern District Library (40 Orchard View Blvd., 416-532-3019). If you want to learn more about new music (or if you just want to hear some interesting explorations in sound), stop by the library and have a listen.
Other new/corrected September concert listings added online since our last print issue are as follows:
Sep 15 12:00_noon: Marilyn I. Walker School of Fine and Performing Arts, Brock University. Imagaining The City Festival. Pop Up Performance. Colin Maier, oboe and other instruments; Alexander Sevastian, accordion. 15 Artists' Common, St. Catharines. 905-688-5550 x3817. Free community event. Also, Sep 16, 17, 18.
Sep 18 7:30: Brampton Folk Club. Friday Folk Night: Emory Lester and Jill Jones Band. Emory Lester, mandolin; Jill Jones, vocals. Opening act: Neil Sharp and Alan McKnight. Sanderson Hall, St. Paul's United Church, 30 Main St. S., Brampton. $15; $12(st/sr). 647-233-3655 or 905-874-2800). www.bramptonfolk.ca
Sep 19 8:00: Jeffrey Concerts. New Orford Quartet. Wolf Performance Hall, London Public Library, 251 Dundas St., London. 519-672-8800. $35; $30(sr); $15(st)
Sep 27 7:00: Prater Ensemble. Eiffel Tower. Roufat Amiraliev, violin; Roman Timofeev, piano. Works by Fauré, Ravel, and Saint-Saëns. Heliconian Hall, 35 Hazelton Ave. 416-859-0955. [No price listed in e-mail.]
Sep 26 8:00: Canadian Sinfonietta. Piano Trios: Wine & Cheese Series. Fauré: Piano Trio; Michael Pepa: "Mozartino"; Mendelssohn: Piano Trio No.1. Erika Crino, piano; Joyce Lai, violin; Andras Weber, cello. Heliconian Hall, 35 Hazelton Ave. 416-922-3618. $30; $25(sr); $20 (st)
Sep 26 8:30: Zula Music & Arts Collective Hamilton. Something Else! Creative Music Series. IN THE SEA. (Josh Zubot, violin; Tristan Honsinger, cello; Nicolas Caloia, double bass). Guests: ESCHATON (Aaron Hutchinson, trumpet, synthesizer, electronics, percussion; Connor Bennett, saxophones, bass, vocals). Artword Artbar, 15 Colbourne St., Hamilton. 289-993-1993. $15; $12(st)
Sep 24 7:00: Anne Lindsay's Soloworks. Anne Lindsay, violin/fiddle, voice. Alton Mill Arts Centre, 1402 Queen St., Village of Alton, Caledon. 519-941-0559. $15. Tickets available online at www.altonmill.ca, or at Gallery Gemma in the Alton Mill.
Sep 26 8:10: Gordon Murray Presents. Piano Soirée. Rachmaninoff: Rhapsody on a Theme of Paganini, Op.43 – Variation 18 (arr. G. Murray); Vocalise, Op.34 No.14 (arr. G. Murray); Concerto No. 2 – Mvt 1 (arr. G. Murray); other works. Gordon Murray, piano. Trinity-St. Paul's United Church (Chapel), 427 Bloor St. W. 416-631-4300. $15; $10(st)
Auditions
Oriana Women's Choir. If you are interested in joining this auditioned choir, you are welcome to sit in at our open rehearsal on Tuesday, Sept 22. Rehearsals start at 7:30 pm at North Toronto Collegiate Institute, 70 Roehampton Ave. Please email if you would like to attend info@orianachoir.com
Festivals, Fairs & Festivities
Sep 25 11:30am–2:00pm: Glenn Gould Foundation/Glenn Gould Studio. Happy Birthday Glenn Gould!. This year marks the 60th anniversary of the recording that launched Gould's international career – Bach's Goldberg Variations. The public is invited to join in celebrating the legendary Canadian pianist and view the unveiling of the Government of Canada's "Person of Historic Significance" plaque in his name. Activities include a "photobooth" with the iconic Glenn Gould "park bench" sculpture, tours of the CBC's Glenn Gould Studio, presentations of Sony Classical's new release Glenn Gould: Remastered, sculptor Ruth Abernethy's new book A Narrative of Life and Bronze, and performances by the Glenn Gould School's award-winning Ruby Piano Trio and the Salvation Army Canadian Staff Band. Outside the CBC Glenn Gould Studio, 250 Front Street W.
Lectures, Salons, Symposia
Sep 26 6:00: CM Hour. Lecture and Demonstration: Time Travel Through Music. Bach, Schubert, Chopin, Prokofiev. Borjana Hrelja, piano; Chris Malone, presenter. Chopin Room, Collegium Musicum Conservatory of Music. 12 Peter St. S., Port Credit-Mississauga. 905-274-6100. Free. A Canada Culture Days event.
Sep 26, 10:30-noon. Toronto Mendelssohn Choir. Culture Days Singsation. With guest conductor Jenny Crober. Join members of the Toronto Mendelssohn Choir and the Singsation community to read through a selection of choral favourites. Bring your voice; we'll provide the sheet music. Centre for Social Innovation, 720 Bathurst St. Free.
Workshops
Sep 12 & 13: Musikay. Music/sight-reading for choristers. Sep 12: 10:00am – 12:30 Level 1 (beginner); 2:00 – 4:30 Level 2 (intermediate). Sep 13: 2:00 – 4:30 Level 3 (advanced). Grace Lutheran Church, 304 Spruce St. Oakville. 905-825-9740; musikay.ca
Sep 20 2:00: CAMMAC Toronto Region. Reading of Dvorak: Stabat Mater for singers and instrumentalists. Norman Reintamm, conductor. Christ Church Deer Park, 1570 Yonge St. 416-551-5183.
Sep 26 & 27: Musikay. Music learning and preparation. Sep 26: 10:00am – 12:30 Level 1 (beginner); 2:00 – 4:30 Level 2 (intermediate). Sep 27: 2:00 – 4:30 Level 3 (advanced). Grace Lutheran Church, 304 Spruce St. Oakville. 905-825-9740; musikay.ca
NEW ON OUR WEBSITE
Conversations @ The WholeNote
Don't miss our latest "Conversation @ The WholeNote," where publisher David Perlman interviews pianist Stewart Goodyear. Up now on our website!
THANKS FOR SUBSCRIBING
The next issue of HalfTones, Vol 3 No 2, will be out on Thursday, October 15, 2015. The next print issue of our 2015/16 season, covering October 1-November 7, will be on the stands at the end of September.
Please contact halftones@thewholenote.com with any HalfTones inquiries.