LET THE FESTIVITIES BEGIN!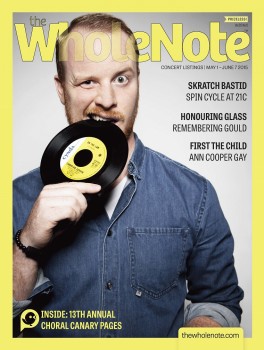 Summer festival season starts off on the right foot.
With summer on the horizon and the regular concert year beginning to wrap up, the season of music festivals is officially on its way. From special summer music series to outdoor celebrations to partnerships with this year's Pan Am games, there is sure to be something for everyone -- and from the look of the two major music festivals setting up for the coming weeks, this musical summer will be one to watch.
First of the festival early-birds is the RCM's annual 21C, a major new music festival that boasts over 21 premieres across 5 days of concerts. With the Royal Conservatory on Bloor St. as home base, 21C's May 20-24 programming this year pulls out all the stops, with an emphasis on musical collaborations. Internationally-acclaimed Finnish composer Kaija Saariaho makes an appearance as a featured composer and workshop leader, as well as Stewart Copeland of The Police, who joins forces with pianist Jon Kimura Parker for a show of new compositions and refreshing arrangements of well-known works. And of course, who could forget DJ Skratch Bastid -- featured on the cover of our May issue (!) -- who has been working with the Afiara String Quartet and a number of young composers to put a new spin on contemporary music.
Just in case you were thinking that getting tickets to Skratch Bastid and the Afiara Quartet's show was a lost cause, the RCM has just announced that the concert is moving from Mazzoleni Hall to Koerner Hall, so new seats are sure to have opened up. In addition, The WholeNote has a number of all-access festival passes -- as well as tickets to Saariaho's concert Light and Matter -- up for grabs for readers! For details, just take a look at our "Prizes" section below.
Following 21C is SING! the Toronto Vocal Arts Festival from May 27 to 31, which will feature all things a cappella. Based in the historic Distillery District (but with concert venues booked throughout the city over the weekend), SING! boasts a schedule jam-packed with workshops and concerts, and an impressive roster of local and international performers. Featured artists this year include award-winning a cappella groups Take 6 (USA) and Rajaton (Finland) as well as choirs and soloists from across the globe. One particularly intriguing concert to catch will be Kristin Hoff's performance of Ana Sokolović's intimate opera Love Songs -- those listening will be able to get a preview of Sokolović's music before the premiere of her Canadian Opera Company commission, La Reine-garçon, which is slated for the COC's 2019/20 season.
Concert tickets to a number of concerts hosted by the SING! Festival are available for readers of The WholeNote -- just scroll down to our "Prizes" section to apply for your chance to win.
Festival season in Toronto, it seems, will start off with a bang -- and these two are just the beginning of an entire summer of innovative musical programming in and around the city. To stay updated on festivals worth checking out near you, be sure to take a look at The WholeNote's Green Pages summer festival and event directory, included in our June/July/August issue.
MULTIMEDIA: MUSIC AND IMAGE
This city seems to thrive with a cross-disciplinary spirit -- and a number of upcoming concerts promise a visually unique, and musically rewarding, multimedia experience.
First up is "The Distance Between," a show co-presented by Ensemble Polaris and Baroque Music beside the Grange. The event will feature short films by Gabriele Grotto, Liz Gibson-DeGroote, Alicia Harris, Pierre Tremblay, Gerda Cammaer and students at Ryerson University's School of Image Arts, along with newly-composed and improvised live music by Ensemble Polaris. Each of the films, using footage shot in Iceland, New Zealand, Italy and the south of France, explore the ideas of "home" and "away". The show is this Saturday, May 16 at 8pm, and seems well worth checking out. Details at http://ensemblepolaris.com/performances/.
Later in the month is Continuum Contemporary Music's collaborative project with Subtle Technologies, taking place this year at the new location of The Theatre Centre on Queen St. "Collide!" is a cross-disciplinary project that will combine the efforts of Canadian composers, musicians, scientists and artists to explore scientific phenomena. The WholeNote has a pair of tickets to this show up for grabs to readers -- for contest details and more on this concert, check out our "Prizes" section below.
PRIZES, PRIZES
In this issue: Win festival passes and tickets to the RCM's 21C Festival, tickets to Toronto's SING! festival, tickets to Continuum Contemporary Music's multimedia show "Collide!", a special 4-ticket and dinner package to The Play of Daniel with the Toronto Consort, and tickets to hear Stravinsky and Poulenc's great chorus+orchestra works in Oakville. Just click on the following links for a chance to win -- feel free to enter all of the contests!
Festival Passes and tickets to the 21C Festival: May 20-24
Tickets to the SING! Festival: May 27-31
Tickets to Continuum's "Collide!": May 28
4-ticket and dinner package to The Play of Daniel: May 24
Tickets to Masterworks of Oakville Chorus and Orchestra: May 23-24
JUST IN: CORRECTED AND NEW LISTINGS
The Seven Deadly Sins by the Friends of Gravity, May 22 & 23
A new group breaking into Toronto's musical theatre scene, The Friends of Gravity present a new production of Die Sieben Todsünden -- The Seven Deadly Sins, with music by Kurt Weill and text by Bertolt Brecht. Billed as "intimately scaled, bold and contemporary in expression", this will be a cabaret-flavoured arrangement of the originally orchestral score, with silent film taking the place of the original production's ballet ensemble. Looks like an intriguing start to a promising new company. Details below in our listings, or at http://thefriendsofgravity.org/.
Wednesday May 20
8:30: Zula Presents. Rempis/Johnston/Ochs Trio. Chamber-jazz trio. David Rempis; Darren Johnston; Larry Ochs. The Pearl Company, 16 Steven St.,Hamilton. 905-524-0606. $15; $12(sr/st/un(der)waged.
Friday May 22
8:00: Friends of Gravity. Seven Deadly Sins. Pocket-sized production of Kurt Weill's The Seven Deadly Sins. Scott Gabriel, conductor; Stephanie Conn (Anna I & II); Max Christie, clarinet; Branko Džinović, accordion; Joelle Morton, bass. St. Bartholomew's Anglican Church, 509 Dundas St. E. 416-700-5914. $25; $20(st). Also May 23.
9:00: Afrika Djelly. "It's All About Da Beat". Music and party in celebration of International Drum Month. Djungle Bouti Orchestra; Kobèna Aquaa-Harrison, director; and others. BlakBird Jaz, 812b Bloor St. W. $10. Doors open at 8:30.
Saturday May 23
8:00: Friends of Gravity. Seven Deadly Sins. Pocket-sized production of Kurt Weill's The Seven Deadly Sins. Scott Gabriel, conductor; Stephanie Conn (Anna I & II); Max Christie, clarinet; Branko Džinović, accordion; Joelle Morton, bass. St. Bartholomew's Anglican Church, 509 Dundas St. E. 416-700-5914. $25; $20(st). Also May 22.
Monday May 25
8:00: Small World Music. A Nepal Earthquake Relief Benefit. An evening of music to raise funds for Nepal earthquake relief. Autorickshaw; FreePlay Duo; Voices of Asia project; Dorjee Tsering; Justin Gray; and others. Small World Music Centre, Artscape Youngplace, 180 Shaw St. 416-536-5439. $20.
Tuesday May 26
8:00: Jazz Bistro. CD Release: Aimée Butcher's "The World Is Alright". Aimée Butcher, vocalist/composer; Chris Pruden, piano; Brandon Wall, guitar; Jeff Deegan, bass; Robin Claxton, drums. 251 Victoria St. 416-363-5299. $15; $10(st).
Friday May 29
7:00: National Presbyterian Museum. Farewell Concert for St. James, Thamesville. Organ pieces, soprano solos, soprano duets and hymns played in the year 1900, the year the church building was opened. Dr. Roger Bergs, organist; Karianne Pasma, soprano; Suzanne Schaafsma, soprano. St. James Presbyterian Church, 29 Ann St.,Thamesville. 519-864-1119. $20(adv); $15(adv, sr/st/underemployed); $5(adv, ages 12-18); free(under 12). At the door, tickets are an additional $5.
Saturday May 30
7:00: Dixie Presbyterian Church. Musical Duets: Classical Masterpieces for the Soul. Works by Brahms, Schubert, Saint-Saens and others. Katsiaryna Khatsko, piano; Lucia Barcari and Danielle Girard, violins; Katerina Utochkina, mezzo-soprano. Dixie Presbyterian Church, 3065 Cawthra Rd., Mississauga.905-277-1620. $10. Followed by refreshments and assorted desserts.
Saturday June 6
7:00: Scola Cantorum. Spring Concert: Choral Extravaganza. Works by Mendelssohn, Bruckner, Kodaly, Vierne, Faure and Franck. Hungarian St Elizabeth Scola Cantorum. St. Elizabeth Of Hungary Roman Catholic Church, 432 Sheppard Ave. E. 416-300-9305. $20; $10(st). Post-concert reception.
NEW ON OUR WEBSITE
Ever wanted to immediately hear exactly what our CD reviewers are talking about? The WholeNote is in the process of launching a brand-new online Listening Room, where you can take advantage of enhanced reviews with added features, including the option to listen to sample tracks from reviewed discs.
→ continue to the Listening Room
THANKS FOR SUBSCRIBING
Even though the next print issue of our magazine will be the last until September, HalfTones will keep you informed throughout the summer! Here are the next issues of HalfTones coming up:
Vol 2 No 10: Wednesday, June 17
Vol 2 No 11: Tuesday July 7
Vol 2 No 12: Tuesday August 11
The special summer print issue of The WholeNote, covering June 1 to September 7, will be on the stands at the beginning of June.
Please contact halftones@thewholenote.com with any HalfTones inquiries.