EARLY MUSIC ON THE ROAD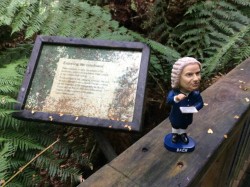 Toronto's early music presenters have been busy people this month. In the midst of their regular musicmaking activities, both the Toronto Consort and Tafelmusik have been "on the road" these past few weeks -- bravely and boldly going where Toronto's early music presenters are not often found.
Tafelmusik has just arrived back in the city after a 16-day tour across Australia and New Zealand, garnering rave reviews for their multimedia program House of Dreams. The brainchild of double-bassist Alison Mackay, House of Dreams takes listeners through works by Bach, Handel, Vivaldi, Purcell and Marais, set against a backdrop of images and paintings from the likes of Vermeer, Canaletto and Watteau -- and this year bringing Tafelmusik to sold-out houses in eight Australian cities as well as Auckland, New Zealand.
Be sure to check out Mackay's newest multimedia creation, J.S. Bach: The Circle of Creation. The program will premiere at Trinity-St. Paul's Centre this May.
The WholeNote also has tickets up for grabs to one of Tafelmusik's shows in the nearer future -- Aisslinn Nosky's "Baroque Misbehaving," where musical misdemeanours will include works by Purcell, Rosenmüller, Charpentier, Torelli, Oesterle and Telemann. For a chance to win tickets, check out our Prizes section. To learn more about Tafelmusik's current projects, visit tafelmusik.org.
While Tafelmusik was across the globe, the Toronto Consort journeyed across town to Roy Thomson Hall last week, where the Toronto Symphony was wrapping up their annual New Creations Festival. Both before and after a riveting TSO performance in concert of George Benjamin's 2012 opera Written on Skin, the Toronto Consort commandeered the lobby for some playing, on baroque flute, hurdy gurdy, baroque guitar and more, in repertoire spanning the centuries from the late medieval French story that inspired Written on Skin to contemporary work.
Kudos to Consort members for successfully navigating the bridge between recent and distant pasts, and for playing two beautiful sets!
Later this month, the Toronto Consort, in collaboration with Michael Slattery and La Nef, will also present a new take on some well-known early music fare. What if John Dowland, the great English lute master, was actually Irish? Their concert on March 27-28 makes a musical argument for Dowland-as-Irishman, setting his famous songs and fantasias with Irish flute, fiddle and cittern. The program, called "Dowland in Dublin," will be based on La Nef's stunning 2012 album of the same name, which WholeNote columnist David Podgorski claims has successfully "turned the early music world on its ear."
The WholeNote has a limited number of concert tickets and CDs, which interested readers have the opportunity to win. For details, check out our Prizes section here. For more info on the Toronto Consort, visit torontoconsort.org.
ATTENTION, ARTS WORKERS
For those in the industry -- especially those who like to be in the know -- the International Resource Centre for Performing Artists (IRCPA) has a number of exciting events coming up, all dedicated to providing forums for artists to exchange ideas, meet colleagues and learn new things. IRCPA programming in the coming months includes a workshop for singers with Joan Dornemann, assistant conductor at the Metropolitan Opera, and a special panel discussion event in the same building as WholeNote headquarters -- the Centre for Social Innovation (CSI) Annex location at 720 Bathurst St.
On the afternoon of Sunday, March 29 at CSI Annex, IRCPA will host "Who's Who in the Industry" -- a panel discussion with a number of industry professionals. With a panel of concert presenters, managers, journalists and publicists, the event is billed as a forum for artists to speak directly with industry members whose decisions build and shape our city's musical seasons. David Perlman, publisher at The WholeNote, will be joining the panel for what is sure to be an enlightening discussion -- the list of speakers announced so far is as follows:
Concert presenters Chris Lorway (Roy Thomson Hall), Jose Ortega (Lula Lounge) and Boris Brott (Opera & Festival Hamilton); managers Annick-Patricia Carrière (Station Bleue, Montreal) and Robert Missen (Bobolink, Toronto); journalists David Perlman (The WholeNote) and Michael Vincent (Musical Toronto); publicists Linda Litwack and Jane Harbury
Take a look at http://ircpa.net/2015/01/whos-who-in-the-industry-panel-discussion-march-29-2015/ttp://ircpa.net/2015/01/whos-who-in-the-industry-panel-discussion-march-29-2015/ for more details about the event. If you are eager to attend and a speedy emailer, send us an email at publisher@thewholenote.com -- the first 4 emailers will each receive a complimentary ticket to this event as guests of The WholeNote!
Hope to see you there!
PRIZES, PRIZES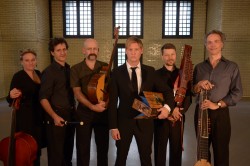 In this issue: win tickets to the Toronto Consort's Dowland in Dublin concert with La Nef and Michael Slattery, and to opening night of Tafelmusik's Baroque Misbehaving. Just click on the following links for a chance to win -- feel free to enter both contests!
Tickets and CD: The Toronto Consort's "Dowland in Dublin", Saturday March 28
Tickets: Tafelmusik's "Baroque Misbehaving", Thursday April 23
JUST IN: CORRECTED AND NEW LISTINGS
First, a correction: in our March issue, we mistakenly wrote that Wolfrey House's "By His Stripes We Are Healed" concert was on March 4. It is in fact on April 3, and the corrected listing is as follows:
Apr 3 1:30: Wolfrey House. By His Stripes We Are Healed. For Good Friday. Handel: Messiah(excerpts from part 2). Sacred Concert Chamber Ensemble; String Quartet; Vocal Octet. St. Barnabas on the Danforth, 361 Danforth Ave. 416-463-1344. Free.
Our apologies for this error! Other listings added to our website since the March issue can be found below:
Sunday March 15
1:00: World Fiddle Day Toronto. World Fiddle Day Toronto Jam Session. Practise jam led by Anne Lederman, hosted by Long & McQuade. , . 647 217-4620. Entry by donation. Next session is March 29; see worldfiddledaytoronto.ca for details.
Thursday March 19
8:00: Daemon Theatre. The Last Five Years. Kaleigh Gorka (Cathy); Josh Wiles (Jamie); Carl Pucl, director/producer; Doug Price, music director; and others. SMCS Centre for the Arts, 1515 Bathurst St. . $30-$45; $20-$25(st/arts worker); $10(student rush tickets, available 1 hour before the show). Also Mar 20(eve), 21(mat and eve).
Friday March 20
6:30: Lakeshore Arts. The Chocolate Equinox. Evening event including chocolate sampling, concert and silent auction. The Mississauga Symphony String Quartet. The King's Garden, 15 Canmotor Ave., Etobicoke. 416-201-7093. $60(food and chocolate included).
Saturday March 21
1:00: AKAM Concert Production. Amstel Saxophone Quartet. The Amstel Saxaphone Quartet from The Netherlands performs a program titled "The Unknown Colours of Saxophone.". Bach: Prelude and Fuge in c minor, BWV 537 (arr. Ties Mellema); Germanus: Moonwalk (2013); Brahms: from Symphony No. 3 in F, Op. 90: (arr. R. Jak); Riley: Good Medicine (arr. Bas Apswoude); Glass: Mishima (1985) (arr. Amstel Quartet). Remco Jak, soprano saxophone; Olivier Sliepen, alto saxophone; Bas Apswoude, tenor saxophone; Ties Mellema, baritone saxophone. Trinity-St. Paul's Centre, Chapel-Music Room, 427 Bloor St. W. 416-445-4441. PWYC.
2:00: Peterborough Symphony Orchestra. Stories and Music. A family concert, featuring the tales of Babar the Elephant and more. Melody Thomas, guest narrator. Market Hall Performing Arts Centre, 140 Charlotte St., Peterborough. 705-749-1146. $30; $10(youth). Also at 3:30pm.
7:00: Toronto Tabla Ensemble. Intimate Concert Series 2015. Mukur De, Odissi dance; Toronto Tabla Ensemble and Youth Ensemble; Ritesh Das, artistic director. York Woods Library Theatre, 1785 Finch Ave. W. 1-888-958-2252. $15.
Thursday March 26
6:45: Guelph Youth Singers. Boychoir. Fundraising movie night featuring a screening of newly-released film "Boychoir.". The Bookshelf, 41 Quebec St., Guelph. 519-821-8574. $15.
Friday March 27
7:00: Lawrence Park Collegiate Institute. Razzmatazz. Jazz fundraiser for the LPCI Music Department. The Ken Hazlett Big Band; LPCI and Glenview stage bands; LPCI Aurum Vocal Ensemble; Alex Dean, guest. Lawrence Park CI Auditorium, 125 Chatsworth Drive. . $20; $10(st).
Saturday March 28
7:00: Guelph Youth Singers. The Beat of our Drum. Youth choral festival hosted by the Guelph Youth Singers. Sarah Quartel, guest clinician; guest youth choirs from Oakville, Mississauga, Toronto, Hamilton, Halton Hills and Cobourg. Clearview Christian Reformed Church, 2300 Sheridan Garden Dr.,Oakville. 519-821-8574. $15; $10(child).
8:15: Canadian Orpheus Male Choir. Earth Hour Concert. COMC's first Earth Hour Concert -- singing by candlelight to support awareness of climate change. St. Jude's Anglican Church, 160 William St., Oakville. 905-844-3972. $15. Candelight singing starts at 8:30pm.
Sunday March 29
3:00: Hart House Chorus. Fauré Requiem. Fauré: Requiem; Tudor anthems. Melanie Conly, soprano; Maciej Bujnowicz, baritone; David Bowser, conductor; Suzanne Yeo, accompaniment; and others. Hart House Great Hall, 7 Hart House Circle. 416-978-2452. Free.
3:00: Kingston Road United Church. Glorious Brass! Works by Gabrielli, Dowland, Byrd, de Pres and Thomas Tallis. Scott Good, trombone; and others. 975 Kingston Rd. 416-699-6091. $20; $10(st); free(ages 12 and under).
NEW ON OUR WEBSITE
The WholeNote's Blue Pages directory of concert presenters can be found year-round on our website -- a warm welcome to taiko superstars Nagata Shachu, who join the directory this month.
Music presenters get the chance to introduce their projects to readers in our annual October Blue Pages issue, but the Blue Pages are available year-round, and musicmaking in southern Ontario happens around the clock and throughout the calendar year. Here's a warm welcome for Nagata Shachu, newcomers this month to The WholeNote's Blue Pages directory. Check out their profile below. For all our other Blue Pages listings click here.
Nagata Shachu Japanese Taiko and Music Group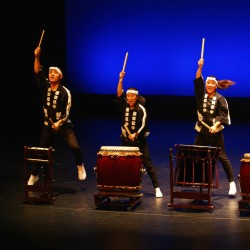 Nagata Shachu, based in Toronto, has enthralled audiences with our mesmerizing and heart-pounding performances of the Japanese drum (taiko) since forming in 1998. We have toured widely throughout Canada, the US and Italy, performing in theatres, concert halls and major music festivals.
While rooted in the folk drumming traditions of Japan, our ensemble's principal aim is to rejuvenate this ancient art form by producing innovative and exciting music that seeks to create a new voice for the taiko.
Featuring an arsenal of taiko (including the massive O-daiko drum), bamboo flutes, the three-stringed shamisen and an array of gongs, cymbals, shakers and wood blocks, Nagata Shachu will take you on a musical journey beyond all borders!
Joe Liu or Kiyoshi Nagata
416-651-4227
taiko@nagatashachu.com
nagatashachu.com
THANKS FOR SUBSCRIBING
Our next issue of HalfTones, Vol 2 No 8, is out on April 14! The next print issue of The WholeNote, covering April 1 to May 7, will be published on March 31.
Please contact halftones@thewholenote.com with any HalfTones inquiries.